Ron Howard Defends 'Solo' After 'Star Wars' Film 'Didn't Meet Projections'
Ron Howard has been an expert at looking at the bright side since he played Opie back on "The Andy Griffith Show."
He took over as director of "Solo: A Star Wars Story" toward the end of the original production schedule, and has now taken ownership of the whole thing.
That means he's in defense mode when it comes to the film's box office disappointment, and meh reviews.
Howard has been retweeting support for the movie, and replying to fans like this one:
I heard the movie isn't soaring too high in the box office. Should I watch it today to help out?#soloastarwarsmovie

— JD_09 (@Maltese_Falcon9) May 27, 2018
Didn't meet projections but amounts to a new personal best. check #SoloAStarWarsStory for balanced feedback & then C it on a big screen! https://t.co/QsOxOLuo22

— Ron Howard (@RealRonHoward) May 27, 2018

That guy didn't even tag Ron Howard, so it's clear RH is scrolling through various hashtags to see reactions. He's also suggesting fans check #SoloAStarWarsStory for "balanced feedback" -- as opposed to reviews on other sites?
Ron Howard has been retweeting dozens of responses to the official Star Wars account's request for favorite moments, among other positive retweets and replies:
When Hairy Met Solo! #bromancepic.twitter.com/5sLJVk0StE

— Some Moof Milker (@Some_MoofMilker) June 2, 2018
I loved so much about this film, especially the second time around. If I had to pick a favorite I'd say either when Han shot first or the whole scene when he won the Falcon. I also loved when Lando said "I hate you" and Han replied, "I know." Such brilliant writing!

— Josh (@jar1722) June 2, 2018
Glad you enjoyed the 2nd viewing so much! https://t.co/uf2KQSbK2q

— Ron Howard (@RealRonHoward) June 2, 2018
@starwars Can you pass it along to anyone who needs to hear that there's interest in a Solo sequel? All of my friends have been talking about it and speculating what might happen. We wanna see that story continue in film. Not a book or comic as great as those are.

I loved it.

— Joshua Hargis (@comicsansjazz) June 2, 2018
Thanks for seeing it a 2nd time...and for the tweet https://t.co/xmaaaFMFTl

— Ron Howard (@RealRonHoward) June 2, 2018
So he's doing his bit for the cause.
"Solo" just had a pretty sad second weekend. It topped the box office but that's not saying much when it only made $29.3 million. It has only made $264 million around the world off a reported $250 million budget, even after the advantage of opening across Memorial Day weekend.
Critic and fan reviews across Metacritic, Rotten Tomatoes, and IMDb have been mixed-to-good. (RT critics rated the film slightly higher than the Audience Score.)
Some people are bringing their agendas into the mix -- having already decided they hate or don't need to see the movie without watching it. Others were underwhelmed after seeing the film itself. But clearly plenty of people saw it and genuinely liked it. Still, not enough people have chosen to head to the theater to make up their own minds -- at least not enough to meet the high expectations of a "Star Wars" movie.
"Solo" will probably do solid business on digital/home release, but it may also change the way the Lucasfilm team schedules theatrical releases in the future.
Want more stuff like this? Like us on Facebook.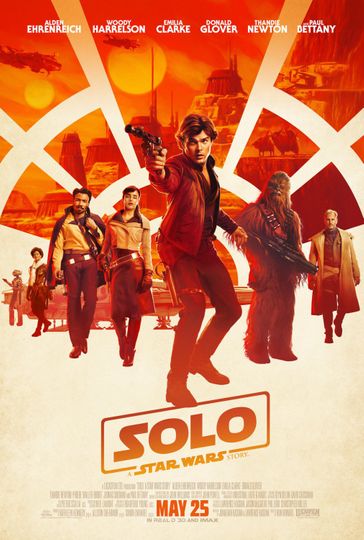 "Never tell him the odds."
2 hr 15 min
May 25th, 2018
Through a series of daring escapades deep within a dark and dangerous criminal underworld, Han Solo meets his mighty future copilot Chewbacca and encounters the... Read the Plot