Kaitlyn Dever Plots to Get Romeo Back in The 'Rosaline' Trailer
The twist on Shakespeare's classic tragic romance takes a comedic stab at an underseen part of the story, and also stars Minnie Driver, Kyle Allen and Isabela Merced.
'Romeo & Juliet' is easily one of the most adapted pieces of fiction in history. Shakespeare's story of the doomed lovers has been the inspiration for all sorts of other movies, TV shows, books and more.
But what about Rosaline? In the original play, she's an unseen, unrequited love of Romeo's before he falls for Juliet, mentioning that he writes her poetry.
The new romantic comedy 'Rosaline', though, spins out the idea that she was actually his girlfriend before he met Juliet – and she's pissed off that he's thrown himself whole-hearted into this new relationship… in just three days.
Kaitlyn Dever, who has been so good in the likes of 'Booksmart', 'The Spectacular Now' and on the small screen in 'Dopesick', 'Unbelievable' and 'Justified', is Rosaline here, who complains to her nurse (played by Minnie Driver) about how she feels. And soon, she's planning to win him back.
Of course, the fact that Juliet (Isabela Merced of the recent 'Father of the Bride') is her cousin makes that a little harder – though it does also give Rosaline an upper hand in influencing her (in one case here, trying to convince her to sample the buffet of men that is out in the wider world).
But mostly, it's a comic romp of her trying to throw a wrench in the world's most famous romance.
'West Side Story's Kyle Allen here plays Romeo, while Sean Teale is Dario, with Henry Hunter Hall as Mercutio. And then there's Bradley Whitford, who, we're assuming from his stance in the trailer, plays Rosaline's father.
The new movie was directed by 'Yes, God, Yes' filmmaker Karen Maine from a script by Scott Neustadter and Michael H. Weber (who have some romantic movie experience via 'The Fault in Our Stars' and '(500) Days of Summer') who adapted the novel 'When You Were Mine' by Rebecca Serle.
Oh, and one of the producers behind this one? Shawn Levy, who has a few projects on screens right now (maybe you've heard of 'Stranger Things' or 'The Adam Project?)
This is in keeping with what appears to be a trend at the moment – snarky takes on historical (even if this is fictional) stories. Lena Dunham's medieval coming-of-age tale 'Catherine, Called Birdy' features 'Game of Thrones' Bella Ramsey as a young woman facing the prospect of being married off so her parents can profit, while 'The Princess' saw Joey King as a battling royal fighting back (literally) against the idea of being wed to a slimy suitor.
And the tone here is definitely modern-meets-Shakespeare, with its poppy soundtrack and less-than-strictly-bard-style dialogue. Will anyone bite their thumb at anyone else? We're not sure at this point. They're probably more likely to flip the bird.
'Rosaline' will launch on Hulu on October 14th.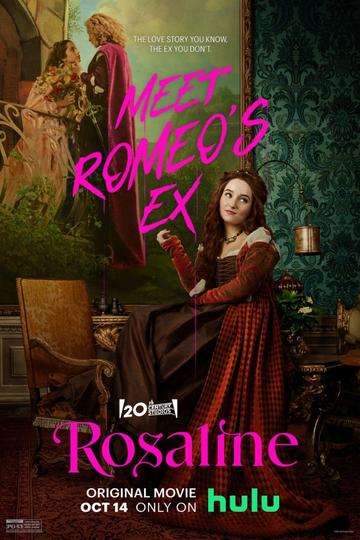 "The love story you know, the ex you don't."
1 hr 36 min
Sep 14th, 2022