Rotten Tomatoes Stands By 'Gotti' Audience Score Amid Skepticism
The new John Travolta movie "Gotti" has a rare 0 percent rating from 28 critics on Rotten Tomatoes. However, that's in stark contrast to the current Audience Score of 64 percent.
But some fans are questioning the validity of the Audience Score. For one, it's based on more than 7,000 user ratings. That's a lot for a movie that opened to $1.7 million from just 503 theaters. As several people have pointed out, "Incredibles 2" only has a few more RT user ratings, and it opened in 4,410 theaters and made more than $180 million in its opening weekend. In comparison, IMDb users gave "Gotti" a rating of 4.8/10, based on (as of this moment) 987 reviews.
So where did all of those RT user reviews come from?
"Gotti" turned the fan vs. critic disparity into a marketing tool:
Audiences loved Gotti but critics don't want you to see it... The question is why??? Trust the people and see it for yourself! pic.twitter.com/K6a9jAO4UH

— Gotti Film (@Gotti_Film) June 19, 2018
MoviePass was one of the financiers of "Gotti," and became involved in the debate on the RT user ratings. (Full disclosure: MoviePass recently bought Moviefone.)
When one fan examined the "Gotti" RT user reviews, here's what they claim they found:
"[O]f the first 58 reviewers with an available profile, 45 had created their account on June 2018;

Out of these 45, 32 have only reviewed Gotti, 10 reviewed Gotti and another movie (7 times it was American Animals [another film owned by MoviePass]) and 3 had more than 3 reviews.

Of the remaining 13 accounts 8 looked normal and 5 had created their account in December (TLJ?) so those were probably legit."
Gizmodo asked Rotten Tomatoes if any unusual activity was noticed in the "Gotti" user ratings. Here's the spokesperson's response:
"We closely monitor our platforms and haven't determined there to be any problems. All of the reviews were left by active accounts."
Gizmodo also asked MoviePass for comment on the rumors it was involved in spiking the user ratings; here's the response:
"The MoviePass marketing team is only engaged in sending promotional emails and push notifications to our users. We have no further involvement from a marketing perspective and have no insight or information about who is providing the audience reviews to Rotten Tomatoes."
It could be that John Travolta and his friends are doing their own marketing push. Could be a reaction to Rotten Tomatoes itself, from critics of the critics, who like to support things that get trashed on RT.
"Gotti" would not be the first film to face a massive divide between critics and fans. Netflix's "Bright" was blasted by critics but embraced by fans. And right now "Hereditary" has a 90 percent fresh rating on the Tomatometer with an Audience Score of only 56 percent. Actresses like Reese Witherspoon and Brie Larson have called for more diversity in film critics, to better reflect the movie-going public, because reviews can often make or break a project.
On Metacritic, "Gotti" has a Metascore of 24, with a User Score of 4.4. That's from 7 positive and 8 negative reviews. No one is "Mixed."
Want more stuff like this? Like us on Facebook.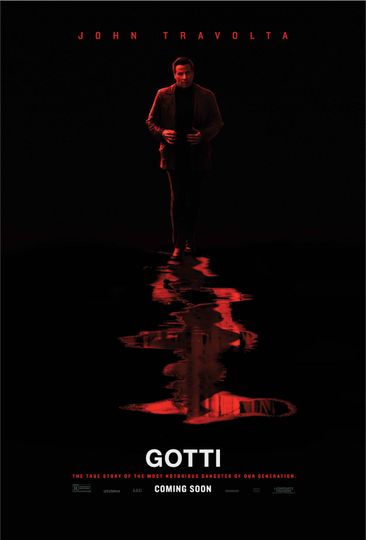 "He showed the world who's boss."
1 hr 46 min
Jun 15th, 2018
John Gotti rises to the top of the New York underworld to become the boss of the Gambino crime family. His life takes a tumultuous turn as he faces tragedy, multiple... Read the Plot