'Star Wars' Fan Arrested for Threatening to Shoot Friend Over Spoilers
We all know people on social media who get a little overzealous about spoilers, threatening to unfriend or unfollow those who break the honor code of the internet. One Montana teen took things a bit too far, though, when he allegedly said he'd shoot his friend for revealing plot points from "Star Wars: The Force Awakens."
The Associated Press reports that Arthur Charles Roy, of Helena, Montana, was charged with felony assault with a weapon on Monday following the incident. Here's the breakdown of Roy's alleged acts, according to the AP:
Roy, 18, became angry Thursday when he learned spoilers about "Star Wars: The Force Awakens" from a Facebook friend, prosecutors said.

Roy sent the friend a picture of himself with a gun and threatened to come to the victim's school to shoot him, court records said. Roy reportedly said the gun was a Colt 1911 with a "hair trigger."
The friend, who is underage, reported Roy's alleged threats to school officials, leading to a lockdown on Friday morning after fellow students said they feared Roy would make good on those threats. Roy was arrested Friday afternoon.
Following his arraignment Monday, Roy remained jailed with his bail set at $10,000.
[via: The Associated Press]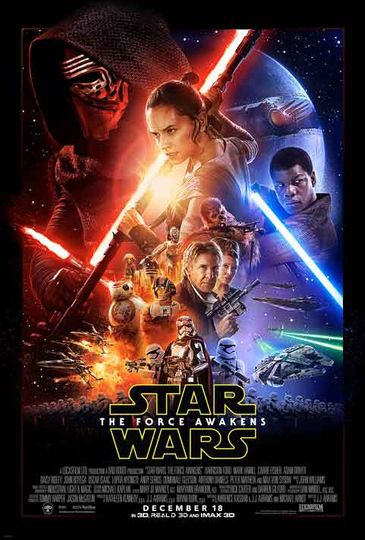 "Every generation has a story."
2 hr 16 min
Dec 18th, 2015
Thirty years after defeating the Galactic Empire, Han Solo and his allies face a new threat from the evil Kylo Ren and his army of Stormtroopers. Read the Plot