Sylvester Stallone is a Former Superhero in the 'Samaritan' Trailer
The story of a kid suspecting that his neighbor might be – or at least was – a legendary hero comes to Prime Video next month starring Sylvester Stallone.
With so many superhero and comic book adaptations around on big screens and small, it can be hard to find a new angle. As Marvel in particular dominates movie theaters and Disney+, tackling different genres within its wider cinematic universe, other films need a hook on which to hang their stories.
'Samaritan' opts for a tried-and-tested tale of someone who has left their old life and career behind in the wake of tragedy and gives it a superheroic spin. It doesn't hurt that it also has action star veteran Sylvester Stallone in the lead.
The new trailer for the movie introduces the basic story: Thirteen-year-old Sam Cleary (Javon Walton) suspects that his mysterious and reclusive neighbor Joe Smith (Stallone) is actually a legend hiding in plain sight.
Twenty-five years ago, Granite City's super-powered vigilante, Samaritan, was reported dead after a fiery warehouse battle with his rival, Nemesis. Most believe Samaritan perished in the fire, but some in the city, like Sam, have hope that he is still alive. With crime on the rise and the city on the brink of chaos, Sam makes it his mission to coax his neighbor out of hiding to save the city from ruin.
Joe tries to deny it, but when Sam witnesses him surviving a seemingly fatal hit-and-run incident, Joe can't run away from his past forever.
'Overlord's Julius Avery is in the director's chair for this one, working from a script by 'Escape Room' writer Bragi F. Schut.
Schut wrote 'Samaritan' as an original script more than a decade ago, but after finding no luck selling it, he adapted the story into a series of graphic novels published by Mythos Comics in 2014. It has now come full circle, partly thanks to Stallone, who produces via his Balboa company.
Cast-wise, the ensemble also includes 'Game of Thrones' Pilou Asbæk continuing his villainous streak as Cyrus, alongside Dascha Polanco, Martin Starr and Moises Arias.
"We didn't really have superheroes," director Avery told Total Film in an interview back in January. "We only had action heroes. And Sly was the closest thing we had to a superhero. So to put him in a superhero movie? That feels fresh and cool and something that people will get a kick out of."
And from the sounds of it, Stallone was still able to kick plenty of butt. "This is a big event movie – we see our heroes kicking ass," Avery confirms in the same interview. "We're going to see Sly do things he hasn't done in a long time, and in a really inventive way. He's 73 years old! I'm amazed by how much he actually does. I'm telling you, most guys in their twenties wouldn't be able to do what Sly does in this movie."
'Samaritan' will debut on Prime Video on August 26th.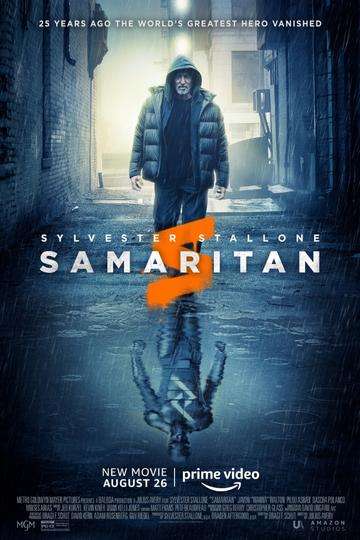 "25 years ago the world's greatest hero vanished."
1 hr 42 min
Aug 26th, 2022