Sylvester Stallone Talks Prime Video's New Superhero Movie 'Samaritan'
Sylvester Stallone discusses 'Samaritan.' "It's not from another universe, it's from right here in the streets," he said of his new superhero project.
Premiering on Prime Video beginning August 26th is the new original superhero movie 'Samaritan,' from director Julius Avery ('Overlord').
The movie stars Javon Walton as Sam Cleary, a young boy living with his single mother (Dascha Polanco) trying to survive in a rough neighborhood. Sam looks up to a superhero named Samaritan, who went missing decades ago after an epic battle with his archrival.
When a gangster named Cyrus (Pilou Asbaek) starts threatening Sam and his mother, he turns to a neighbor named Joe Smith (Sylvester Stallone) for help, who Sam believes might be the real Samaritan.
Moviefone recently had the pleasure of attending a virtual press conference, along with several other members of the press, to hear what Hollywood legend Sylvester Stallone had to say about his work on 'Samaritan.'
You can read the interview below or click on the video player above to watch interviews with Stallone, Javon Walton, Dascha Polanco, and Pilou Asbaek.
Stallone began the press conference by discussing why he wanted to make an original superhero movie. "Well, it's very reflective of what's going on" he said. "Quite often, people say, we're basically good people who can take care of ourselves. Let's be on the honor system, and quite often it backfires. Then they go, how do we get rid of all this violence and fear?"
"In the movies, it's always this mythic character," Stallone continued. "But in the end, I say to the people, you have to take care of yourself, that's what it's all about. So, it's kind of a cautionary tale, that when you get rid of your hero, then maybe you need a hero back, because you're just not ready to take on the responsibility. But in this particular case, he had an issue that is so personal, that he couldn't face the facts. That's why he disappeared."
The actor also talked about the challenges of creating a new superhero universe. "There has been a tremendous accomplishment by certain directors and certain companies in Marvel and DC, that have really pushed the universe to the max," Stallone said. "I mean, everything that you could possibly imagine has been created."
"I always feel there is nothing quite as relatable as almost getting hit by a car, or walking down a dark alley," he continued. "That's very relatable. So, we try to make the events and the danger plausible, in a sense, and identifiable. This could happen to you. It's something that's very tangible. It's not from another universe, it's from right here in the streets."
Stallone was also asked to talk about the relationship in the film between his character and Sam, played by Javon Walton. "I hate the fact that he's making me face reality quite often," Stallone joked. "I think one of the main assets people have is a fading memory. Every day my character tries to forget something new because he doesn't want to remember. It's bad times, it's mistakes, it's this and that. This kid is dragging me back into my memories, and he's making me face who I was."
Having appeared in franchises like 'Rocky,' 'Rambo,' and 'The Expendables,' Stallone is no stranger to physically training for a movie, and the actor talked about how he prepared differently for this role. "I think there is a point where you say okay, you can't do a 29-year-old 'Rambo' thing because you also have to honor who you at your age," he said. "That's the part of it that you're not who you were, but you're still there."
"Actually, there's a line in the movie about how you start to fall apart when you stop caring about everything, meaning life, and yourself." Stallone explained. "So, I thought that this guy, his trait would be in his resolve. He still has great physical power as opposed to speed and he's not jumping through the air. He's not that kind of guy."
"He's like a very powerful individual that is still in the world of reality, a little bit," the actor continued. "He can't fly, and fire doesn't come out of his mouth. He's just a unique superhero. He's almost a modern-day Hercules. He's that kind of a mythic hero. I think those are ones that you can identify with. He can die. I mean, if he gets hit enough, he's gone."
Finally, Stallone was asked what superhero fans can expect from 'Samaritan.' "Because this guy is much more pedestrian, you could be standing next to him on a bus and not even know you're standing next to some guy that can literally lift the bus up,' he said. "There's a kind of simplicity to it, and it's a simmering boil. It eventually erupts as opposed to triumphant music, special effects and guys hitting the ground with their fists like a seismic wave."
"So, you can expect a hero that is very regular, and does irregular things," Stallone continued. "That's what it is. It's not like if 'Rocky' was a superhero. It's something that is identifiable and street-like. It's not set in some super fantastic universe. It's set among brick and concrete, and identifiable situations about the neighborhoods we live in. That's what I liked about it."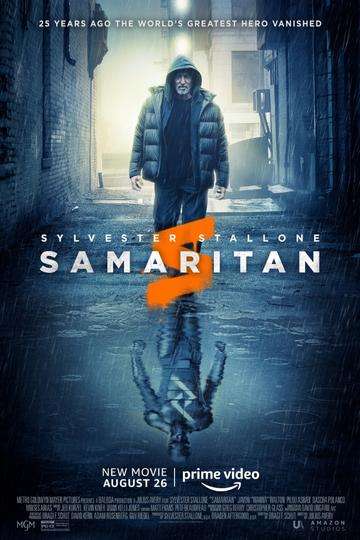 "25 years ago the world's greatest hero vanished."
1 hr 42 min
Aug 26th, 2022