'Vice' Trailer Reveals Christian Bale and Sam Rockwell as Cheney and Bush
"Vice" has a bangin' new poster and official trailer touting Dick Cheney as "The Man."
Christian Bale did one of his trademark transformations to play Cheney, vice president to POTUS George W. Bush, played here by Sam Rockwell.
Amy Adams -- in her third movie with Bale -- plays Dick Cheney's wife Lynne. Steve Carell plays Secretary of Defense Donald Rumsfeld.
Here's the synopsis for the dark comedy:
"VICE explores the epic story about how a bureaucratic Washington insider quietly became the most powerful man in the world as Vice-President to George W. Bush, reshaping the country and the globe in ways that we still feel today."
"Vice" was written and directed by "The Big Short" director and co-writer Adam McKay. The full cast also includes Jesse Plemons, Alison Pill, Lily Rabe, Tyler Perry, Justin Kirk, Lisagay Hamilton, Shea Whigham, and Eddie Marsan..
Check out the official trailer:
And here's the poster:
"Vice" will first hit theaters this Christmas.
Want more stuff like this? Like us on Facebook.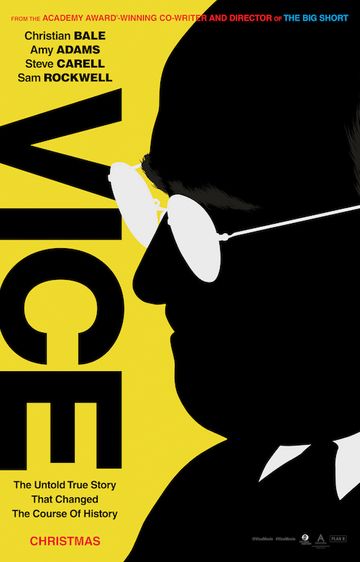 "The untold true story that changed the course of history."
2 hr 12 min
Dec 25th, 2018
George W. Bush picks Dick Cheney, the CEO of Halliburton Co., to be his Republican running mate in the 2000 presidential election. No stranger to politics, Cheney's... Read the Plot