Here's Why Hermione Only Has Fake Teeth in One Harry Potter Scene
OK, Potter Posse, your mission -- should you choose to accept it -- is to re-watch "Harry Potter and the Sorcerer's Stone" and see if you can spot 1) Emma Watson mouthing another actor's lines during a scene, and 2) Watson's Hermione wearing fake teeth.
Maybe you're already familiar with both? Congrats, you already know the film better than the director!
Chris Columbus directed the first two Harry Potter films -- "Sorcerer's Stone" and "Chamber of Secrets" -- and just shared some behind-the-scenes details in a new Entertainment Weekly podcast.
EW brought up a scene in "Sorcerer's Stone" where Watson appears to be mouthing the lines of Daniel Radcliffe (Harry Potter) and Rupert Grint (Ron Weasley). Columbus seemed surprised to learn that was actually in his movie, but he went from there to share his own "Sorcerer's Stone" story, referencing Hermione's teeth, which are described in the book as protruding.
Here's Columbus's Hermione teeth story:
"The thing we shot on the first day of 'Sorcerer's Stone' was the final train sequence where Harry looks at Hogwarts, and Emma, Dan, and Rupert are huddled up on the side of the train. If you look closely at that scene, Emma -- because Hermione, it was a big thing in the books about her teeth. She had sort of had an overbite, so she's wearing fake teeth in that scene. And I realized that we're never going to be able to -- she's never going to be able to perform with these huge fake teeth in her mouth for the rest of the movie. So if you look closely you can see some fake teeth."
This may be it:

Listen to the full podcast for more stories, including Columbus's wishes for Hagrid and Peeves.
Want more stuff like this? Like us on Facebook.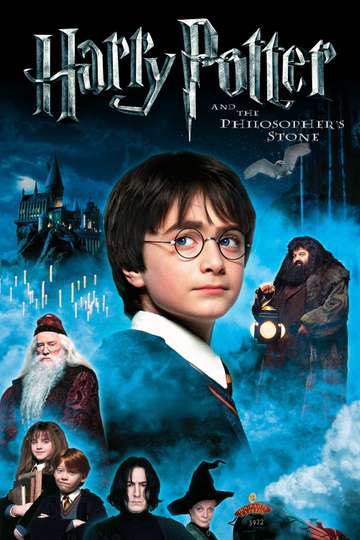 "Let the magic begin."
2 hr 32 min
Nov 16th, 2001
Harry Potter has lived under the stairs at his aunt and uncle's house his whole life. But on his 11th birthday, he learns he's a powerful wizard—with a place waiting... Read the Plot