The Hustle This weekend, "The Hustle" makes a play for your heart. The female-led remake of "Dirty Rotten Scoundrels," starring Anne Hathaway and Rebel Wilson, is the latest in a long line of heist movies. So if you're looking to scratch that itch with similar-feeling movies, here are some more movies all about thieves and the people who love them.
'Ocean's 8' (2018) 2018's first movie about an all-female crew of master thieves is an ideal companion to "The Hustle." Though this one is definitely much lighter, Summer Movie, PG-13 fare.
'Rififi' (1955) A lot of supposedly classic heist movies don't necessarily stand the test of time. Fortunately, that's not a problem for this French crime film. "Rififi" is now regarded as one of the greatest noir films ever made. It features a painstakingly crafted, half hour-long heist sequence that's inspired countless filmmakers and aspiring criminals alike.
'The Sting' (1973) Okay, so it's more of a "con" movie than a heist, sure, but grifting is a key component to the thefts in the "Oceans" films. And we defy you to find a more suave pair of movie criminals than the '70s-era Paul Newman and Robert Redford. "The Sting" reunited the duo after "Butch Cassidy and the Sundance Kid" for a story about two Depression-era grifters cheating a mob boss. The film really makes the most of its throwback setting, right down to the ragtime music soundtrack.
'The Thomas Crown Affair' (1968) Steve McQueen's style-infused caper is a breezy, intoxicating classic that pits him against Faye Dunaway's insurance investigator-turned-love interest. And who doesn't love a dune buggy on the beach montage?
'The Thomas Crown Affair' (1999) By 1999, the luster of Pierce Brosnan's Bond tenure was at its most shiny. "The Thomas Crown Affair" proved that Brosnan could make the jump from suave secret agent to suave art thief without missing a beat. Paired with co-star Rene Russo, the result was one of the sexiest and most beautiful heist movies ever filmed. (And who doesn't love the final act's return of the painting Crown stole set to "Sinnerman"?!).
'Ocean's Eleven' (2001) Director Steven Soderbergh truly perfected the stylish heist movie formula with this remake. When you bring together a talented storyteller with a group of the coolest people in Hollywood, movie magic inevitably results. There's just something fun about watching people who are insanely good at what they do, even if what they do is stealing millions of dollars from a crooked casino owner.
'The Italian Job' (2003) Less a remake of the 1969 original than a loose homage, "The Italian Job" gave this heist story the adrenaline boost it needed. Like "Ocean's Eleven," it features a who's-who cast of talented Hollywood A-Listers -- though, in this case, the real star of the show is the trio of Mini Coopers used to pull off the titular heist.
'Ocean's Twelve' (2004) "Ocean's Twelve" left a lot of fans of the original feeling underwhelmed. It's a much more strange and self-aware heist movie, and it didn't necessarily help that the screenplay didn't even start out as an "Ocean's Eleven" sequel. But appreciation for this sequel has grown over time. At least it dares to be different from its predecessor, unlike "Ocean's Thirteen."
'Fast Five' (2011) The "Fast & Furious" franchise has grown considerably since the days when it was a story of street racers stealing DVD players. "Fast Five" perfected the series' bombastic blend of testosterone and over-the-top missions. Sure, maybe these meatheads lack the finesse of the "Ocean's Eleven" crew, but who needs that when you can just drive a bank vault down the streets of Rio?
'Focus' (2015) Another con artist film with some theft and solid banter sprinkled in. If you want to see Will Smith and Margot Robbie light up the screen without having to suffer through another round of "Suicide Squad," we have good news. "Focus" is a fun, stylish film that banks heavily on the chemistry between its two stars. It doesn't have much of a brain, but it doesn't really need one in this case.
'Logan Lucky' (2017) Steven Soderbergh managed to reinvent the heist movie all over again with "Logan Lucky." While reminiscent of the "Ocean's" series in some ways, it trades the glamour for a story about a family of blue collar nobodies trying to rob the Charlotte Motor Speedway. It's enough to make us thankful Soderbergh's retirement didn't last long.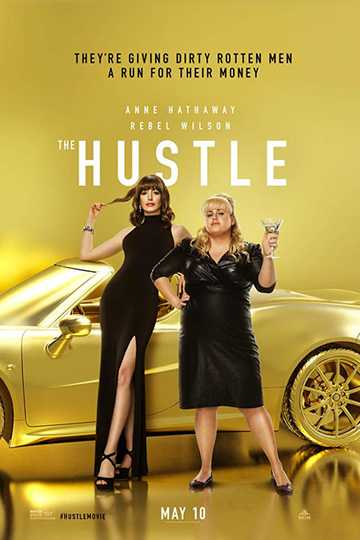 The Hustle
Two female scam artists, one low rent and the other high class, compete to swindle a naïve tech prodigy out of his fortune. A remake of the 1988 comedy "Dirty Rotten Scoundrels." Read More