'The Birdcage': 11 Things You (Probably) Don't Know About the Robin Williams Hit
At times, while directing Robin Williams and Nathan Lane in "The Birdcage," Mike Nichols found himself laughing so hard that he had to work from beneath a soundproof blanket in order not to ruin the takes. Can you blame him?
Twenty years after its release on March 8, 1996, "The Birdcage" remains a hilarious landmark. Besides being a smash hit, the film made a movie star out of Lane, gave Calista Flockhart her big break, and provided probably the only opportunity in film history to see Gene Hackman in a platinum blonde wig and a gown. Still, as many times as you've watched it on cable over the past two decades, there's still much you may not now about the beloved drag comedy. Here are the secrets "The Birdcage" has tucked away. 1. "Birdcage" was already the seventh incarnation of the story, which started out as the French play "La Cage aux Folles" in 1973. It became a celebrated international film hit in 1978, spawned two movie sequels, a failed American TV pilot (called "Adam and Yves"), and then a hit Broadway musical in 1983. But Nichols' film was the first version to transplant the story to an American setting and insert topical political jokes.
2. The film marked a rare reunion between Mike Nichols and Elaine May, 35 years after they ended their pioneering sketch-comedy act at the height of its success. In the intervening years, May polished screenplays for such acclaimed films as "Reds" and "Tootsie." She stumbled notoriously as the director of 1987's "Ishtar." Nonetheless, when Nichols needed someone to adapt "La Cage" into a witty, Americanized, politically pointed screenplay, he turned to his old comedy partner. They'd reteam again two years later as director and writer, respectively, of the underrated political satire "Primary Colors." 3. Originally, the movie was to star Steve Martin (above) in the "straight" role of club owner Armand and Robin Williams as drag performer Albert. But when Martin dropped out of the project, Williams said he'd rather play Armand, feeling that, after "Mrs. Doubtfire," he wanted to play the subtler character.
4.The part of Albert went to Lane, then a top Broadway star whose biggest film role to date had been his voice work as meerkat Timon in "The Lion King." The two leads compared notes on the bonuses they earned for appearing in Disney animated blockbusters. Lane complained that, for Williams' role as the genie in "Aladdin," "he got a Picasso, and I got that painting with the six dogs playing poker." 5. The songs performed in the film are original or previously unheard songs by no less than Stephen Sondheim. The Broadway legend composed "Little Dream" (the song Albert sings in rehearsal) for the movie, and he gave the filmmakers two other songs cut from some of his acclaimed stage musicals. The song "Can That Boy Foxtrot," which Albert sings in the club, was a tune cut from Sondheim's "Follies." And "Love Is in the Air," sung by Armand and Katherine (Christine Baranski) in the latter's office, was the original opening number in "A Funny Thing Happened on the Way to the Forum."
6. Wonder why that two-minute, all-in-one-take tracking shot that opens the film is so amazing? Maybe because the movie's cinematographer was Emmanuel "Chivo" Lubezki, the threepeat Oscar-winner behind "Gravity," "Birdman," and "The Revenant." 7. Playing a character who is supposed to be an 18-year-old college student, Flockhart was actually 30 at the time of filming. The exposure she earned from "The Birdcage" helped her land her star-making TV role on "Ally McBeal" a year later.
8. Playing a cameo as the club hostess is J. Roy Helland, who, besides crafting the hairstyles and make-up for "Birdcage" and other Nichols films, is also Meryl Streep's screen hairstylist. Helland is responsible for creating Streep's looks for nearly every movie the Oscar-winner has made since "Sophie's Choice." 9. The film cost a reported $31 million to make. It opened at No. 1 on the box office with $18.3 million, a record at the time for a movie with an openly gay protagonist. (That record stood for 13 years, until broken by "Bruno" in 2009.) "Bridcage" remained at No. 1 for four weeks and grossed a total of $124 million in North America -- and another $61 million overseas.
10. "Birdcage" earned one Oscar nomination, for its art direction. It lost to "The English Patient."
11. Now 83, May is enjoying a career resurgence. She's starring opposite Miley Cyrus in Woody Allen's upcoming streaming series on Amazon. And she returned to directing for the first time in three decades to film the recent episode of PBS' documentary series "American Masters" that's about the life and career of Nichols, who died in 2014.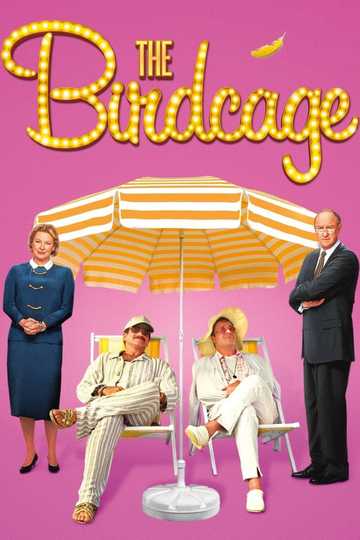 "Come as you are."
A gay cabaret owner and his drag queen companion agree to put up a false straight front so that their son can introduce them to his fiancé's conservative moralistic... Read the Plot