Helen Mirren, Aaron Paul, and Alan Rickman (in one of his final performances) star in the critically acclaimed modern war thriller "Eye in the Sky," which is widening its release in theaters this Friday, April 1. In this exclusive behind-the-scenes sneak peek, Helen Mirren and director Gavin Hood discuss the complexities of the timely story, which is meant to engage and challenge the viewer into questioning what is the right action to take.
In "Eye in the Sky," Mirren plays Colonel Katherine Powell, a U.K.-based military intelligence officer who leads a secret mission to capture a terrorist group living in a safehouse in Nairobi, Kenya. When she learns that the group plans to carry out a suicide attack, she changes the objective to kill the terrorists. But here's the major complication. When American drone pilot Steve Watts (Aaron Paul) targets the safehouse for destruction, he reports a 9-year-old girl entering the kill zone. So Powell gathers politicians and lawyers to determine whether or not to take action.
"I just couldn't put the script down," director Gavin Hood says in the sneak peek video. "I was on the edge of my seat, but at the same time felt challenged by the moral and ethical questions that the film raised, questions about the nature of drone warfare, the way we fight now, and the collateral damage." Helen Mirren adds, "This film makes you look at the terrible balance of not allowing these people to detonate their suicide bombs, or deal with the damage that this operation is meant to cause. The audience is allowed to see it from everybody's point of view."
The critically acclaimed film is certified fresh with a 92 percent rating from Rotten Tomatoes critics. Alan Rickman's performance as Lt Gen. Frank Benson has been singled out for praise, with Richard Roeper of the Chicago Sun-Times writing, "As one would expect from this cast, the performances are as good as it gets. Mr. Rickman was never nominated for an Academy Award and it's probably a long shot for a posthumous supporting actor for this film -- but his work here is a reminder of what a special talent he possessed." Want more stuff like this? Like us on Facebook.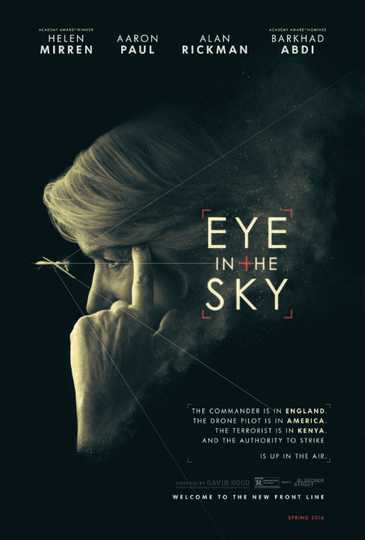 Eye in the Sky
A UK-based military officer in command of a top secret drone operation to capture terrorists in Kenya discovers the targets are planning a suicide bombing and the mission escalates from "capture" to... Read More