 What were they thinking? That's the question you have to ask Universal and the makers of "The Huntsman: Winter's War."
As expected, the messy prequel-sequel to 2012's "Snow White and the Huntsman" failed to topple Disney's live-action "Jungle Book" from its box office throne. In fact, no one even expected an opening anywhere near the $56.2 million debut of the first "Huntsman." Nonetheless, it was at least tracking to open with a respectable $24 million or so. And yet it couldn't even muster a debut that big, settling instead for an estimated $20.1 million opening weekend, about what the first "Huntsman" earned in its first day.
What went wrong with Universal's $115 million wannabe hit? Here are five reasons it failed to measure up to its predecessor.
1. No Snow White How do you tell a Snow White story without Snow White? Granted, the whole fairytale-backstory thing has worked elsewhere, as in "Once Upon a Time" (though there are plenty of other familiar characters to latch onto when the show's focus shifts from Ginnifer Goodwin's Snow White).
The "Winter's War" filmmakers were counting on the notion that the grim fantasy world created for the first film would be interesting enough on its own without the familiar heroine or the actress who played her. Guess not. And speaking of that actress...
2. No K-Stew
The original movie came out at the height of Kristen Stewart's box office power, between the releases of the final two installments of "Twilight." There's no one in the Stewart-free cast of the current movie who can muster that kind of loyalty at the box office. Which leads to our next point...
3. A Severe Lack of Box-office Draws Everyone loves Charlize Theron, Jessica Chastain, and Emily Blunt, but not necessarily enough for any one of them to carry a movie to box office victory on their own.
And poor huntsman Chris Hemsworth? Also not much of a draw in a movie that doesn't have him wielding Thor's hammer. No non-franchise movie he's starred in has opened above $15 million.
4. BadTiming
This movie suffered from three kinds of bad timing. First, it's been four years since the original film's release," long enough for some viewers to have forgotten it existed. Or ever liking it. And yet, it may not have been long enough for the franchise to shake the stench of scandal that tainted "Snow White" when news broke that Stewart was having an affair with the film's married director, Rupert Sanders.
But the worst accident of timing was opening opposite "Jungle Book," which, in its second weekend, lost only 41 percent of last weekend's business and earned an estimated $60.8 million. Audiences were all still too captivated by Mowgli and his CG animal pals to check out Hemsworth and friends. It's possible that Universal thought late April was a safer, less crowded time than summer for a PG-13 special-effects blockbuster (the 2012 "Huntsman" came out the first week of June), but as the schedule-creep of recent summer movie seasons has made clear, summer starts pretty much right after spring break nowadays.
5. Even Worse Execution With the notable exception of costume designer Colleen Atwood's extravagant gowns, a lot of "Winter's War" seems slapdash and hastily cobbled together, according to critics. The film amassed a mere 17 percent fresh rating at Rotten Tomatoes (woof!). During production, the film not only lost Stewart and Sanders, but also A-list screenwriters David Koepp and Frank Darabont (the latter had also been slated to direct). The credited screenwriters of "Winter's War" are the guy who co-wrote 2014's "Hercules" and the guy who co-wrote "Scary Movie 4." Its first-time feature director is the special effects coordinator from the first "Huntsman." So while the movie has impressive visuals, even fans who bought tickets weren't overly impressed by the storytelling. They gave the movie a B+ CinemaScore, which indicates only so-so word-of-mouth.
None of this may matter, ultimately, since "Winter's War" has already earned another $80 million overseas, where audiences for Hollywood imports seem to value dazzling visuals over dialogue and character anyway. It's possible that the film will ultimately earn enough internationally to break even.

Stateside, however, it's likely to limp along for another week until it (and everything else) gets clobbered by another "War" movie: Marvel's "Captain America: Civil War." At least Thor's not expected to show up in that one to hammer home a fatal blow to Hemsworth's non-Marval career.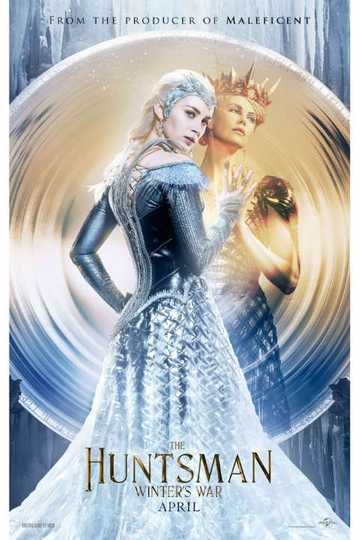 The Huntsman: Winter's War
As two evil sisters prepare to conquer the land, two renegades—Eric the Huntsman, who aided Snow White in defeating Ravenna in Snowwhite and the Huntsman, and his forbidden lover, Sara—set out to stop... Read More