'Fast X' Finds the Fun in the Franchise Again Thanks to Higher Stakes and Jason Momoa
A winning, funny turn from Momoa as the big villain proves the highlight in a 'Fast' entry that feels reinvigorated after the maudlin last movie.
'Fast X' opening in theaters on May 19th, is the latest entry in the sprawling, wildly successful franchise that begun in much more humble fashion as a take on 'Point Break's undercover lawman genre in 2001 and his since spiraled into a bombastic action franchise revolving around the endlessly repeated theme of family.
After a muted, disappointing entry with 'F9: The Fast Saga' in 2021 (which nevertheless did good business), it's a relief to report that fans of the franchise, led by star/producer Vin Diesel, is a return to the ridiculous, stunt-heavy, common sense-free form that we've come know and appreciate.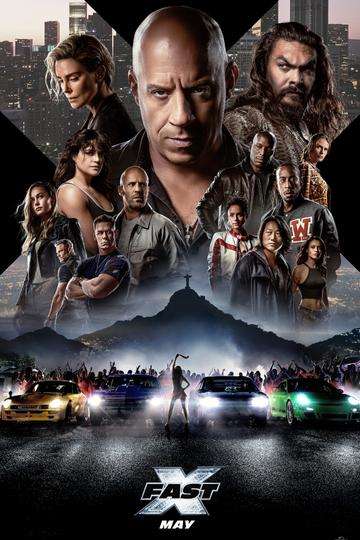 "The end of the road begins."
2 hr 22 min
May 19th, 2023
Showtimes & Tickets
Over many missions and against impossible odds, Dom Toretto and his family have outsmarted, out-nerved and outdriven every foe in their path. Now, they confront... Read the Plot
What's the story of 'Fast X?
Dominic Toretto (Diesel) is back living in the family home in Los Angeles with wife Letty (Michelle Rodriguez) and son Brian (Leo Abelo Perry). It's a relatively quiet time for Dom and his gang, punctuated by family barbecues, driving lessons for Brian and a visit from his Abuela (Rita Moreno).
But Dom's peace is ruined when old enemy Cipher (Charlize Theron) shows up badly injured at his door one night, spinning a story of a new threat called Dante (Jason Momoa). He, it turns out, is the son of Hernan Reyes (Joaquim de Almeida), the drug kingpin that Dom and his team robbed and killed 10 years ago in Rio (as chronicled in the events of 'Fast Five' in 2011).
Soon, the flamboyant, crazed Dante is setting traps for our heroes, including luring Roman (Tyrese Gibson), Tej (Ludacris), Ramsey (Nathalie Emmanuel) and Han (Sung Kang) on a fake mission to Rome where they and others, including spy agency member Little Nobody (Scott Eastwood) must stop a giant, rolling bomb from destroying parts of Rome and the Vatican.
But when they're all framed for the attack, the "family" is scattered to various parts of the world as Dante schemes and undermines them, stealing all their money and threatening their own family members.
Soon Dom is locked in a frantic battle with Dante, forced to rely on everyone he loves, even as they're put in mortal danger. Can he succeed against this powerful villain?
Who else is in 'Fast X'?
The cast for the movie includes the returning likes of Jason Statham as Deckard Shaw, Helen Mirren as Queenie Shaw, Jordana Brewster as Mia Toretto, John Cena as Jakob Toretto, plus new recruits Brie Larson as Tess, Alan Ritchson as Aimes and Daniela Melchior as Isabel.
What works about 'Fast X'
To put it bluntly, there are two main advantages to the new 'Fast' movie, and the biggest is easily Jason Momoa. Clearly understanding that he A) needs to bring some fun and B) have some fun in the role of the big bad, he's the most entertaining villain, and possibly the most entertaining character, the franchise has had for a long time.
Extravagantly dressed, free of macho impulses and always ready with a quip, he's a giant breath of fresh air that nevertheless also feels like a real challenge to Dom and co. Even his mantra of, "Never accept death when suffering is owed," inherited from his late father (who is glimpsed in an opening blend of footage from 'Fast Five' and newly created shots) helps to justify why Dom and company usually tend to escape from their adventures all but unscathed. You might still find yourself shouting, "why don't you just kill [insert name here]??" at various points, but that's all part of the fun of the franchise.
And let's be honest: people "die" in this movie series and have returned before (Han in particular). It's rarely the end it might be elsewhere.
While there were real concerns after 'F9' felt like a tired retread of the usual tropes, a sign the movies are running out of gas, 'Fast X' actually comes across as a second wind, embracing the set piece silliness and leaning into the entertainment value. Aside from Momoa, it also succeeds by letting Cena embrace his more humorous side since switching sides from being the vengeful villain in the previous entry.
An early briefing for a new character lets the franchise poke proper fun at itself, nodding towards the physics-defying action and globe-trotting story. It's a canny way to catch up anyone who has decided to make this their first 'Fast' movie (though it's hard to imagine anyone rocking up to these films without having seen at least one other).
Plus, new director Louis Leterrier (who replaced veteran Justin Lin after the latter quit one week into production) is something of a revelation, bringing a combo of his ease with the sort of high-concept action where he started his career (such as 'The Transporter') and finding the emotional core these films need to work.
What are the problems of the movie?
For all its advantages, there are also the usually clunky elements, this entry still boasting scenes that make it seem as though a straight-to-DVD B-movie broke out in the middle of a summer blockbuster.
Actors who have won Oscars struggle with dialogue that would trip any actor up, whole moments sounding like they were written by feeding to suggestions to a ChatGPT AI that was then dropped on its hard drive, so leaden and first base are the results. It's especially glaring for any scenes set in the mysterious "agency" spy division currently run by Ritchson's Aimes. The man who is Jack Reacher on TV doesn't break free of the dodgy lines he's handed. And even Larson can't make Tess work beyond some basic motivations.
And Diesel, despite being the core of the film, remains the one who treats it all so completely seriously that it's actually less fun when he's growling and putting the pedal to the metal.
Even as the movie acknowledges its own ridiculous nature, you'll end up giggling at how many times the word "family" is uttered as usual, and the number of familial connections between characters is becoming ever more ridiculous. Everyone Dom knows at this point is connected to someone else in the franchise. It's not hard to imagine him running into someone at the local auto parts store who is a long-lost cousin.
Fortunately, 'Fast X' is nimbler than 'F9' and papers over some of these typical cracks with gusto .
'Fast X' receives 8.5 out of 10 stars.
Other Movies Similar to 'Fast X:'
'Fast X' is produced by Neal H. Moritz, Vin Diesel, Justin Lin, Jeff Kirschenbaum and Samantha Vincent. The executive producers are Joseph M. Caracciolo, Jr., David Cain, Chris Morgan, Amanda Lewis and Mark Bomback.