 The first footage from "Kingsman: The Golden Circle" was screened yesterday at CinemaCon to appreciative cheers, revealing that yes, Colin Firth is definitely back.
Audiences also got a glimpse of Channing Tatum and his lethally sharp lasso and Eggsy (Taron Egerton) driving a nifty new spy car that's equipped with missiles.
According to THR, Firth returns as Harry, but he's now sporting an eyepatch. (How very Nick Fury.) Egerton had already teased the return of his Oscar-winning costar last year:
A message from an old friend. #Kingsmanpic.twitter.com/n4HShWktIK

— Taron Egerton (@TaronEgerton) April 7, 2016
We also learn that Eggsy and Merlin (Mark Strong) are going up against an underworld organization whose members are unidentifiable, having removed their fingerprints and filed down their teeth.
Joining the spy series for the second-go-round are Julianne Moore, Halle Berry, Jeff Bridges and Elton John.
The sequel opens September 29.
The official poster was released yesterday, with Egerton holding what looks like Indiana Jones's bullwhip.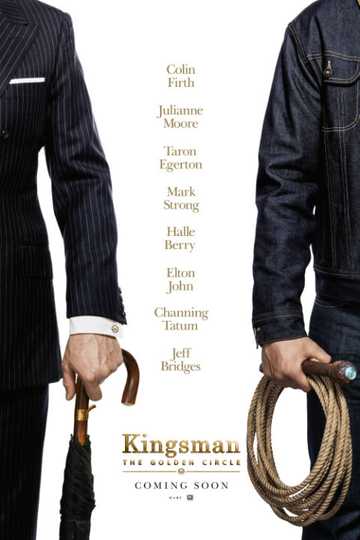 Kingsman: The Golden Circle
When an attack on the Kingsman headquarters takes place and a new villain rises, Eggsy and Merlin are forced to work together with the American agency known as the Statesman to save the world. Read More