 The first trailer for "Jumanji: Welcome to the Jungle" just arrived, and not only does it look like more fun than a sequel to "Jumanji" has any right to be, it also answers a few questions.
When photos first came out for the "Jumanji" sequel, many fans wondered why Karen Gillan's character was dressed in a skimpy outfit, when everyone else was dressed more practically for jungle exploration. At the time, she tweeted, "Yes I'm wearing child sized clothes and YES there is a reason! The pay off is worth it, I promise!" Dwayne "The Rock" Johnson said all of the costumes would make sense "soon."
Well, "soon" is now. Turns out, the twist of this sequel follows four teenagers who get transported to the world of the video game, trapped in the avatars they chose.
So the pretty blonde who picked "curvy genius" is shocked to find herself in the body of Jack Black, aka "an overweight middle-aged man." The nerdy guy now in the body of The Rock is unnerved to realize he doesn't have his Claritin (and he tries hard not to cry) and the overachiever now in Gillan's body wonders why she's wearing half a shirt and short-shorts in the jungle.
"[The character is] very knowing about what's happening and calls it out, like, 'What is it about these games? Why do people look like this and dress like this?'" producer Matt Tolmach told Entertainment Weekly. "There are so many people who know this world of video games, and it's really great to be able to have fun with some of the tropes."
Here's The Rock introducing the trailer:
EXCLUSIVE: @JumanjiMovie trailer! I smolder, have cool super powers & try not to cry when I'm scared. #TheLegendContinues#Jumanji DEC 20 ???????? pic.twitter.com/8W6L5ijCwj

— Dwayne Johnson (@TheRock) June 29, 2017
"Jumanji: Welcome to the Jungle" opens December 20.
Want more stuff like this? Like us on Facebook.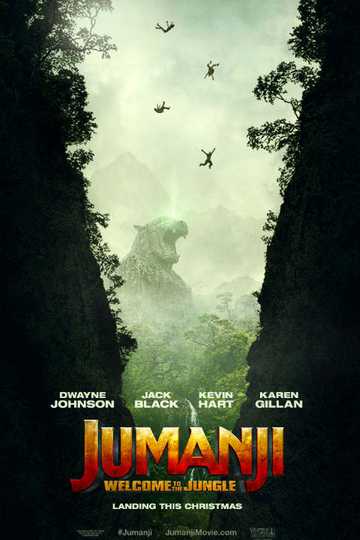 Jumanji: Welcome to the Jungle
The tables are turned as four teenagers are sucked into Jumanji's world - pitted against rhinos, black mambas and an endless variety of jungle traps and puzzles. To survive, they'll play as characters... Read More