Hide your bunnies! It's the 30th anniversary of "Fatal Attraction," which hit theaters on September 18, 1987.
The hottest hot-button movie of its era, this drama about the drastic consequences of a one-night-stand sparked countless uncomfortable discussions about sex, feminism, and infidelity. "Fatal Attraction" also gave Glenn Close the pivotal role of her career and spawned the whole "Scorned Lover from Hell" subgenre of thrillers about vengeful stalkers.
Even though "Fatal Attraction" has loomed large in the popular imagination for 30 years, it still has some secrets. Here's the truth about who almost starred in it, how the director and actors choreographed that crazy sex scene, and what was really boiling in that stockpot. Read on; this article will not be ignored. 1. "Fatal Attraction" began life as a short film by James Dearden called "Diversion," about a married man who has a fling with a suicidal woman while his wife is away. The short attracted the attention of Sherry Lansing, the 20th Century Fox chief-turned-independent-producer, who knew what it felt like to be an accomplished professional woman undone by romantic rejection.
2. According to Stephen Galloway's recent Lansing biography "Leading Lady," she'd been dumped by a boyfriend while they were in bed and had spent several weeks afterward calling him and hanging up, driving past his house, and obsessing about whether he was seeing another woman. So Lansing brought Dearden from London to Los Angeles and spent weeks with him developing "Diversion" into a feature-length script. 3. Lansing ran into MIchael Douglas on a flight and gave him the screenplay. He agreed to play adulterer Dan Gallagher, but it would take another two years before a director and co-stars were in place. John Carpenter, fresh from directing his hit "Starman," turned Lansing down. Brian De Palma, who'd recently scored with "Scarface," signed on but backed out just weeks before shooting, arguing that he couldn't make Douglas seem sympathetic. Fortunately, Adrian Lyne, then best known for directing "Flashdance," jumped at the opportunity.
4. Lansing was still having trouble finding an actress to play Alex Forrest. Her first choice, Barbara Hershey, was already booked. She thought of Isabelle Adjani, but the French siren wasn't fluent enough in English. Melanie Griffith, Jessica Lange, Michelle Pfeiffer, Susan Sarandon, and Debra Winger were all on Lansing's wish list. 5. "Cheers" star Kirstie Alley auditioned, and while she didn't get the part, she left a mark on the film anyway. She recalled that her husband, Parker Stevenson, had been stalked by a woman who left tearful messages on his answering machine. Alley still had the tape, which she gave to Lyne, and he ended up using the dialogue in the film.
6. Close, then 38, already had three Oscar nominations and some modest hits on her résumé, but she'd never done a role so brazenly sexual; rather, she'd been typecast as saintly, maternal figures after her roles in movies like "The Big Chill" and "The Natural." She came to the audition with frayed nerves and unkempt hair -- which turned out to be just what the character called for. 7. Lyne's inspiration for the kitchen sex scene was a liaison from his own past, with a woman bent over a sink. He wanted some comic relief, to make the audience feel less uncomfortable. Douglas has said it was Close's idea to turn the spigot on and get wet, while he took credit for coming up with the idea of having Dan stumble, with his pants around his ankles.
8. Yes, that's a young Jane Krakowski as little Ellen Gallagher's babysitter. She got the walk-on part four years after playing Cousin Eddie's (Randy Quaid) daughter Vicki in "National Lampoon's Vacation." Two years after "Fatal Attraction," Ellen Latzen, who played Ellen, would play Eddie's daughter Ruby Sue in "National Lampoon's Christmas Vacation." 9. That was a real rabbit in the boiled-bunny scene, already dead when the production bought it from a butcher shop. The revulsion Anne Archer's Beth displayed in the scene was real, too. As Lyne recalled, "The stench was beyond belief."
10. "Fatal Attraction" is probably the most famous case of a film whose ending was changed radically in response to test screenings. (The title had already changed twice, from "Diversion" to "Affairs of the Heart" to "Fatal Attraction.") Audiences hated the original ending, which had Alex killing herself, to the strains of "Madame Butterfly," but not before getting Dan's fingerprints on the knife so that he gets framed for her murder. The producers hired script doctor Nicholas Meyer (whose vengeful-stalker credentials included writing and directing "Star Trek II: The Wrath of Khan"), whose new ending had Beth finding an audiocassette of Alex's rambling that exonerated her husband. Audiences found that equally unsatisfying. 11. Paramount executive Ned Tanen, who realized that audiences were howling for Alex's blood, remarked "They want us to terminate the bitch with extreme prejudice." He offered the filmmakers $1.5 million to shoot a new ending that saw Alex killed. Inspired by the classic French thriller "Diabolique," in which a bathtub drowning proves less than permanent, the filmmakers came up with the now-famous ending that saw Alex pop up out of the tub and get shot by Beth. Only problem was, Lyne, Dearden, Archer, and Close all hated the idea.
12. Close was the loudest critic of the new ending. She refused to shoot it, arguing that she'd consulted with psychotherapists throughout the shoot to make sure that Alex's behavior stayed just this side of psychopathic, and that the ending was a betrayal of the character that pushed her fully over the edge into insanity. 13. Douglas argued that, even if the revision didn't suit the character, it was still what best suited the movie. Close asked him how he'd feel if his character underwent such a radical shift. He replied, "Babe, I'm a whore." Close sought guidance from her "Big Chill" co-star, William Hurt, and recalled him telling her, "You've made your point. Now it's your responsibility to buck up and just do it.'"
14. By this time, six months had passed since the original shoot had ended. The Gallaghers' house had been sold and remodeled, and the production had to rent it again and undo all the changes. Close proved a trouper, getting dunked in the bathtub 50 times, suffering infections in her eyes and nose and getting a concussion when her head struck a mirror. To her horror, Close soon learned she was pregnant and felt guilty over having unwittingly endangered her fetus throughout the bruising reshoot. Fortunately, daughter Annie was born healthy in 1988. Close has said that her other souvenir from the finale, the prop knife (actually made of cardboard), is framed and mounted in her kitchen.

15. With reshoots, "Fatal Attraction" cost $13.1 million to make. It earned back $157 million in North America, more than any 1987 movie except "Three Men and a Baby." The film topped the box office chart for eight straight weeks. It earned a total of $320 million worldwide.
16. "Fatal Attraction" became a major cultural phenomenon, even making the cover of Time Magazine because of all the controversy it had spawned. Was it a paranoid allegory, a cautionary tale about casual sex in the age of AIDS? (Dearden said no.) Was it an anti-feminist screed, blaming the crazy, single, careerist woman for causing trouble for the nuclear family? (Many critics thought so, a response that shocked Lansing.). About the only things everyone agreed on: Close was scary AF, and "Fatal Attraction" probably wasn't an ideal date-night movie. 17. The Academy nominated "Fatal Attraction" for six Oscars, including Best Picture, Director, Actress, Supporting Actress, Adapted Screenplay, and Editing. It seemed the only one not nominated was Douglas, yet he was the only one who went home with a trophy. While "Fatal Attraction" was shut out, Douglas won Best Actor -- for playing Gordon Gekko in "Wall Street."
18. After "9 1/2 Weeks" and "Fatal Attraction," Lyne was now the go-to director for sexually controversial mainstream movies. Over the next few years, he'd direct such argument-starting films as "Indecent Proposal," "Lolita," and "Unfaithful." 19. In 2014, Dearden staged "Fatal Attraction" as a play on London's West End, with the original ending intact. Natascha McElhone played Alex, Mark Bazeley ("The Bourne Ultimatum") played Dan, and Kristin Davis played Beth.
20.There was talk in 2015 of making "Fatal Attraction" into a TV series that would air on Fox, produced by "Mad Men" veterans Maria and Andre Jacquemetton. But the project fell through after it failed to find a leading lady (Megan Fox and Jenna Dewan Tatum were both under consideration) to fill Close's shoes. 21. Close may never have liked the more cathartic ending, but it certainly helped make "Fatal Attraction" unforgettable. Not only did the movie liberate her to play villains and sexually brazen women (from "Dangerous Liaisons" in 1988 all the way through the upcoming adaptation of the "Sunset Boulevard" musical), but it also gave her the most memorable role of her career. To this day, she says, "Men still come up to me and say, 'You scared the s**t outta me.' Sometimes they say, 'You saved my marriage.'"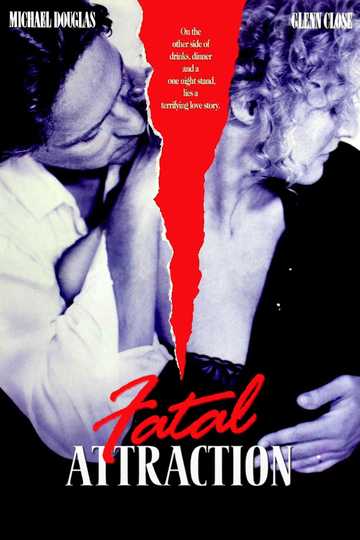 Fatal Attraction
A married man's one night stand comes back to haunt him when that lover begins to stalk him and his family. Read More