 It's getting ugly out there.
"Star Wars: The Last Jedi" has already made half a billion at the box office, after less than a week, but it's also earning EXTREME audience reactions. Fans have a lot to say about Episode VIII writer/director Rian Johnson's plot and character decisions. Some viewers adored the movie. Others loathed it. At 55 percent, out of 119,664 users, "The Last Jedi" currently has the lowest Rotten Tomatoes Audience Score of the "Star Wars" Episode I-VIII Saga so far. This is despite a 93 percent rating from RT critics, and an A CinemaScore from audience exit polls.
So far, IMDb's users have rated it 7.8/10, from more than 146,000 users. The Metacritic user score is 4.9/10, with "Negative" getting the most users. There's even a Change.org petition out there asking Disney to remove "The Last Jedi" from the canon. But for every 0 or 1 star review out there, there's a 5/5 or 10/10 to balance. "Polarizing" and "divisive" are the best words to describe the fan reaction, with many reasons for both extremes, plus all the folks in the middle who saw both good and bad in Episode VIII.
Rian Johnson already has a big future in the franchise, creating his own Star Wars trilogy. He's also been fielding a lot of questions on his choices in this film. Business Insider asked Johnson about the fan criticism; here's part of that Q&A:
Business Insider: Like making any "Star Wars" movie, the director can't win. People complained that "The Force Awakens" was too much like the original trilogy. With your movie, the knock is it's nothing like the original trilogy. What are your thoughts when you hear that take?

Rian Johnson: Having been a "Star Wars" fan my whole life, and having spent most of my life on the other side of the curb and in that fandom, it softens the blow a little bit.

I'm aware through my own experience that, first of all, the fans are so passionate, they care so deeply — sometimes they care very violently at me on Twitter. But it's because they care about these things, and it hurts when you're expecting something specific and you don't get it from something that you love. It always hurts, so I don't take it personally if a fan reacts negatively and lashes out on me on Twitter. That's fine. It's my job to be there for that. Like you said, every fan has a list of stuff they want a "Star Wars" movie to be and they don't want a "Star Wars" movie to be. You're going to find very few fans out there whose lists line up.

And I also know the same way the original movies were personal for [George] Lucas. Lucas never made a "Star Wars" movie by sitting down and thinking, "What do the fans want to see?" And I knew if I wrote wondering what the fans would want, as tempting as that is, it wouldn't work, because people would still be shouting at me, "F--- you, you ruined 'Star Wars,'" and I would make a bad movie. And ultimately, that's the one thing nobody wants.

And let me just add that 80-90% of the reaction I've gotten from Twitter has been really lovely. There's been a lot of joy and love from fans. When I talk about the negative stuff, that's not the full picture of the fans at all. Deadline broke down differences between the audience exit polls and the online user reviews -- pointing out that, unlike exit polls, online reviews can be posted by the same user over and over again, spiking the results. Deadline got comment -- which comes across like a prepared statement -- from Disney president of theatrical distribution Dave Hollis on the online user reviews:
"Rian Johnson, the cast, and the Lucasfilm team have delivered an experience that is totally Star Wars yet at the same time fresh, unexpected and new. That makes this a Star Wars film like audiences have never seen – it's got people talking, puzzling over its mysteries, and it's a lot to take in, and we see that as all positive, that should help set the film up for great word-of-mouth and repeat viewing as we enter the lucrative holiday period."
"Lucrative." Priorities. Star Wars fans are definitely "passionate," to use one umbrella term. It's true, though, that the extreme reactions have created a buzz, with some non-Star Wars fans curious to know what the anger/love/fuss/debate is about. The movie's bold choices have prompted longtime fans to see "The Last Jedi" multiple times, to give them a fuller picture and help them wrap their heads around how they feel.
Episode IX is next in 2019, and only then can we really look back and fully judge the Skywalker Saga.
Want more stuff like this? Like us on Facebook.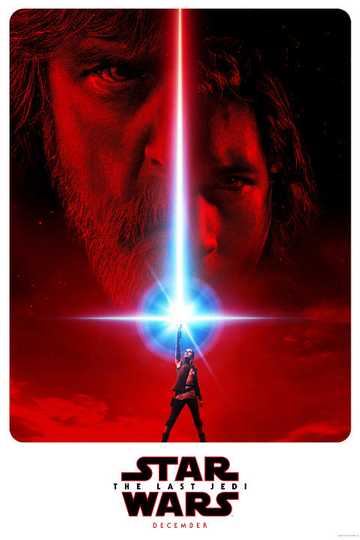 Star Wars: The Last Jedi
Rey develops her newly discovered abilities with the guidance of Luke Skywalker, who is unsettled by the strength of her powers. Meanwhile, the Resistance prepares to do battle with the First Order. Read More