 "Skyscraper" has one more test screening to go, Dwayne "The Rock" Johnson told his fans. He's actually a fan of that process, since part of his brand is giving fans what they want (and never what will seriously bum them out).
"Skyscraper" released its second official trailer on Wednesday (see below), and The Rock previewed that footage by dishing more on how difficult it was to make the film:
"Most physical, emotional and intense role of my career. This and Tooth Fairy.
I needed tequila, vacation and therapy once I wrapped the movie."
Haha. Below are a couple of his recent "Skyscraper" Instagram posts -- including more on the focus group process.
The most recent screening seemed to go pretty well, but also led them to make some changes. (Hopefully one change was adding even more Neve Campbell, since we miss seeing her on screen.)
Johnson said director Rawson Thurber came away knowing where "he wanted to refine and elevate the story," and they went back to the drawing board on "a few crucial notes" from the audience:
Here's the official synopsis for "Skyscraper":
"Global icon Dwayne Johnson leads the cast of Legendary's Skyscraper as former FBI Hostage Rescue Team leader and U.S. war veteran Will Sawyer, who now assesses security for skyscrapers. On assignment in China he finds the tallest, safest building in the world suddenly ablaze, and he's been framed for it. A wanted man on the run, Will must find those responsible, clear his name and somehow rescue his family who is trapped inside the building...above the fire line."

Written and directed by Rawson Marshall Thurber (Central Intelligence, We're the Millers), the 3D action-thriller is produced by Beau Flynn (San Andreas, Baywatch), Johnson, Thurber and Hiram Garcia (San Andreas, Central Intelligence).
The first trailer came out in February. Here's the new trailer, released May 23:
"Skyscraper" is scheduled for release in theaters on July 13th.
Want more stuff like this? Like us on Facebook.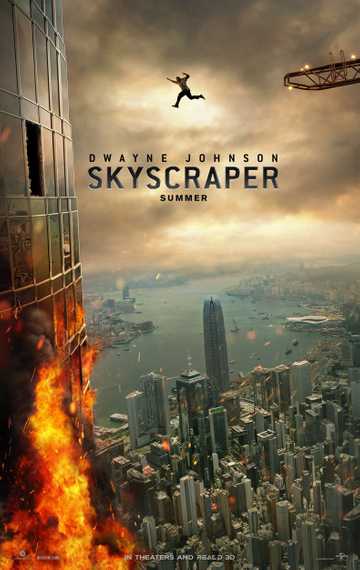 Skyscraper
Framed and on the run, a former FBI agent must save his family from a blazing fire in the world's tallest building. Read More