 Here's your first creepy, kooky, mysterious, and spooky look at the upcoming animated "reimagining" of "The Addams Family."
MGM released an image of the characters -- there they are above! -- and details on the voice cast.
Oscar Isaac will voice Gomez Addams
Charlize Theron is Morticia Addams
Chloë Grace Moretz is Wednesday Addams
Finn Wolfhard is Pugsley Addams
Nick Kroll is Uncle Fester
Bette Midler is Grandmama
Allison Janney plays the family's nemesis, Margaux Needler.
The film will be directed by Conrad Vernon and Greg Tiernan, based on a screenplay by Matt Lieberman.
Here's a statement from Conrad Vernon:
"Greg and I have always been a fan of the Addams Family in past versions, so when we set out to make this movie, we were excited to do something new. With that in mind, I drew from the brilliantly original Charles Addams New Yorker cartoons for the look of the film and decided to tell the story of how Gomez and Morticia meet, find their house and start their family. This unique approach is what drew me in to direct the film. The reimagining also extends to the stellar cast we've put together who will each bring their own spin to our film that will appeal to longtime fans of the Addams and introduce them to a new generation."
So they plan to "tell the story of how Gomez and Morticia meet, find their house and start their family."
Jonathan Glickman, president of MGM Motion Pictures Group, added:
"Conrad and Greg are masters of animation with the keen ability to create something both kids and their parents will enjoy for different reasons. Adding to that a world class caliber of talent with Oscar, Charlize, Chloë, Finn, Nick, Bette and Allison – we can't wait to bring their fresh and modern take on The Addams Family to the worldwide audience."
Here are more details via MGM's release:
"Based on the famous New Yorker creations of Charles Addams, this animated action-comedy will follow the Addams family whose lives begin to unravel when they face-off against a crafty reality-TV host while also preparing for their extended family to arrive for a major celebration, Addams-style.

Morticia, devilishly devoted to her husband and children, is the pale glue that holds her clan together.

Gomez, debonair, sinister and passionately in love with his wife, is enthusiastic about whatever dreadful scheme he's cooked up.

Wednesday is a brilliant and sinister teenage girl with long braids and dead-pan wit.

Pugsley, a menacing 10 year old on over-drive, enjoys getting into any kind of dreadful mischief he can find.

Mad Uncle Fester is good natured, merry and likes to create mayhem any way he can.

Grandmama is smitten with her grandchildren who enjoy her cookies shaped like bats and skulls.

Margaux Needler, the reality TV makeover queen, is consumed with a desire for absolute suburban, pastel perfection."
Do you think this animated film can live up to the standard of the 1964 black-and-white TV show? Or the 1991 live-action movie, with Anjelica Huston and Raul Julia? Or that film's 1993 sequel?
"The Addams Family" is scheduled for release on October 11, 2019 -- just in time for Halloween!
Want more stuff like this? Like us on Facebook.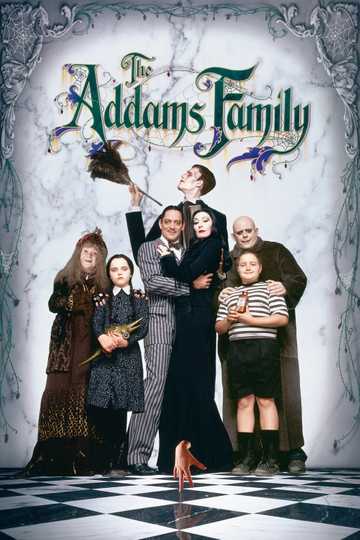 The Addams Family
When an evil doctor finds out Uncle Fester has been missing for 25 years, he introduces a fake Fester in an attempt to get the Addams family's money. Wednesday has some doubts about the new uncle Fester,... Read More