'Hocus Pocus 2's Sam Richardson and Doug Jones Talk New Disney+ Sequel
Moviefone speaks with Sam Richardson and Doug Jones about 'Hocus Pocus 2.' "I was a fan and an obsessed maniac of the original," Richardson said.
Premiering on Disney+ beginning September 30th is the sequel to the 1993 hit film 'Hocus Pocus,' which is aptly entitled 'Hocus Pocus 2,' and was directed by Anne Fletcher ('The Proposal').
Set twenty-nine years after the original in present day, the Sanderson sisters, including Winifred (Bette Midler), Mary (Kathy Najimy), and Sarah (Sarah Jessica Parker) are back and causing havoc in Salem, Massachusetts.
Now, three young girls, Becca (Whitney Peak), Cassie (Lilia Buckingham), and Izzy (Belissa Escobedo), must team with Gilbert (Sam Richardson), a magic store owner, and Winnie's former lover, Billy Butcherson (Doug Jones) in order to stop the Sanderson Sisters from killing the Mayor of Salem (Tony Hale), who is also Cassie's dad.
Moviefone recently had the pleasure of speaking with Sam Richardson and Doug Jones about their work on 'Hocus Pocus 2,' Richardson's love for the original, what it was like for Jones to reprise his role, working with the witches, the challenges of playing a headless character, and how Gilbert betrays his friends' trust.
Moviefone: To begin with, Sam, were you a fan of the original movie, and what was it like for you to share the screen with the Sanderson sisters?
Sam Richardson: I wouldn't say that I was a fan of the original, I would say that I was an uberfan and a true obsessed maniac for this movie. So, to get to work with them as a fan, it was a constant struggle to make sure that I was acting and not just being myself talking to these ladies. But it was such a treat. Luckily, Gilbert is a fan, so to wear that layer, about half the work was done for me over the course of 30 years.
MF: Doug, can you talk about returning to the franchise and reprising your role as Billy Butcherson, and what are the challenges physically of playing a headless character?
Doug Jones: Well, returning to the franchise was something I had hoped for but never thought possible. You never know. But as the fandom grew over the years to a point now where it is a part of everyone's Halloween, our original fans have kids of their own that are now fans of the movie. So, it's just grown and grown and grown, and because of that, and petitions online, they're like, "We need a sequel." Thank heaven for the fans that made this sequel happen.
And being headless is a part of the deal for Billy Butcherson, unfortunately. He's strung together with dust, he can't help himself and he's been dead for 300 years. I'm surprised he's even walking. So, you'll see more things come apart on Billy in the sequel. It won't let you down.
MF: Finally, Sam, can you talk about Gilbert's friendship with Becca, Cassie, and Izzy, and how he betrays their trust?
SR: Gilbert owns the magic shop, which is the witches' original home. Gilbert's magic shop is the place where the girls frequent, and he's sort of a mentor to them in the magical arts and such. So, he's a person that they trust, but then Gilbert surreptitiously uses their love of magic to bring these witches back. That betrayal is something he immediately regrets, seeing what he's wrought upon the world, but also, he's trying to fix this thing and sort apologize to the girls, and then to apologize to Billy.
DJ: He betrayed me, too. Let's be honest.
SR: He's in over his head, no pun intended. He's just always at the back on his heels from the start of the movie on. It was a fun thing to play with in this movie.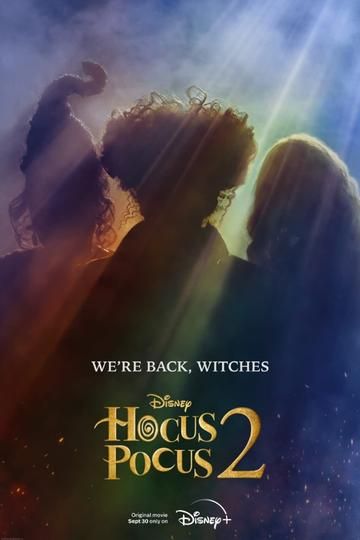 "Back and more glorious than ever."
1 hr 47 min
Sep 30th, 2022