The Sanderson sisters are back in the 'Hocus Pocus 2' Trailer
Bette Midler, Sarah Jessica Parker and Kathy Najimy are ready to cause more wicked trouble.
Lock up your children! The Sanderson sisters are back! Yes, Bette Midler, Sarah Jessica Parker and Kathy Najimy, who last played the witchy siblings back in 1993's 'Hocus Pocus', have officially returned to cause more mayhem, as the first teaser trailer reveals.
Here's the story: It's been 29 years since someone lit the Black Flame Candle and resurrected the 17th-century sisters, and they are looking for revenge. Now it is up to three high-school students to stop the ravenous witches from wreaking a new kind of havoc on Salem before dawn on All Hallow's Eve.
As mentioned, the story focus on the teens who unwittingly bring the sisters back – Whitney Peak's Becca, Belissa Escobedo's Izzy and Lilia Buckingham's Cassie – who discover the candle and light it as part of Becca's birthday ritual, hoping to activate witchy powers and getting far more than they bargained for. They probably should have just stuck with watching scary movies.
The new 'Hocus Pocus' also stars Sam Richardson, Doug Jones (who reprises his role from the original as Billy Butcherson), Hannah Waddingham, Froyan Gutierrez and Tony Hale. Anne Fletcher is in the director's chair, with the script by Jen D'Angelo.
For Richardson, recently seen in 'The Tomorrow War' and 'The Afterparty', it was a dream come true to act with the original 'Hocus' cast. I'm an absolute super fan of the original," he told ET Online. "I grew up watching that movie. Being in the sequel is so surreal and incredible. To work with the ladies is so... I don't want to use the word surreal again but I'm outside of myself when I'm doing these scenes. I'm like, 'This is them!' They are the characters. The Sanderson sisters, you know, are like there, doing their spells and I have a grin on my face!"
There has been talk of a sequel for years now, with rumors and speculation flying faster than a witch on a broom. But it only really took a step into reality at Disney's Investor Day in 2020. Though Midler, Jessica Parker and Najimy did slip back into character for a virtual charity event in October that year.
Adam Shankman was attached at one point, though his duties on another Disney sequel, 'Disenchanted', kept him from taking part. "As heartbroken as I am that I won't be able to direct my friends Bette, Sarah Jessica and Kathy in what is sure to be nothing short of a major event for Disney+ due to scheduling conflicts, I couldn't be more pleased to be handing over the reins to Anne, who has brought so much laughter and joy into people's lives with her previous work," Shankman said in a statement at the time. "I am still grateful and proud to help shepherd this ingenious project as executive producer.
'Hocus Pocus 2' will arrive on Disney+ on September 30th, just in time for the prime Halloween viewing period.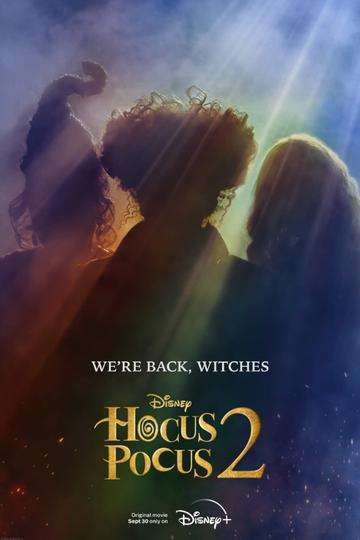 "Back and more glorious than ever."
1 hr 47 min
Sep 27th, 2022