So, Kevin Feige has you in your feelings again...
The Marvel Studios boss didn't actually say anything new about "Avengers 4" to get fans upset, it's just that hearing "ending" and "conclusion" again and again has fans feeling like Peter Parker at the close of "Avengers: Infinity War."
Some of the latest panic is coming third-hand -- first from a tweet linking to a new Empire article, with that article quoting a Toronto Sun interview from back in April.
Here's the tweet:
Here's the full Q&A response from Kevin Feige's April Toronto Sun story:
I always ask you about the blueprint. Going forward, the movies that Marvel has coming five, 10 years from now, are they always going to be threaded back to the beginning? Is the MCU a world with no real end?

"Yes. … It's a world I hope continues far into the future in the same way all of these storylines have continued in the comics. We're one decade in. In the comics, some of these heroes are five, six, seven decades in. So I do hope they continue for a long time.

But, storylines can come to an end. The best stories do come to an end. ['Star Wars' Episode VI] 'Return of the Jedi' was an ending for a long time and as a 10-year-old in 1983 that carried me through 30 years until there was a sequel. That hasn't happened before in the superhero genre. A new actor comes in and a new storyline starts right away. We wanted to do it this way because we think that the best stories have a definitive ending to a storyline. That's certainly what's going to happen next year with 'Avengers 4.'

The Universe, the world, many of the characters we've introduced will continue onward in unexpected ways, some of which I don't even know yet. But bringing a definitive conclusion at the 22-film mark, and just over 10 years, seemed like the right thing to do."
Sad as it is, it does make sense for the Marvel Cinematic Universe to evolve.
Feige something very similar to Vanity Fair back in November, teasing that "Avengers 4" would have "things you've never seen in superhero films: a finale."
But some fans were seeing the quote for the first time, or were feeling re-traumatized by the end of "Infinity War" and the phrasing of the MCU News tweet:
There's a lot of confusion and fear about the fates of all of the remaining MCU characters -- the ones who were snapped by Thanos, and the ones who were not. "Sacrifices" are coming, according to the "Avengers 4" synopsis:
"A culmination of 22 interconnected films the fourth installment of the Avengers saga will draw audiences to witness the turning point of this epic journey. Our beloved heroes will truly understand how fragile this reality is and the sacrifices that must be made to uphold it."
See, that time it's "culmination," instead of "conclusion" or "ending." Whatever you call it, it's coming. But hey! Somehow, so are Spider-Man's sequel and "Guardians 3" in the MCU's Phase 4. We know "a new franchise beyond Avengers" is ahead, with new characters and "different incarnations" of characters we already know.
"Avengers 4" opens in theaters May 3, 2019.
Want more stuff like this? Like us on Facebook.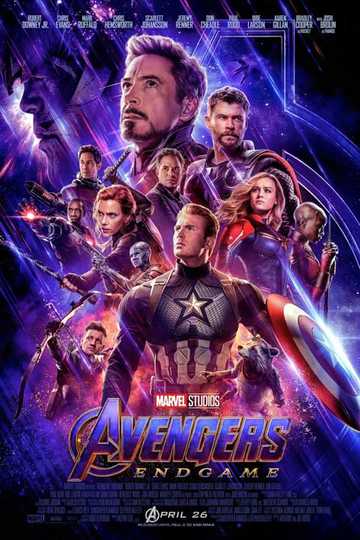 Avengers: Endgame
After the devastating events of Avengers: Infinity War, the universe is in ruins due to the efforts of the Mad Titan, Thanos. With the help of remaining allies, the Avengers must assemble once more in... Read More