If it's Dr. John Dolittle vs. Tony "Iron Man" Stark ... it's pretty clear who would win.
To avoid that -- among other reasons -- Universal has moved Robert Downey Jr.'s "The Voyage of Doctor Dolittle" from April 12, 2019 to its new release date of January 17, 2020.
According to TheWrap's sources, the studio is moving the release date eight months "to give it a more advantageous slot in the post-holiday season, with January giving the film more playability in international markets like China, which will have its Lunar New Year festivities around that time."
Also, as TheWrap noted, April 2019 is turning into a hugely competitive month -- with "Hellboy" already scheduled for April 12, DC's "Shazam!" on April 5, and possibly "Avengers 4" at the end of the month. Marvel Studios currently has "Avengers 4" opening at the end of April in some places overseas, and May 3, 2019 in the U.S. But there are rumors that Marvel might move "Avengers 4" up in North America too, giving "Doolittle" very little time to find an audience before being snapped into oblivion.
In its new January 2020 slot "Dolittle" is up against Michael B. Jordan's legal drama "Just Mercy," and -- tentatively -- "Bad Boys For Life." But the "Bad Boys" sequel isn't set in stone.
Universal is giving the April 12 "Dolittle" spot to "Little" with Marsai Martin and Issa Rae.
"The Voyage of Doctor Dolittle" stars Robert Downey Jr. as the famous doctor with the ability to speak with animals, as based on the 1920s children's book. The live-action movie co-stars Antonio Banderas and Michael Sheen, with a stellar voice cast led by Tom Holland, Rami Malek, Emma Thompson, Ralph Fiennes, Selena Gomez, Octavia Spencer, John Cena, Marion Cotillard, Kumail Nanjiani, and more.
Stephen Gaghan ("Gold," "Syriana") co-wrote the script, and he's directing the fantasy-comedy. "Dolittle" is RDJ's first post-"Avengers" role, and it will be followed by his third Sherlock Holmes movie, which is scheduled for Christmas 2020.
Want more stuff like this? Like us on Facebook.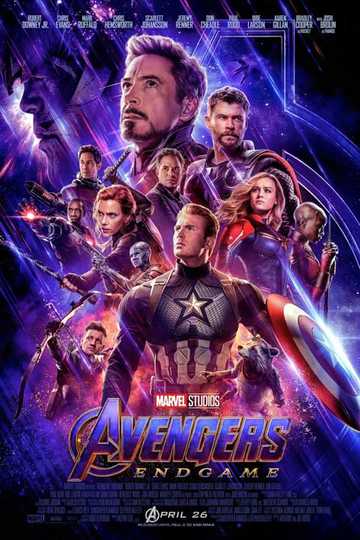 Avengers: Endgame
After the devastating events of Avengers: Infinity War, the universe is in ruins due to the efforts of the Mad Titan, Thanos. With the help of remaining allies, the Avengers must assemble once more in... Read More