February 4th, 2019
by Katie Roberts
DGA Awards 2019 Winners Include 'Roma,' Exclude Bradley Cooper
The Directors Guild of America held its annual awards ceremony this past weekend, revealing its picks for the best in film and television direction. And while the night's biggest winner has been earning plenty of accolades in recent weeks, victors in other categories proved that there are no guarantees when it comes to awards season.
Alfonso Cuaron took home the DGA's top prize, claiming the Best Feature Film Director award for "Roma." The Netflix film -- loved by critics and tied for the most Oscar nominations in this year's field -- now has a decent shot at winning the Best Director prize at the Academy Awards later this month, since the DGA frequently overlaps with the Oscars.
Cuaron beat out an impressive field that included Bradley Cooper ("A Star Is Born"), Peter Farrelly ("Green Book"), Spike Lee ("BlacKkKlansman"), and Adam McKay ("Vice"). Cooper was also nominated in the Best First-Time Feature Film Director category, but in a stunning upset, lost the prize to Bo Burnham ("Eighth Grade"). Looks like his Best Director Oscar snub may not have been a fluke after all.
In other surprises, both "Succession" (McKay) and "Barry" (Bill Hader) took home the top awards in the drama and comedy television categories, respectively, beating out buzzier fare like "The Americans" and "The Marvelous Mrs. Maisel."
A list of winners in the major categories is below. The full list can be found here.
FEATURE FILM:
ALFONSO CUARÓN
"Roma"
(Netflix)
Unit Production Manager: Ana Hernandez
First Assistant Director: Frederic Henocque Albino
Second Assistant Director: Patrick Heyerdahl
Second Second Assistant Directors: Luis Fernando Vásquez, Julián 'Chico' Valdés, Arturo Garcia
FIRST-TIME FEATURE FILM :
BO BURNHAM
"Eighth Grade"
(A24)
First Assistant Director: Dan Taggatz
Second Assistant Director: Vic Coram
Second Second Assistant Director: Evelyn Fogleman
DOCUMENTARY:
TIM WARDLE
"Three Identical Strangers"
(Neon and CNN Films)
DRAMATIC SERIES:
ADAM MCKAY
"Succession" - "Celebration"
(HBO)
Unit Production Manager: Regina Heyman
First Assistant Director: Amy Lauritsen
Second Assistant Director: Scott Bowers
Second Second Assistant Director: Nicholas Notte
Location Managers: Michael Kriaris, Patty Carey
COMEDY SERIES:
BILL HADER
"Barry" - "Chapter One: Make Your Mark"
(HBO)
Unit Production Managers: Mark Tobey, Aida Rodgers
First Assistant Director: Dale Stern
Second Assistant Director: Michelle Gritzer
Second Second Assistant Director: Chris Riddle
Additional Second Assistant Director: Gary Cotti
MOVIES FOR TELEVISION AND LIMITED SERIES:
BEN STILLER
"Escape at Dannemora"
(Showtime)
Unit Production Managers: Adam Brightman, Bill Carraro
First Assistant Directors: Lisa M. Rowe, Lyda Blank, Phillip A. Patterson
Second Assistant Director: Kevin R. Shields
Second Second Assistant Director: Luke A. Crawford
Location Manager: Hyo Park
[via: Variety]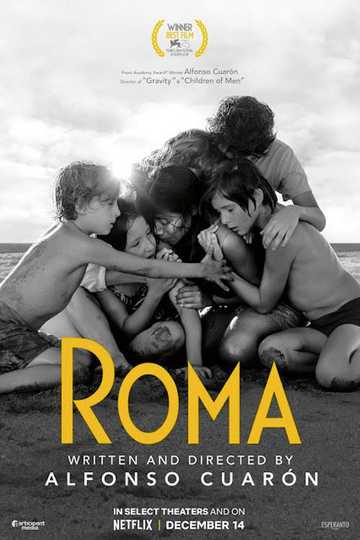 Roma
In 1970s Mexico City, two domestic workers help a mother of four while her husband is away for an extended period of time. Read More