The Long, Strange Journey of 'Triple Frontier'
There's a reason why Hollywood coined the term "development hell" -- namely, because even when there's lots of interest in a project and motivation and big stars and distributors, the process of making a movie can be a protracted, painful experience. Since first garnering attention in 2010, "Triple Frontier" went through director and casting changes, studio shake-ups and more before finally getting released this week via Netflix, a distributor fast gaining a reputation for swooping in and supporting films that are obscure passion projects, underfunded or otherwise troubled. To commemorate its opening, we decided to look back at just a few of those stumbling blocks the filmmakers faced while attempting to get it to the screen.
When the project was first announced in October 2010, Johnny Depp and Tom Hanks were in talks to star in the film for director Kathryn Bigelow, still hot off of "The Hurt Locker." Hanks was officially cast a month later and production was set to start early the next year. But some five years later, there was no movement on the project -- Bigelow moved on to "Zero Dark Thirty," and a project focusing on US soldier Bowe Bergdahl and his time as a prisoner in Afghanistan. After "All Is Lost" and "A Most Violent Year" made waves with critics groups, writer-director J.C. Chandor entered into talks in 2015 to direct the project from Mark Boal's script for Paramount Pictures. He later signed on to direct the film in September of that year.
By then, Hanks' commitment to the film was on shakier ground, though he and Will Smith were still negotiating the possibility of joining the film. Additionally, Depp's name re-entered the picture as a potential star as Smith left the film due to scheduling conflicts for "Collateral Beauty." But by January 2017, Depp and Hanks were out, and Channing Tatum and Tom Hardy were being considered for roles in the film, followed by Mahershala Ali, who was collecting accolades for his work in "Moonlight." All three joined the production officially, but by April of that year, Paramount dropped the project altogether, and only Ali remained among the confirmed cast members, now joined by Adria Arjona (HBO's "True Detective").
One month later, Netflix began negotiating for the rights to the film, eyeing Ben Affleck and his brother Casey for the roles that were previously to be filled by Tatum and Hardy. Ben Affleck left the film a month later citing "personal reasons," and Mark Wahlberg entered into talks to replace him. By July 2017, Charlie Hunnam, Garrett Hedlund and Pedro Pascal had joined the film, even as Ali was forced to drop out due to production delays. And less than a year later, in March 2018, began production in Oahu, Hawaii, with Ben Affleck once again in the lead role.
In addition to Affleck, Hunnam, Hedlund and Pascal, Oscar Isaac also eventually joined the film -- a big get for Chandor, who wanted to reunite with his "A Most Violent Year" star (timing originally prevented them from working together). Chandor, who is a writer or co-writer on all of his films, eventually received a co-writing credit alongside Mark Boal, who first conceived the story. At various stages, the film was also rumored to receive a name change to "Sleeping Dogs," but clearly that idea didn't take.
Nevertheless, Deadline's Mike Fleming had it right back in March of 2018 when he considered the movie's endurance a "study in how a worthy script can stay alive , despite setbacks that are often fatal." "Triple Frontier" is not just a prestige project or star-studded, military-themed thriller, but a testament to the longevity of good ideas and the fortitude of producers and filmmakers committed to bringing them to the screen.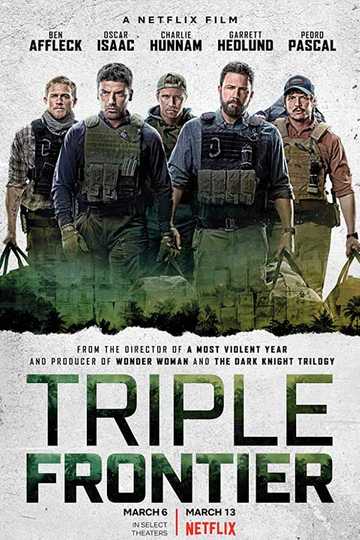 "You can't go this far without crossing every line"