The latest entry in the "Terminator" series is set for release later this year, and it now has an officially confirmed title, and a head-to-head date with another familiar franchise.
"Terminator 6" has been rebranded as "Terminator: Dark Fate," which had been the film's working title. The film, directed by Tim Miller ("Deadpool") and produced by "Terminator" and "T2" director James Cameron, reunites original stars Linda Hamilton and Arnold Schwarzenegger. Mackenzie Davis and Natalia Reyes also appear, as new characters Grace and Dani, respectively.
Deadline reports that the flick, currently slated for release on November 1, is holding firm on that schedule, despite the presence of another huge tentpole on that date: Sony's reboot of "Charlie's Angels," directed by Elizabeth Banks (who will also appear as one of several Bosleys). According to the trade, studio Paramount is "extremely confident" in "Dark Fate," and has no plans to relocate to a less-crowded opening weekend.
If the film's creative team is any indication, it certainly seems like that confidence is warranted. In addition to Miller and Cameron's involvement behind the scenes, longtime superhero screenwriter David S. Goyer ("The Dark Knight," "Man of Steel) is co-penning the screenplay, alongside Josh Friedman, Billy Ray, and Justin Rhodes.
We'll see if "Charlie's Angels" blinks or not, though it seems as if it and "Dark Fate" are catering to different audiences anyway. The more the merrier for moviegoers.
[via: Deadline]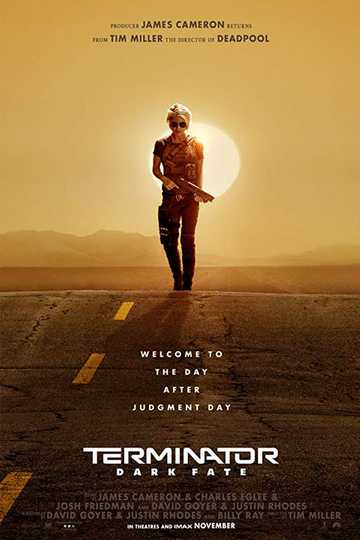 Terminator: Dark Fate
Decades after Sarah Connor prevented Judgment Day, a lethal new Terminator is sent to eliminate the future leader of the resistance. In a fight to save mankind, battle-hardened Sarah Connor teams up with... Read More