From 'Blade' to 'Thor: Love and Thunder,' Everything We Learned from the Marvel Comic Con Panel (It's a Lot)
This year's San Diego Comic Con has been a mostly sleepy affair, with most of the major movie studios forgoing splashy presentations, leaving buzzy television series to pick up the slack. (In all fairness, that "Watchmen" trailer rules.) So there was a certain amount of built-in hype for Marvel Studios' return to Hall H (they skipped last year); not only has the 2019 cinematic landscape been largely defined by the studio (thanks to hits like "Captain Marvel" and "Spider-Man: Far From Home," and the release of the juggernaut "Avengers: Endgame," which just surpassed "Avatar" as the highest grossing movie ever) but much of their upcoming slate has been a mystery, a muddled brew of conjecture, half-truths and wishful thinking. So this afternoon, in San Diego, the air was cleared. In a breathless 90-minute presentation, "phase four" of the Marvel Cinematic Universe, encompassing theatrical releases and new productions for Disney's forthcoming direct-to-consumer streaming platform Disney+, were meticulously detailed. And far from a saggy slate, this crop of titles is exciting and experiment. After so much change and so much success, Marvel Studios seems ready to mix it up. And we couldn't be more excited.
In an effort to streamline our reporting, we'll go in the order they went in Hall H. Just strap in. It's a wild ride.
After quickly showing a MCU greatest hits reel and announcing "Avengers: Endgame's" box office milestone, Kevin Feige introduced the cast and crew of "Eternals," set for release on November 6, 2020. Director Chloé Zhao appeared onstage with a ridiculously stacked cast, including Richard Madden, Kumail Nanjiani, Lauren Ridloff (the "first deaf hero" in the MCU), Brian Tyree Henry, Salma Hayek, Lia McHugh, Don Lee and, the queen herself, Angelina Jolie.
As far as kicking things off with a bang, this was pretty great.
Nanjiani said that he'd been to Comic Con eight times before but that this was the first time he'd gotten into Hall H. He then made a really cool analogy for the MCU. "It used to be like 'Casablanca' had everything – action, drama, thriller and movies had to be little genres. Is this a comedy? Is it a thriller? Marvel is a throwback to those old school movies because they have everything," he said. "I'm just excited to be able to do all that." Jolie, for her part, didn't take the role lightly. "What it means to be a part of the MCU to be a part of this family, we know what the task is and we are all going to work very, very hard," Jolie said, sounding both humble and very determined.
After "Eternals," we were then treated to a look at "The Falcon and the Winter Solider," a new series scheduled to hit the Disney+ streaming service in August 2020. Sebastian Stan and Anthony Mackie appeared on stage and Feige described the setting of the show as "post-'Endgame,'" but besides that, details weren't exactly revealed … oh, except that Daniel Bruhl, who played the villainous Baron Zemo in "Captain America: Civil War," will be back (and presumably, up to no good).
Next was a look at the film for February 12, 2021: "Shang-Chi and the Legend of the Ten Rings." Not only is that title new (and quite a mouthful!), but Feige detailed how the Ten Rings, a famous terrorist group in Marvel history, has been planted as Easter eggs in a ton of the movies (serious, "Ant-Man!?!") but now it will really get to take center stage. Tony Leung, one of our greatest living actors, will play the real version of The Mandarin (you'll remember Ben Kingsley infamously played a phony version of the character in "Iron Man 3"), alongside Awkwafina (in an undisclosed role) and newcomer Simu Liu as the titular hero. Liu said he was "cast on Tuesday," and said the casting was "a fulfillment of my dream." Director Destin Daniel Cretton said that he's excited to create an MCU film that "reflects all the beautiful colors I see in this room. To be a small part in that is really special to me."
After that we got a brief (and I mean brief) look at "WandaVision," the upcoming Disney+ series that concerns Elizabeth Olsen and Paul Bettany's characters from the MCU along with a very cool surprise, the addition of Monica Rambeau, who we last saw as a child in "Captain Marvel," now played by the wonderful Teyonah Parris. Everyone on stage described the show as "strange," with Feige saying it's "unlike anything we've done before," and Bettany calling it "surprising and weird." It looks, in part, to be based on Tom King's recent, highly celebrated comic book run and if the logo is any indication will have a retro 1950's aesthetic. Look for it in spring 2021.
Another Disney+ title we got a taste of is "Loki." Feige said that after "Endgame," "The question I got asked more than any other was: where did Loki go?" Well, as it turns out, a lot of places, thanks to his use of the space stone. Tom Hiddleston, always the fan favorite, says that this will be a less evolved Loki than he currently sits in the MCU. Think first "Avengers" Loki. "Just about the last thing that happened to him was he got Hulk smash. There's a lot of psychological evolution that has yet to happen," Hiddleston said. "Kevin has shown me what his plans are but it is one of the most exciting, creative opportunities I've ever come across. This is new territory, a new world, new challenges. I cannot wait to get started." He'll beam into your homes spring 2021.
Next, the film hitting theaters on May 7, 2021 was revealed: the sequel to "Doctor Strange," with the tantalizingly rococo title "Doctor Strange in the Multiverse of Madness." Feige started by saying that just because Jake Gyllenhaal was lying to our beloved Peter Parker, doesn't mean that a multiverse doesn't exist. But when returning director Scott Derrickson walked out on stage, he let loose an even bigger bombshell: "We're going to make the first scary MCU film." Whoa. (Feige quickly said: "It's a PG-13 movie and you're going to like it." So no R … yet.)
Benedict Cumberbatch came out on stage and said that "This twist of horror will really have people gripped. He'll be in a position of not knowing what's coming at him. We're going back to trying to destroy him a bit." Olsen was then brought back out on stage; she'll be fighting the forces of darkness alongside Strange in this outing and she remarked that the storylines of her show and the "Doctor Strange" sequel will be linked.
Next up: summer 2021 on Disney+, the first "animated series from Marvel Studios," "What If." It'll feature Jeffrey Wright from "Westworld" as the voice of The Watcher and "a huge majority f the actors in our movies will reprise their roles," taking on alternative takes on characters and scenarios you already love.
Jeremy Renner then emerged, making his way through the crowd, to help announce the "Hawkeye" "limited series" (none of the other shows were described as such) coming to Disney+ in the fall of 2021. What's more, as Feige said with great pride, the series will be responsible for "bringing Kate Bishop into the MCU and we'll explore more of his time as Ronin in this series." Renner seems pumped about the series (which, based on the logline and the logo seems to be derived from Matt Faction's amazing series): "What I think Hawkeye is a superhero without superpowers. And I get to train somebody else to be a superhero without superpowers. It's an amazing sentiment. I think that's fantastic."
And then we got to talk about the third film of 2021, coming November 5, 2021: "Thor: Love and Thunder." Writer/director Taika Waititi has returned to the franchise and he was joined on stage alongside Chris Hemsworth and Tessa Thompson. Waititi said he was inspired by the Jason Aaron comic book "The Mighty Thor." "It introduces, for the the first time, female Thor." He said there was only one person who could carry the hammer (and carry the hammer, out onto the stage, she did) -- Natalie Portman, making her return to the MCU after a somewhat contentious shoot on "Thor: The Dark World." People were shook. This is a huge surprise. Portman said that inheriting the role of Thor, "Feels pretty good." She then said: "I've always had some hammer envy."
At the tail end of the panel, we were treated to May, 2020's film, "Black Widow." We saw some footage, which looks very "Mission: Impossible"-y, and Scarlett Johansson was joined onstage by her amazing cast (including an incredibly charming David Harbour from "Stranger Things"). We'll do a deep dive into the footage and everything a bit later, but at the end of the panel, the cast walked on stage with their Black Widow hats for a big group photo. They were then joined by everybody else who had been a part of the presentation (all wearing their Black Widow hats, which I noticed were considerably higher quality than the ones that were handed out) and then, at the very very end of the presentation, after Feige had bemoaned the fact that he didn't get to talk about "Black Panther 2" (!), or "Captain Marvel 2" (!!) or "Guardians of the Galaxy: Vol 3" (!!!) or talk about "Fantastic Four" or the plans for the mutants (!!!!).
Then he brought out two-time Academy Award winner Mahershala Ali. Feige said that Ali had another hat he'd like to wear. And then he put it on and it said "Blade." It's unclear whether or not it's a TV series or a movie, but goddamn are we pumped.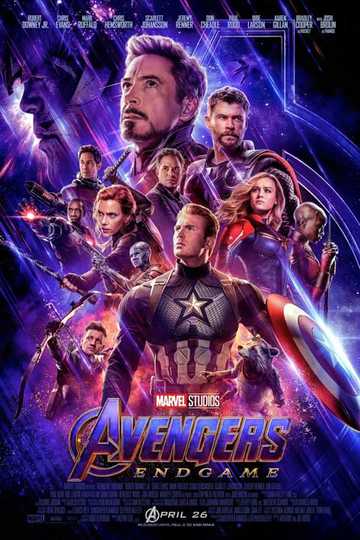 "Part of the journey is the end."
After the devastating events of Avengers: Infinity War, the universe is in ruins due to the efforts of the Mad Titan, Thanos. With the help of remaining allies,... Read the Plot