 As Quentin Tarantino's new feature, the Charles Manson-adjacent "Once Upon a Time in Hollywood" continues to capture our imagination (how many times have you seen it?), we thought it might be fun to look back at his smaller contributions to filmmaking. So small, in fact, that you might not even be aware of them.
'It's Pat: The Movie' (1994)
Yeah … it doesn't make sense. But then again, it sort of does. Julia Sweeney, who immortalized the androgynous Pat on "Saturday Night Live" before spinning the movie off into a woefully under-seen theatrical feature, has a brief but memorable role in "Pulp Fiction." Also, consider this: the script for "It's Pat" was co-written by Stephen Hibbert, Sweeney's ex-husband and the guy in the gimp costume in "Pulp Fiction."
Tarantino revealed in a 1994 Playboy interview that he did some uncredited re-writes on the movie but watching it, much like anyone dealing with the character of Pat, will be hopelessly confused.
'Crimson Tide' (1995)
The first script Tarantino ever sold was "True Romance," long before he was a poster boy for the American independent film renaissance, and the filmmaker who finally would up making that film was the late British director Tony Scott. So, a few years later, after Tarantino had firmly established himself as a wunderkind, Scott called on him to finesse his script for the submarine thriller "Crimson Tide."
Tarantino's contributions are far more evident in this film than any of the others he anonymously worked on, from an early discussion of submarine movies, to later dialogue built around "Silver Surfer" comics and the original "Star Trek" series (surprisingly, Denzel Washington is a big Trekkie). He adds just the right amount of QT flavor to an otherwise standard (and totally brilliant) suspense movie.
'Curdled' (1996)
This is a weird one. Tarantino saw a short film by Reb Braddock and encouraged the director to turn it into a feature film, which he did (Tarantino produced it via his A Band Apart production company and released it through his Miramax-housed Rolling Thunder Pictures shingle). While Tarantino's interjections into the "Curdled" screenplay remain hard to track, it is clear that he wrote the news report recited by Kelly Preston, who played the same character in "From Dusk Till Dawn" ("Curdled" also uses old footage of George Clooney and Tarantino from that film).
Apparently, the Tarantino Cinematic Universe goes beyond Red Apple cigarettes and Big Kahuna burgers.
'The Rock' (1996)
While watching the finished movie, it's hard to tell, but Michael Bay's "The Rock" had some pretty heavy-hitters in the writer's room. Not only did Jonathan Hensleigh contribute significant rewrites (so much so that Bay wrote to the WGA to protest the arbitration process), but Aaron Sorkin also provided additional work, along with (of course) Mr. Tarantino.
Again, it's hard to pick out what his contributions were, but "The Rock" is an action movie that ends with several characters having to inject themselves in the heart with adrenaline. Why does that sound so familiar?
'Girl 6' (1996)
It's weird to think of Tarantino and Spike Lee ever being buddies, especially after Lee took Tarantino to task for his excessive use of the n-word. But, there was a time before such grudges, and 1996 was that time. Tarantino appeared, in a brief role (essentially playing himself, but still dramatic) in "Girl 6," Lee's call girl comedy.
The movie isn't very good, aside from some well-placed Prince songs, and Tarantino isn't very good either, but it's worth watching as a pre-feud time capsule.
'Muppet Wizard of Oz' (2005)
Everything about "Muppet Wizard of Oz" is a painful exercise in WTF-worthy randomness, and this includes Tarantino's brief cameo as himself. What does he do? He pitches a "Kill Bill"-style take on the classic story, which somehow already felt dated and unfunny even though "Kill Bill, Vol. 2" had just been released the year before.
Watching Tarantino yell at Kermit, while swinging a samurai sword around, is supposed to be off-putting but maybe not this off-putting. (On the DVD's special features, Tarantino says that the Muppets are some of his "favorite actors.") Well, Tarantino, you worked with the Muppets, check it off the list and move on.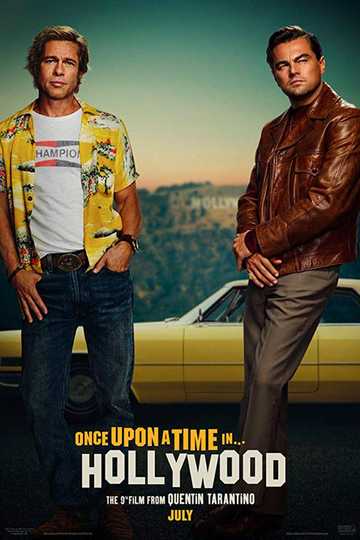 Once Upon a Time… in Hollywood
Los Angeles, 1969. TV star Rick Dalton, a struggling actor specializing in westerns, and stuntman Cliff Booth, his best friend, try to survive in a constantly changing movie industry. Dalton is the neighbor... Read More