Imagine buying your dream house, but the guy living in the guest house turns out to be a total nightmare... that's the exact premise of 'Guest House,' with Pauly Shore playing the aforementioned nightmare. In this exclusive clip, we see Randy (Shore) get a rude awakening from Blake (Mike Castle), his new landlord.
Here's the official synopsis for the movie:
Pauly Shore and Steve-O kick this outrageous, raunchy comedy into high gear. When engaged couple Sarah (Aimee Teegarden) and Blake (Mike Castle) buy their dream home, there's a catch: a party animal named Randy (Shore) in the guest house who refuses to leave! When Randy throws a wild, sexy pool party, the cops show up — and Blake gets arrested. Can he and Sarah get through their backyard wedding without a certain loser crashing the party... and ruining their marriage?
This exclusive photo gives us a taste of Randy's strategy to keep his home:
'Guest House' will be available on demand and digital on September 4th.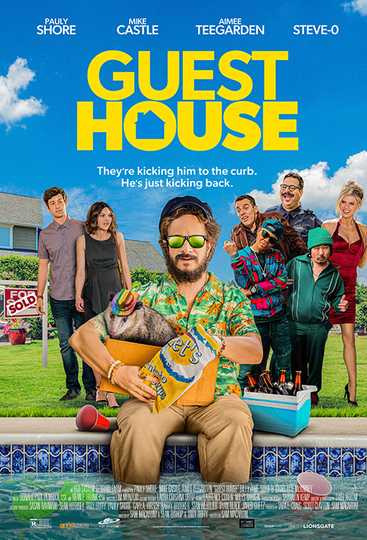 Guest House
"They're kicking him to the curb. He's just kicking back."
A newly engaged couple finds the home of their dreams and it quickly becomes a nightmare when the previous owner's friend continues squatting in their guest house....Read More