Director Patrick Hughes Talks Netflix's 'The Man from Toronto'
'The Hitman's Bodyguard' filmmaker discusses his latest action comedy which stars Kevin Hart and Woody Harrelson.
Premiering on Netflix June 24th is the new action comedy from 'The Hitman's Bodyguard' director Patrick Hughes entitled 'The Man from Toronto.'
The movie stars Kevin Hart as Teddy, an unsuccessful entrepreneur who is confused for a dangerous assassin known only as the "Man from Toronto," played by Woody Harrelson. Now, Teddy must team-up with the hitman in order to help the FBI take down a ruthless drug dealer (Alejandro De Hoyos).
In addition to Hart and Harrelson, the cast also includes Kaley Cuoco ('The Big Bang Theory'), Pierson Fode ('Supergirl'), and Ellen Barkin ('Ocean's Thirteen').
Director Patrick Hughes is no stranger to the buddy-action-comedy genre having made both the extremely popular 'The Hitman's Bodyguard,' starring Ryan Reynolds, Samuel L. Jackson and Salma Hayek, as well as its sequel 'The Hitman's Wife's Bodyguard.' Hughes also helmed the Australian Western 'Red Hill,' and 'The Expendables 3' starring Sylvester Stallone, and Jason Statham.
Moviefone recently had the pleasure of speaking with director Patrick Hughes about 'The Man from Toronto,' working with Kevin Hart and Woody Harrelson, the possibility of a sequel, the status of a third 'The Hitman's Bodyguard,' and wanting to make a crossover film between both franchises.
Moviefone: To begin with, you clearly have a love for the "buddy-action-comedy" genre having made 'The Hitman's Bodyguard' movies and now 'The Man from Toronto.' When did that love for this genre begin, and what are some of the "buddy-action-comedies" from the past that inspired you while making this film?
Patrick Hughes: I certainly think it was growing up. I'm this huge John Hughes fan. I'd like to say I'm related to him, but I'm not. But just watching his films growing up, I think the thing that really shone true for me was the heart and soul that those films have. As funny as they are, there's always inherently, a human tragedy behind it and there's a truth behind it. I think there's a genuine sort of heartbreak. When you look at 'Planes, Trains and Automobiles,' and 'Ferris Bueller's Day Off,' they're outrageously funny, but there is always that human condition that is explored.
I think I would say 'Midnight Run' was a massive influence on me, still to this day. I think it's in my absolute favorite. I read that script once a year just because I think it's one of the most beautifully crafted screenplays. You get to page 50 and you can't help but cry when the truth is revealed because someone's harboring hurt. I think it's all fear based. We all wear our shells in life, and life tends to beat us all down.
I think the thing about the action-comedy that really inspires me is that it's the imperfections. That's where the fun and games happen because you're allowed moments that are not perfect. We'd all love to be living in the James Bond world where everything's cool and sophisticated. The reality has always been very different.
MF: After making the 'Hitman's Bodyguard' movies, was there anything you learned about the genre that you wanted to apply to this film, and anything specifically that you wanted to do differently?
PH: I'm very open to improv. I mean, we put a lot of work into developing the script and then we get that into a position. So, by the time you get on set, you've done all that legwork in pre-production. Because pre-production, not a lot of people talk about it in the filmmaking process, but that's where I would say a good chunk of the hard work goes as a director is in the pre-production. Once you get there, it's like, "I've already scouted this location 15 times. I've already previewed all this action a billion times over. I've already done all these tech scouts and worked everything out."
So now, your role as director once you're on set, it's like everyone's aware of what we're doing. Now it's just working with the actors. That, to me, feels like, "Well, that's the sandbox. Now we've got the parameters." Now we're very open and I love creating that collaborative environment where if someone's got a great idea, I say, "Throw it. Bring it. I will steal it." Especially if it's a good one, I will steal it and I will take credit for it because that's how Hollywood works.
MF: Can you talk about pairing Kevin Hart and Woody Harrelson together and the chemistry they had on and off screen?
PH: I really love working with actors and I love having that banter with them. That's a process that starts very early on during pre-production. I would say with every film, I always end up with these text chains between all these actors individually and you're bouncing ideas back and forward. I like to have a very collaborative environment.
I'm constantly having ideas and pitching, and then they're pitching ideas back. That's throughout pre-production and then you get there on set and I think the biggest unknown is in your mind. You can say, "Well, I think Kevin and Woody will have a chemistry on set together," but you never know until you're standing on set.
So that for me is really such a tense moment. I remember we'd been shooting with Woody for a week before we had Kevin on set. So, all his scenes isolated. They're pretty dark. I was like, "Are we even making a comedy at this point?" Then we had Kevin on set. It's not until you call action with the two of them there and then you let it roll that you'll know it works.
It was a huge sigh of relief because that chemistry is definitely there. It can be really challenging because if it's not there, then you're going to try and force it for the rest of the four months that you're shooting. But those two really hit it off. It was the same with Sam Jackson and Ryan Reynolds. So, it's just a lot of fun to be working in this genre. I love it.
MF: Obviously, Woody is known for his intense dramatic work, but I think people forget that he started his career on the sitcom 'Cheers.' Were you surprised at how well he worked off of Kevin within the comedic moments?
PH: Well, no. He's a very funny guy and he's got such a wonderful personality. I feel like when you're with Woody you're sitting with an old soul. You can tell he has got that spiritual grounding. Unlike Kevin and I, who have ADHD kind of vibes. I mean, I thought I had ADD, and then I met Kevin Hart. He claims it's the other way around.
But yeah, Woody's such a wonderful actor and he's got such a breadth and depth of work. It goes back so far. He's just so in tune with the comedy too. I think the challenge for him, and he had the biggest, was not cracking up on set. Usually it's me that cracks up the most on set. It was definitely Woody this time. That was hard. Trying to keep a straight face in front of Kevin is pretty hard. I'll give him that.
MF: Kevin hasn't had a lot of experience doing action sequences, what was he like to work with in the more physical scenes?
PH: Well, he's so down for it. He loved it. He loved putting on the front that he's a big tough guy. We had a really incredible stunt team on this. But Kevin is super fit. So is Woody actually. That was really surprising. He's so nimble and fit. And he's very healthy and does a lot of yoga and stuff. So, he is very sort of flexible. They both put a lot of work in.
There's a lot of big fight sequences involved that does require the prep work. You can't just walk up as an actor and expect to know the moves or replicate them on the day. That actually does require training and rehearsal time. I'm always blessed when those actors are willing to put in the hard work.
MF: Can you talk about what these two different characters learn from each other through the course of the movie?
PH: I think at the end of the day, Teddy is someone that life's trodden down and he's lost his way. He's lost his mojo. I guess he's lost the ability to stand on his own two feet and go after what he really wants. Then you've got the "Man from Toronto" who's got so much control in his life that he's too controlling, so to speak. His life's so structured and he's built such a tough exterior shell. He resolves all his conflicts with physical acts of violence, quite often just punching people in the face, whereas Teddy's trying to resolve his conflicts with talking. Really at its simplest form, that's reflecting in Teddy talking too much and the "Man from Toronto" doesn't talk enough.
I guess what the "Man from Toronto" learns is that potentially there's another way to resolve conflicts. Maybe that's by sharing emotions. That's not such a bad thing to have a touch of vulnerability. Likewise, Teddy learns that you need to stand up for yourself and go after what you want because if it's worth fighting for, then you should. So, there's universal things in there. I think it's the human condition and we all go through that, and I think we can also lose our way in this world. It's a tough world that we all live in and it can beat you down if you let it. I think they both find their way to stand on their own two feet at the end.
MF: There is a long fight sequence in a gym towards the end of the film, similar to the fight scene in the hardware store in 'The Hitman's Bodyguard.' Can you talk about shooting that scene, and is the long-choreographed fight sequence kind of your signature directorial move now? Will you include that in all your movies?
PH: You're very quick to be calling that one out. Well done to you. My other signature is literally someone being hit by a car. I remember actually, after we finished shooting that scene in 'The Man from Toronto,' I texted Ryan Reynolds. I texted him and I said, "I think I just outdid our hardware fight sequence." He was upset by that because this one in the gym was pretty off the chain.
But I really love the idea of having that sort of sustained action because it really puts you in the panic. Because at the end of the day, Kevin's just an everyman trying to find his way through this very dark, scary world. He should not be in this movie. You know? That was my pitch from the beginning, "Let's just make a straight action thriller about FBI and Homeland Security threats."
Then it's like Kevin's just walked on the wrong film set. He should not be in this movie. There's sort of a terror to that. I think that was something that was aligned with Ryan Reynold's character in the 'Hitman' franchise was that he's vulnerable like Kevin. Both actors were very open to showing vulnerability, which is a rarity. I think that's why audiences love them so much because they see themselves in them.
But they're not here to play the straight tough guy that's going to stand and fight. I remember when I was doing that fight sequence with Ryan in the first 'Hitman.' We didn't call it a fight sequence. We called it a chase sequence because it wasn't a fight. It's like, "I'm just trying to stay alive and I'm trying to run away from this, but I can't because they're chasing me." So, I think that there are similar connotations to the gym fight in this film.
MF: Finally, do you have ideas for 'The Man from Toronto 2,' and can you give us an update on the status of 'The Hitman's Bodyguard 3?'
PH: I wrote the script for 'The Hitman's Bodyguard 3' earlier this year. That was one of the writing gigs I was on. I cannot reveal the title of that film, but it's the most ridiculous title that will ever go on screen. I love the possibility of a sequel because you can't help but want to see where the potential of these two characters end up in 'The Man from Toronto.'
So, we'll see what happens, but it's definitely going to be called 'The Men from Toronto.' And who knows? I'm also thinking about a crossover because I'd like to see Ryan, Sam, Woody, and Kevin on screen together. I know that 90% of my budget would be going to paying the talent. I control both those universes. So, it's me just being greedy. I'm not sharing it with anyone. It's just me just expanding my own universe.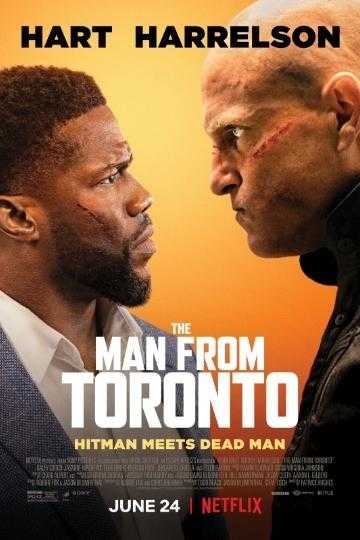 "Hitman meets dead man."
1 hr 50 min
Jun 24th, 2022
In a case of mistaken identity, the world's deadliest assassin, known as the Man from Toronto, and a New York City screw-up are forced to team up after being confused... Read the Plot