'DC League of Super-Pets' Director Jared Stern Talks New Animated Movie
Moviefone speaks with writer/director Jared Stern about 'DC League of Super-Pets.' "Every dog is a superhero because they love us unconditionally," he said.
Opening in theaters on July 29th is the new animated movie 'DC League of Super-Pets,' which was written and directed by Jared Stern ('The Lego Batman Movie').
The movie stars Dwayne Johnson as Krypto, Superman's (John Krasinski) dog. When a group of animals receive super powers, Lex Luthor's (Marc Maron) guinea pig Lulu (Kate McKinnon) captures the Justice League and attacks Metropolis.
Now, Krypto must learn to work with his new friends, including a dog named Ace (Kevin Hart), a turtle called Merton McSnurtle (Natasha Lyonne), and Chip the squirrel (Diego Luna) in order to defeat Lulu and save Superman, Batman (Keanu Reeves) and the rest of the JLA.
The voice cast also includes Vanessa Bayer as PB, Olivia Wilde as Lois Lane, Jameela Jamil as Wonder Woman, Jermaine Clement as Aquaman, John Early as The Flash, Daveed Diggs as Cyborg, Dascha Polanco as Green Lantern, and Keith David as Krypto's father.
Moviefone recently had the pleasure of speaking with writer and director Jared Stern about his work on 'DC's League of Super-Pets,' creating new origins and designs for the characters, the DC animal characters they did not use, working with Dwayne Johnson and Kevin Hart, casting Keanu Reeves and Marc Maron, and why every dog is a superhero.
Moviefone: To begin with, can you talk about creating new origin stories for Krypto and Ace the Bat-Hound in 'DC League of Super-Pets?'
Jared Stern: We're fans of the comics. We never wanted to do something that felt wrong. But we also wanted to do something that felt original and fresh for our universe. Krypto has a few different origin stories over the course of comics' canon. There's one that's really cool where he was set up as almost a test subject to make sure that baby Superman's escape pod worked. Then in a convoluted way, he ends up getting to Earth after Superboy has already grown a bit, which was too confusing, but it's a very cool story.
So that one was just a little confusing but it's so much more emotional in our movie, hopefully, and gives you the connection right away that these two are best friends forever. So, when something gets in the way of that for Krypto, it's going to be a huge deal. So, that's why we went with the origin story that we did there.
Then for Ace, there's multiple origin stories for him too, but I liked the notion of telling a story about a shelter pet, a dog who's been there for a long time. Puppies get adopted more quickly than adult dogs and just the notion of the veteran, the guy that takes care of the other pets at the shelter. They're idiots, but they're his idiots, like 'One Flew Over the Cuckoo's Nest.' So, that just seemed to work for our Ace, to give him a bit of a grizzled backstory, befitting someone who could become a Bat-Dog.
MF: For the animal characters, you used a combination of classic DC animal heroes, as well as some new ones. Can you talk about that choice, and did you consider any other DC animal characters like Captain Carrot, Gleek, or Detective Chimp that didn't make it into the final cut?
JS: I mean, there's so many to choose from. It's pretty great. You just named a few, I could name a bunch of others that I love. I'll just think of one that no one would ever think was in the movie. Let's see who I love. Let's say Bat-Cow. But there's just so many. I love Detective Chimp. There's the original Legion of Super-Pets, which people love. So, Beppo, that's a good one to go with. Let's go with that, Beppo (a monkey), Comet (a horse) and Streaky (a cat).
They're awesome, but they're all in the Superman family. We really wanted to do a thing that could perhaps be an origin story for all of the Justice League's pets, so that was the driving force behind. We knew that they were going to be shelter animals and that they were going to end up hopefully being Justice League pets, so that was what shaped the choices that we made.
Then from there, we picked some of our favorites and molded new origin stories for them as well. So, Chip obviously is a little bit different than what you might have seen in the comics, but still awesome. We also have Merton McSnurtle, who's a deep cut from "Funny Stuff," but has appeared in various ways over the years.
Then we created some new characters, like you said. Lulu is our own creation, the villain played by Kate McKinnon, a hairless guinea pig. We wanted a villain that was really actually pretty badass and capable but made sense in a movie where the pets are the ones saving the day. So, that's where Lulu came from.
Then we have PB the pig. I love Wonder Woman's pet Jumpa from the comics, but I couldn't quite fathom there being a kangaroo in a local Metropolis animal shelter. So, that's why we created PB the pig. But there's a couple of nods to DC canon and Wonder Woman having a pig. There's an early issue where she flies on a pig. Then there's a famous 'Justice League' animated series episode where she gets turned into a pig by Circe.
MF: Can you talk about Dwayne Johnson's involvement in this project, both as a producer and as the voice of Krypto, and what came first, casting Johnson or deciding to bring in his good friend Kevin Hart as the voice of Ace?
JS: It's a good question. Dwayne's involvement, I was thinking about from the very beginning. Sometimes you go to the studio and say, "With so-and-so, think this actor." I swear to you when I pitched this movie I said, "Krypto the super dog. Think Dwayne Johnson." Amazingly, we made it into reality. He said, yes, and he's wonderful.
I think that is definitely when we started thinking about Kevin, because those two guys are so good together. But we didn't want to just put them together just because it's fun, because they have a good time, and that people love them together. That's all true. But it only would've worked if we felt like Kevin was right as Ace the Bat-Hound.
We tested his voice out and listened to it. We noticed that he's playing in a deeper register and he's doing something very different. He's still very funny in this. He's still Kevin Hart, but he's doing something really soulful and emotional. It's a little bit of a lower voice for him, and I think it's really fantastic. So, we didn't want to just do it to do it. We did it because we felt like it would make for a really great story in our movie.
MF: As a DC fan, I thought you perfectly cast Keanu Reeves and Marc Maron as Batman and Lex Luthor, respectively. Can you talk about both of those casting choices?
JS: I'll start with Maron, who I love. My co-director Sam Levine is an obsessive fan of the WTF Podcast. Sam is an animator and really smart about pairing voices. He just was like, "This is the voice." He was absolutely right. He's just such a great Lex Luther because he's a guy who has everything and yet still can complain and be aggrieved. That's our Lex. He's a billionaire, but he's just so frustrated that he can't win.
Then for Keanu, our Batman is haunted. He's a guy who's seen a lot in his life. He's still a badass Batman, but he's a bit messed up. Most importantly, he's the guy who just needs a pet. Keanu's voice and what he did with it was really wonderful. I feel like he had a good time doing Batman and I'd love to make more Batman movies with Keanu Reeves any day.
MF: For the look of the Justice League, you went with a 1940's inspired costume for Superman, Aquaman has his hook, and you chose Jessica Cruz from all the different Green Lanterns available. Can you talk about your design choices for the different Justice League members?
JS: I mean, it was a combination of a lot of stuff. We wanted to have a diverse lineup that looked like the whole world, so that could mean an Aquaman who's from the South Pacific. That could mean a character like Aquaman who has a disability, a prosthetic limb. That could mean Jessica Cruz, and just trying to have a better gender balance between the characters. So, we just wanted it to look like the whole world without forcing it, without being preachy, just so that everyone could see themselves in the Justice League and the heroes.
Then in terms of the design, our character designers did a wonderful job. Even with the shapes of their body types, we wanted that to feel like the whole world. We just picked and chose from everywhere, all the stuff that we loved from the comics and then things that just felt right that were invented from our character designers.
So, there's a little Christopher Reeve in our Superman, but there's also a little bit of Max Fleischer in him as you noted. Our Cyborg is in some ways is a nod to the first Cyborg designs in the comics, but then he's got his own little modern flare too. They all have a uniting gold element in them, which we felt connected to the golden age of DC and in our Metropolis.
MF: Finally, if you take the DC elements out of this movie, it's really a film about a man that loves his dog, and vice versa. How did your own love for animals help inform you while developing and making this movie?
JS: Our producer Patty Hicks rescues and adopts German Shepherds. Everyone who worked on this, we're all animal lovers and I think it comes through in the film. It's a story about how much we love our pets and how much our pets love us. Every dog is a superhero because they love us unconditionally.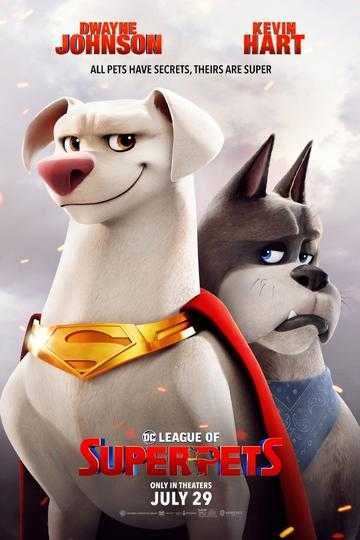 "Sit, stay, save the world."
1 hr 45 min
Jul 29th, 2022
Showtimes & Tickets
Dwayne Johnson stars as the voice of Krypto the Super-Dog in Warner Bros. Pictures' animated action adventure feature film "DC League of Super-Pets," from director... Read the Plot