'The Last Letter From Your Lover' Owes Its Look and Feel to These 8 Movies
The new Netflix romance, directed by Augustine Frizzell, gets its look from these 8 classic movies.
Based on Jojo Moyes' 2012 novel of the same name and now on Netflix, Augustine Frizzell's cozy romance 'The Last Lover From Your Lover' follows a set of star-crossed lovers in 1960s London and the French Riviera and a contemporary journalist uncovering their love story.
Moviefone recently sat down with the director to talk about the film's visual inspirations. Frizell shared that, "all the stuff in the Riviera was one set of references, and the stuff in London that was another." As amnesiac 1960s socialite Jennifer Stirling (Shailene Woodley) traces her past, we follow her story to the French Riviera.
To bring this era back to life, Frizzell listed several films, "there's this great old film called 'Bonjour Tristesse' that was a big reference and then the original 'Purple Noon' and also 'The Talented Mr. Ripley' was some of it. 'To Catch a Thief' was a big reference. Just these very glamorous portraits of the French Riviera in the 60s. 'Bay of Angels,' even though that is black and white, some of the shots and the way that that was framed."
We also see Jennifer's life back in London with her cold and controlling husband Laurence (Joe Alwyn). For this shift in setting, Frizzell's references included everything from Alain Resnais to Paul Thomas Anderson to Wong Kar-wai.
Of these influences she said, "I had this favorite film called 'Last Year At Marienbad' and something about the way that they used texture, it's also a black and white film, but they used texture and pattern and the costumes. I took a lot of inspiration from those costumes. I felt I wanted to do something similar. For the home, 'Phantom Thread' was a big influence. I thought it was just so soft, and I wanted that softness. There were parts, for instance, the stuff where they're dancing at the club and the stuff where they are in the hotel room 'In The Mood For Love' was a big influence. The bright colors and the wall patterns and textures."
Let's take a look at these eight films that inspired the look and feel of 'The Last Letter From Your Lover.'
---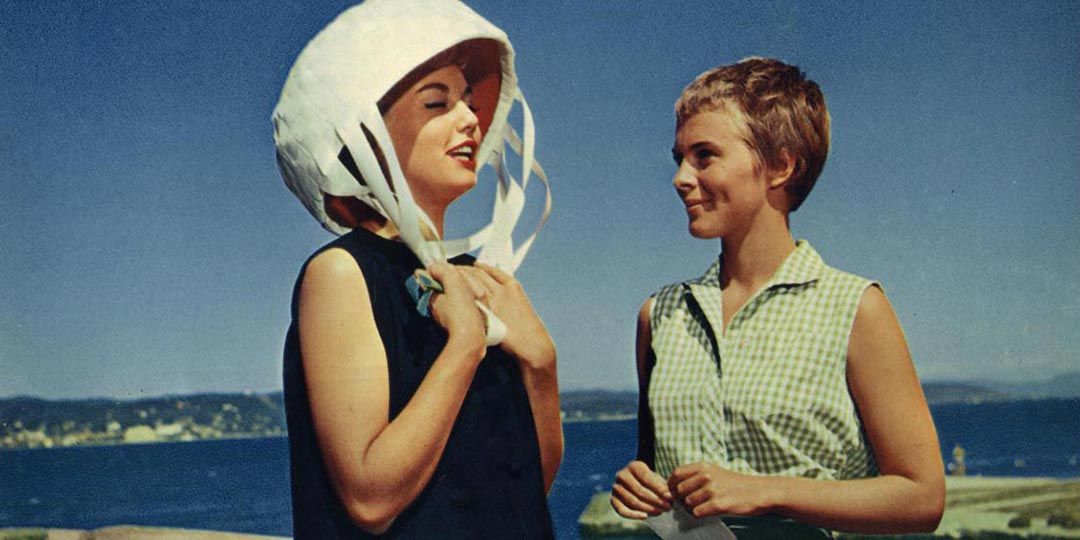 Adapted from a novel by Françoise Sagan, this lush Otto Preminger drama was shot in exquisite Technicolor. The French Riviera never looked more alluring, but like Frizzell's film, it's dark plot acts as a wonderful antidote to the sun's charm.
Jean Seberg plays Cécile, the carefree 17-year-old daughter of a playboy (David Niven), whose jealousy over his new girlfriend (Deborah Kerr) could mean disaster for everyone involved.
---
'Purple Noon,' 1960 (dir. René Clément) The first of two adaptations of Patricia Highsmith's 1955 novel 'The Talented Mr. Ripley'. Alain Delon, possibly the hottest man ever to emerge from French cinema, plays American Tom Ripley who is sent to retrieve Philippe Greenleaf (Maurice Ronet).
Seduced by the glamour of the Riviera, and obsessively drawn to Philippe's girlfriend Marge (Marie Laforêt), Ripley instead decides to take over the man's life.
--- Directed by Anthony Mighella, this second adaptation of Highsmith's novel sees Matt Damon take over the Ripley role. Jude Law received his first Oscar nomination for his performances as the charismatic jazz musician Dickie Greenleaf.
This version leans even further into the homoerotic undertones of the novel, and features a killer ensemble Gwyneth Paltrow, Cate Blanchett, Jack Davenport, and Philip Seymour Hoffman.
--- One of Hitchock's most stylish films, this cat-and-mouse caper follows Cary Grant as a retired cat burglar who attempts to find an impostor preying on wealthy tourists in the French Riviera, including cinema siren Grace Kelly.
---
'Bay of Angels', 1963 (dir. Jacques Demy) After young banker Jean Fournier (Claude Mann) wins a small fortune playing roulette he takes a vacation to Nice where he falls for a divorced single mom Jackie (Jeanne Moreau), who warns him her passion for gambling will likely tear them apart.
--- Directed by Alain Resnais from a screenplay by Alain Robbe-Grillet, this twisty film stars Delphine Seyrig and Giorgio Albertazzi as a woman and a man who may have met the year before and may have had an affair. The film's non-linear structure highlights the ambiguity of time, space, and love.
---
'Phantom Thread,' 2017 (dir. Paul Thomas Anderson) Mostly set in 1950s London, this romance follows Daniel Day-Lewis as an haute couture dressmaker Reynolds Woodcock who falls hard for a waitress named Alama (Vicky Krieps), who becomes his muse. Alma challenges Woodcock in every way possible, pushing against his controlling nature, proving that love is never easy.
--- Featuring a sumptuous color palette and an evocative soundtrack, this romance set in 1962 British Hong Kong follows a man (Tony Leung) and a woman (Maggie Cheung) who collide unexpectedly after their spouses have an affair, and find their lives irrevocably altered.