Teyana Taylor and Director A.V. Rockwell Talk 'A Thousand and One'
Moviefone speaks with Teyana Taylor and A.V. Rockwell about 'A Thousand and One.' "I instantly connected to her and what she stood for," Taylor said of her role.
Opening in theaters on March 31st is the new drama 'A Thousand and One' from writer and director A.V. Rockwell, which won the jury prize at 2023 Sundance Film Festival.
What is the plot of 'A Thousand and One?'
'A Thousand and One' follows unapologetic and free-spirited Inez (Teyana Taylor), who kidnaps her six-year-old son Terry (Aaron Kingsley Adetola) from the foster care system. Holding onto their secret and each other, mother and son set out to reclaim their sense of home, identity, and stability, in a rapidly changing New York City.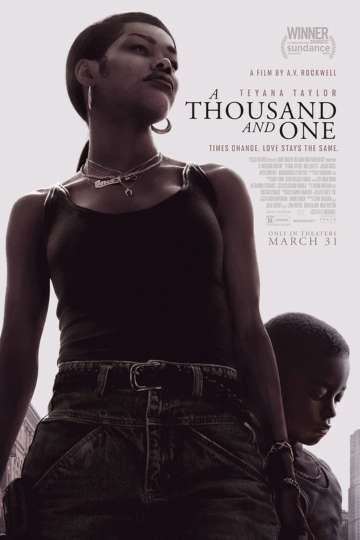 Who is in the cast of 'A Thousand and One?'
'A Thousand and One' stars Teyana Taylor ('Coming 2 America') as Inez de la Paz, Aaron Kingsley Adetola as 6 year old Terry, Aven Courtney as 13 year old Terry, Josiah Cross ('King Richard') as 17 year old terry, and Will Catlett ('The Devil You Know') as Lucky, Inez's husband.
Moviefone recently had the pleasure of speaking with Teyana Taylor and writer/director A.V. Rockwell about their work on ''A Thousand and One,' why Rockwell wanted to tell this particular story, Taylor's performance, and what the director hopes audiences will take away from seeing the film.
You can read the full interview below or click on the video player above to watch our interviews with Taylor, Rockwell, Josiah Cross and Will Catlett.
Moviefone: To begin with, A.V., can you talk about the themes you wanted to explore about gentrification and the relationship between mothers and their sons with this movie?
A.V. Rockwell: I think I wanted to use this window of time, this coming of age era that was my coming of age era in New York. I wanted to use it as a way into all these different topics. I wanted people to also understand what's at stake because New York was changing dramatically and we see that over the course of the film. So this was my farewell to that era, but I wanted people to understand what it means for the most vulnerable group of people that are impacted by those changes. I think gentrification and the way that it impacted characters like Inez and Terry, who are products of the foster care system and were so desperate to be loved, so desperate to have stability and a sense of home. So I think just seeing the impact of what it means to fight for that, and the power of those things and to see it washed away. Then for a community like Harlem, that means something not only to New Yorkers but just to black identity and heritage in particular, and also to American history. I think to lose that neighborhood is, again, a devastating loss and I wanted people to just have an understanding of not only what's happened here, but how all these things work and play into each other.
MF: Teyana, what was your first reaction to the screenplay and can you talk about your approach to playing Inez?
Teyana Taylor: Well, before I even got the role or the script, all I had was the audition sides, a little synopsis and a little bit about who Inez was. I honestly instantly connected to her and just what she stood for, and what she fought for. I felt like I stood and fought for a lot of the same things and so I worked to earn that script. When I got the full script, me and A.V. did a lot of workshopping, a lot of layering, and a lot of color coordination of the different layers of Inez. So it was really beautiful to see how Inez came together on screen.
MF: Finally, A.V., what do you hope audiences will take away from seeing this movie?
A.V. Rockwell: I think that there's a lot for people to walk away from as they leave the theaters after watching this movie. It's hard to really narrow it down to one thing, but I think that's the beauty of it. I think that in doing my job correctly, I was trying to give people a jumping off point, things to process about their experience, about the relationship dynamics they have and also how we relate to other communities. So really, I was hoping to just inspire conversations. I think that if people can take that away, and have those things to talk about in relation to all the different themes and events that happen to take place in the movie, then I feel like it's been a great success.
Other Movies Similar to 'A Thousand and One:'
'A Thousand and One' is produced by Sight Unseen Pictures, Hillman Grad Productions, Makeready, and Focus Features, and scheduled for release on March 31st.