The Bellas Are Back! Anna Kendrick Shares 'Pitch Perfect 3' Cast Photo
Production on "Pitch Perfect 3" is officially underway, and the members of the Barden Bellas are just as excited for the new flick as fans of the surprise hit series, sharing a cast photo from the shoot.
Star Anna Kendrick, who plays Beca in the a cappella franchise, posted the group snap to her Instagram account, featuring the core characters from the flicks all smiles as they gear up for the threequel. Pictured in the photo -- some of them triumphantly holding up three fingers -- are actresses Kendrick, Rebel Wilson, Anna Camp, Brittany Snow, Chrissie Fit, Shelley Regner, Ester Dean, Hana Mae Lee, and Kelley Jakle.
While the "Pitch Perfect" series became an unlikely hit after bowing in 2012 -- the 2015 sequel, "Pitch Perfect 2," went on to gross more than double the first film's haul, making a third flick a no-brainer -- it's had a bit of a bumpy ride lately. First, "PP2" helmer Elizabeth Banks was set to return to the director's chair, but a release date change caused some scheduling issues, and Banks eventually bailed on the job. Then, after a production delay caused by Banks's departure, the release date changed again. Director Trish Sie ("Step Up: All In") eventually took over directing duties in September, putting the flick back on track.
With Sie in place and the cast assembled, it looks like it's finally full steam ahead for "PP3." We're aca-excited to see what's in store for the Bellas this time around.
"Pitch Perfect 3" opens on December 22.
[via: Anna Kendrick]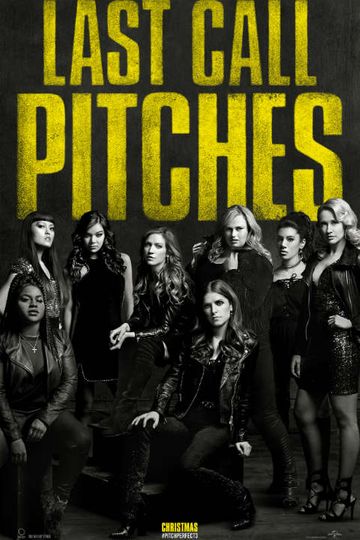 "Last Call Pitches"
1 hr 33 min
Dec 22nd, 2017
After the highs of winning the world championships, the Bellas find themselves split apart and discovering there aren't job prospects for making music with your... Read the Plot