Why 'Resident Evil: The Final Chapter' Was Such an Epic Fail at the Box Office
Did you believe that "Resident Evil: The Final Chapter" would really be the franchise's final chapter? Probably not, but after this weekend's shockingly dismal domestic debut, the lowest of all six movies in the franchise's 15-year history, it could be the last after all.
The strongest and longest-lasting of all video game-inspired movie series, "Resident Evil" has grossed close to $1 billion worldwide. Milla Jovovich's Alice remains the rare action heroine who sells tickets to a predominantly male audience. So it's no wonder pundits expected it to challenge both last weekend's winner, "Split," and family newcomer "A Dog's Purpose," for chart supremacy, with a likely finish just under $20 million.
Instead, "Split" easily repeated on top with an estimated $26.3 million, while "Purpose" scored an estimated $18.4 million. With six-week-old drama "Hidden Figures" coming in third with an estimated $14.0 million, "Resident Evil" had to settle for a fourth-place premiere.
So, what went wrong? Turns out "Resident Evil" found itself up against a perfect winter storm of unfavorable conditions. Among them:
1. Too Long of a Wait It's been five years since the last "Resident Evil" movie, the longest gap yet between installments. For this kind of horror-action franchise, especially one that appeals primarily to viewers under 25, that's an eternity.
For an example, you have to look back only three weeks, to the failure of the very similar "Underworld: Blood Wars," another female-led, modestly-budgeted horror-action sequel from Sony's Screen Gems division that came five years after its predecessor and opened just under $14 million.
2. The "Split" Audience "Resident Evil" had the poor timing to come along at the tail end of a wave of January horror movies, so you could argue that the market is saturated. Or you could argue that the horror crowd simply found a movie they really liked in M. Night Shyamalan's "Split."
Usually, horror audiences tend to crowd the opening weekend of a new scary movie and then drop off quickly, which is why analysts expected "Split" to suffer a second-weekend drop of about 60 percent, to below $20 million. But "Split" added 161 screens this weekend, for a total of 3,199. As a result, it held onto all but 34 percent of last weekend's business, an unusually strong hold for both the genre and the director. "Split" doesn't have stellar word-of-mouth (just a B+ grade at CinemaScore), but its word-of-mouth is better than that of "Resident Evil" (CinemaScore audiences gave it a B).
3. Controversy? What Controversy? Many thought the recent video that allegedly showed a dog being abused during the shoot of "A Dog's Purpose" would lead to a boycott that would hurt the film's sales. Actually, not so much.
Despite all the news coverage of the video, which the filmmakers claimed did not show the dog being mistreated, the movie slightly outperformed expectations. What's more, it played well among women, who made up 56 percent of the audience. Women traditionally dominate the horror audience, but clearly, they were less interested in watching a post-apocalyptic action heroine than a heartwarming story about dogs. "Resident Evil," then, drew an audience that was 56 percent male.
As the only new child-friendly film in multiplexes, the PG-rated "Purpose" was also a hit with families of kids under 13; such families made up 47 percent of the "Purpose" crowd. Despite weak reviews, "Purpose" earned an A at CinemaScore, indicating excellent word-of-mouth.
4. The Oscar Bounce With last Tuesday's announcement of the Academy Award nominations, several nominated movies took advantage of their good fortune and added theaters this weekend.
"La La Land," the movie with the most nominations (a record-tying 14), saw the widest expansion, adding 1,271 screens for a total of 3,136. The result was a 43 percent boost in sales over last week, for an estimated take of $12.1 million and a fifth-place finish. Several other nominated films saw modest increases, including "Lion," "Manchester by the Sea," "Moonlight," "Arrival," "Fences," "Jackie," "Hacksaw Ridge," "Toni Erdmann," and "The Red Turtle."
Even "Hidden Fences," which lost 65 screens (down to 3,351), still did pretty well with its $14.0 million, third-place finish, enough to take the movie past the $100 million mark in its sixth week.
In all, Oscar-nominated movies added 5,109 screens this weekend and took in an additional $45.2 million. (See? It really is an honor just to be nominated.) That's a lot of people who didn't go see "Resident Evil" -- or "Split" or "Purpose," for that matter.
5. Overseas Is Where the Money Is In the end, there's one more relevant comparison to make between the "Resident Evil" and "Underworld" series: both do much better overseas than they do here. In the case of "Resident Evil," it's earned 76 percent of its take from foreign ticketbuyers, though some installments have done as much as 82 percent of their business abroad. So it is with "The Final Chapter," which has already earned $64.5 million in overseas markets over the past month, about five times what it's earned here. Not bad for a special-effects action saga that cost just $40 million to make.
As with "Underworld: Blood Wars" and last weekend's "xXx: The Return of Xander Cage," the North American release is almost an afterthought, then, just gravy. As Sony worldwide marketing and distribution chief Josh Greenstein noted, "'Resident Evil' is built for an international audience. This is a perfect example of looking at a film as a global film and not as a U.S.-centric one."
That doesn't mean Screen Gems didn't try hard to market "Final Chapter" here, but they didn't have to. It also means that, even with the disappointing domestic opening, there's enough of a worldwide audience for the franchise that you could imagine Sony still trying to squeeze a few more drops of T-virus-infected blood from it, final chapter or no final chapter.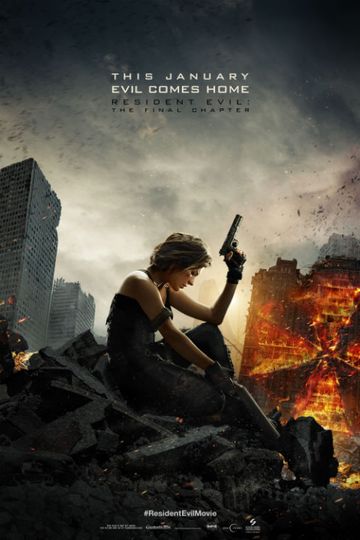 "Back to the Hive"
1 hr 47 min
Jan 27th, 2017
Picking up immediately after the events in Resident Evil: Retribution, Alice is the only survivor of what was meant to be humanity's final stand against the undead.... Read the Plot