'Bridget Jones's Diary': 10 Things You (Probably) Didn't Know About the Hit Comedy
Hard to believe it's been 15 years since "Bridget Jones's Diary" surprised the world with blue soup, ugly Christmas sweaters, an unexpectedly funny Colin Firth, a shockingly nasty Hugh Grant, and a stunningly perfect English accent emerging from Texan Renée Zellweger.
Since the film adaptation of Helen Fielding's novel hit these shores on April 13, 2001, the awkward but lovable "singleton" heroine has been a worldwide favorite, spawning a 2004 sequel and a long-awaited third installment, "Bridget Jones's Baby," finally due for delivery this fall. To celebrate the film's 15th anniversary this week, here are some behind-the-scenes facts you need to know.
1. Helen Fielding's worldwide bestseller started out as a series of columns in Britain's Independent newspaper that loosely fictionalized the romantic misadventures of Fielding and her thirtysomething pals. Fielding acknowledged that she lifted her storyline from "Pride and Prejudice." "Jane Austen's plots are very good and have been market researched over a number of centuries so I decided simply to steal one of them," Fielding joked. "I thought she wouldn't mind, and anyway, she's dead."
2. Director Sharon Maguire got the job in part because she was one of Fielding's close friends; in fact, the character of Shazza (played by Sally Phillips) was based on Maguire.
3. It took producers two years to find the perfect Bridget Jones. Among those considered were Cameron Diaz, Cate Blanchett, Emily Watson, Rachel Weisz (Maguire decided she was "too beautiful"), and Kate Winslet (who, at 24, was deemed too young). Toni Collette has said she turned the part down because she was busy acting on Broadway in "The Wild Party."
4. Zellweger finally won Maguire over, convincing her that her salty, Texas-bred sense of humor helped her empathize with the earthy Bridget. But when her casting was announced, many Brits were outraged over the idea of an American playing such a quintessentially English character. To learn Bridget's British accent, Zellweger enlisted Barbara Berkery, the dialect coach who had guided Gwyneth Paltrow's Oscar-winning performance in "Shakespeare in Love."
5. Zellweger's ultimate test came when she went undercover as Bridget Cavendish, taking on a Bridget Jones-like job as a publicist trainee at Picador, the London publishing firm where Fielding had worked while she wrote her novel. For two weeks, the actress learned the publishing business, practiced her accent, and successfully passed as a local; no one recognized her as the Hollywood leading lady of "Jerry Maguire."
6. The willowy actress also had to pull a "Raging Bull" and pack on weight to play the curvy Bridget. She famously gained 17 pounds on a diet of bagels, burgers, buttered biscuits, croissants, cheesecake, pizza, peanut butter, and protein shakes with ice cream.
7. For Mark Darcy, the filmmakers had no other choice but Colin Firth, who had played Mr. Darcy in the celebrated 1995 BBC version of "Pride and Prejudice," making women swoon throughout the English-speaking world. Among those who had developed a crush on Firth's TV Darcy was Fielding, who name-checked the actor in her book. She was so intent on casting him in the film that the producers also hired Andrew Davies, who had scripted the Austen mini-series, to co-write the "Bridget Jones" screenplay with Fielding and British romantic comedy master Richard Curtis ("Four Weddings and a Funeral"). Firth, drawn by Davies' presence and by the chance to spoof his own persona, accepted the role.8. At the time he was cast as cad Daniel Cleaver, Hugh Grant was known for stammering nice-guy roles in such Curtis comedies as "Four Weddings" and "Notting Hill." He was thrilled to play someone with more of an edge, or, as he put it, "a character that was nearer to the real me."
9. The film cost a reported $26 million to produce. It earned back $72 million in North America and a total of $282 million worldwide.
10. Zellweger was nominated for a Best Actress Oscar, a rarity for a comic performance. She lost to Halle Berry for "Monster's Ball." Two years later, Zellweger won the Best Supporting Actress Oscar for "Cold Mountain," a trophy many considered a make-up prize for her "Bridget Jones" snub.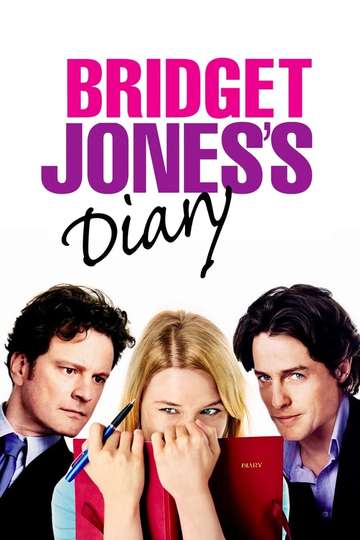 "Health Warning: Adopting Bridget's lifestyle could seriously damage your health."
1 hr 37 min
Apr 13th, 2001
A chaotic Bridget Jones meets a snobbish lawyer, and he soon enters her world of imperfections. Read the Plot