Carrie Fisher Explains Why Han & Leia Broke Up, and It's Hilarious
Carrie Fisher, a true intergalactic hot mess treasure, recently shared her take on why "Star Wars" couple Han Solo and Princess/General Leia broke up. They were together long enough to create the screwed up Kylo Ren (Adam Driver), then went their separate ways. Why? Blame it on a lack of hyperspace time.
Fisher was a headliner at the Saskatoon Comic & Entertainer Expo, and she chatted about the "Star Wars" cast (including Harrison Ford) and why the characters split up at some point between "Return of the Jedi" and "The Force Awakens."
"We see each other all the time," Fisher said. "We're sick of each other. I know Harrison's sick of me. I see it when he talks about me on TV. 'So Carrie said that she...' And he goes 'Ugh' [shakes head]."
So we could see why Harrison Ford and Carrie Fisher might not make it as a couple, if they ever dated, but what happened with Han and Leia? Here's Fisher's hilarious take on it:
Carrie Fisher: "He smuggled way too much and, girls, I know you don't want your husbands smuggling, do you? Hanging out with the hairy guy too often. I think there's a lot of problems with that. Wouldn't take me on the hyperspace thing enough. [pause] Euphemism.

Moderator: "Not enough, right?"

Fisher: "Not enough. Well, you know, we'd been together a while..."

Moderator: "And the hyperspace gets old after that long together, you know?"

Fisher: "No, it doesn't. No. We've got robots for that."
She's too much. And yet never enough. Watch the clip for yourself:

Considering Leia called Han a "stuck up, half-witted, scruffy-looking Nerfherder" right after meeting him, the real mystery is how they stayed together as long as they did.

[h/t: Collider]
Want more stuff like this? Like us on Facebook.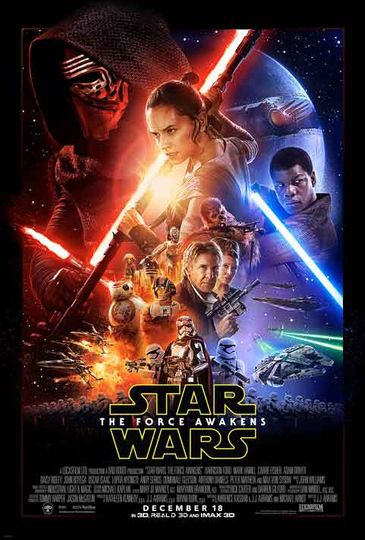 "Every generation has a story."
2 hr 16 min
Dec 18th, 2015
Thirty years after defeating the Galactic Empire, Han Solo and his allies face a new threat from the evil Kylo Ren and his army of Stormtroopers. Read the Plot