'Halloween Ends' Trailer: Jamie Lee Curtis' Laurie Strode is Still Fighting
Director David Gordon Green wraps up his 'Halloween' legacy sequel trilogy as Michael Myers and Laurie face off for one final time in the new movie.
How many times can Michael Myers truly come back to terrorize the residents of Haddonfield?
If the 'Halloween' franchise is anything to go by, the answer to that is, "as long as people show up to watch the movies." And the latest entry is on the way this fall, so the first trailer for 'Halloween Ends' has now stalked online.
Director David Gordon Green, who gave the horror franchise a jolt back in 2018 with his first 'Halloween' (which directly followed the events of the original and largely ignored most of the other sequels), is here wrapping up his own run on the movies.
Jamie Lee Curtis is back once again as Laurie Strode, one of the few survivors of Michael Myers' original October slaughter rampage, who has since turned herself into a lean, mean fighting machine, ready to put an end to him once and for all.
To be honest, we've heard that before – no matter how many times someone (even Laurie) thinks they have put an end to Michael, he always seems to return, ready to pick up whatever is around and start slashing people.
This latest movie is being billed as Laurie's last stand, as she faces off for the last time against the embodiment of evil in a final confrontation unlike any captured on-screen before. Only one of them will survive.
Four years after the events of last year's 'Halloween Kills', Laurie is living with her granddaughter Allyson (Andi Matichak) and is finishing writing her memoir. Michael Myers hasn't been seen since. Laurie, after allowing the specter of Michael to determine and drive her reality for decades, has decided to liberate herself from fear and rage and embrace life.
But when a young man, Corey Cunningham (Rohan Campbell), is accused of killing a boy he was babysitting, it ignites a cascade of violence and terror that will force Laurie to finally confront the evil she can't control, once and for all.
You knew it wasn't going to be that easy, right? Laurie's spent decades being worried that Michael would return, even when everyone else was convinced he was gone for good. Of course, he wasn't, and the end of 'Halloween Kills' hinted that he'd once more be wandering the suburb killing people.
Green now faces the true challenge of putting a capper on the whole story – even if someone picks up the baton in the future.
'Halloween Ends' co-stars returning cast Will Patton as Officer Frank Hawkins, Kyle Richards as Lindsey Wallace and James Jude Courtney as The Shape/Michael Myers.
As well as directing the movie, Green also co-wrote it with regular collaborators Paul Brad Logan, Chris Bernier and Danny McBride.
'Halloween Ends' will be in theaters on October 14th, just in time for… is it Christmas? No, wait, another holiday that slips our mind right now.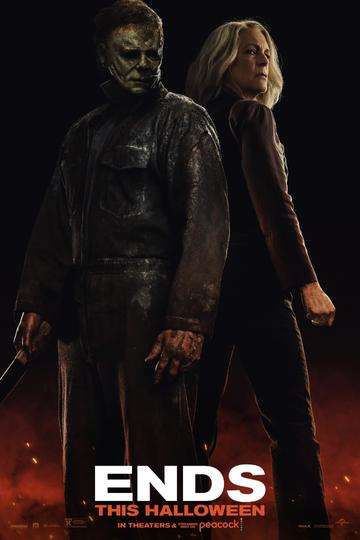 "This Halloween, their saga ends."
1 hr 51 min
Oct 11th, 2022