Dave Bautista Offers an Ominous Choice in the 'Knock at the Cabin' Trailer
M. Night Shyamalan's latest also stars Jonathan Groff, Rupert Grint, Ben Aldridge, Nikki Amuka-Bird and Abby Quinn.
Going to the woods in a movie is rarely the start of a happy day full of joy and counting butterflies – at least, after the initial moments. And if 'The Cabin in the Woods' taught us anything, it's that anything can happen.
Combine that concern with the fact that this is M. Night Shyamalan's latest film and you've got the recipe for unnerving tension and plenty of terror in 'Knock at the Cabin.'
Still, the set-up is bucolic enough: dads Andrew and Eric (Jonathan Groff and Ben Aldridge) bring young daughter Wen (Kristen Cui) to a beautiful cabin somewhere in the States.
At first, it's all jumping in a lake, studying insects and generally chilling out – the perfect family vacation.
Until, that is, Dave Bautista's hulking mystery man rocks up, knocks at the cabin and announces he's supposed to "make friends" with the family. And if that wasn't enough, he then summons some others (Rupert Grint, Nikki Amuka-Bird and Abby Quinn), who proceed to break into the cabin, take the family hostage and unveil their true intentions.
They're believers in a coming apocalypse, and according to their ideas, the family have a devastating choice to make. And if they don't choose? The world will come to an end…
No pressure, then!
While he adapted this one (from Paul G. Tremblay's 2018 book 'The Cabin at the End of the World') alongside Steve Desmond and Michael Sherman rather than cranking out an original script, this is Shyamalan firmly in 'Old' territory – a contained setting (at least from the looks of this first trailer) and a scary mystery that the characters must figure out.
What are the new arrivals' true intentions? Why does the apocalypse seemingly hinge on a choice? And given that they're stuck in an isolated area, what hope does the family have of avoiding the fate that appears to have befallen them?
'Knock' represents Night reuniting with a couple of people he's worked with in the past – Amuka-Bird was part of the 'Old' cast, while Grint plays Julian Pearce on the director's TV series 'Servant'.
Bautista, meanwhile, continues his run of eclectic roles, switching between the heroic, comedic likes of Drax in Marvel's 'Guardians of the Galaxy' movies and beyond (he cropped up briefly in this year's 'Thor: Love and Thunder') and the more villainous types such as 'Dune's violent, cruel Glossu Rabban Harkonnen (the actor will be back for more of that in 'Dune: Part Two', due out on November 17th next year).
The cast for this latest slice of Shyamalan suspense also includes William Ragsdale, Ali Ashgar Shah, Claire Louise Frost, Scott Vogel and McKenna Kerrigan.
Sure to make you think twice before answering the door once you've seen it, 'Knock at the Cabin' will be making its way into theaters on February 3rd.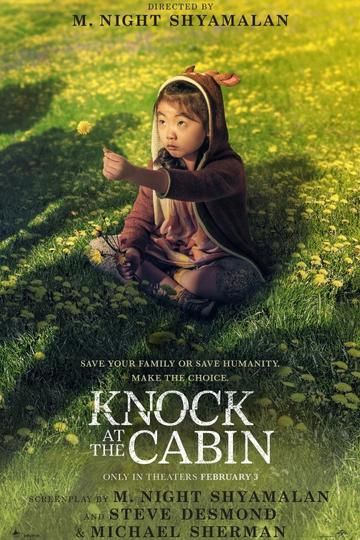 "Save your family or save humanity. Make the choice."
While vacationing at a remote cabin, a young girl and her parents are taken hostage by four armed strangers who demand that the family make an unthinkable choice... Read the Plot