Jon Hamm and Director Greg Mottola Talk New Comedy 'Confess, Fletch'
Moviefone speaks with Jon Hamm and Greg Mottola about 'Confess, Fletch.' "This might be the first step down the path of reimagining Fletch," said the actor.
Opening in theaters, on digital, and on demand beginning September 16th is the new comedy 'Confess, Fletch,' from director Greg Mottola ('Superbad').
The movie is based on the novel of the same name by Gregory Mcdonald, which was previously adapted into 1985's 'Fletch' starring Chevy Chase.
The new film stars Jon Hamm as Irwin "Fletch" Fletcher, a former investigative reporter whose girlfriend's father has been kidnapped. But while Fletch investigates, he's accused of murder. Now, he must solve both crimes, proving his own innocence in the murder, while rescuing his girlfriend's father.
In addition to Jon Hamm, the cast also includes Lorenza Izzo, John Slattery, Marcia Gay Harden, Ron Wood Jr., Ayden Mayeri, Annie Mumolo, and Kyle MacLachlan.
Moviefone recently had the pleasure of speaking with Jon Hamm and director Greg Mottola about their work on 'Confess, Fletch,' adapting the novel, why Hamm wanted to play the character, the visual style of the movie, and where the series could go from here.
You can read our full interview below or click on the video player above to watch our interviews with Hamm, Mottola, Roy Wood Jr., Ayden Mayeri, and Lorenza Izzo.
Moviefone: To begin with, in addition to an actor you are also a producer on this project. Jon, what was it about this series of novels and playing this character that really appealed to you?
Jon Hamm: Well, like a lot of people I was introduced to this character through the 1980's Chevy Chase film, and immediately fell in love with not only Chevy's interpretation of it, but that whole kind of style of comedy. It was very funny and fun.
Then I was turned onto the books and realized that there were 10 or 11 other stories in this chain of stories with this character. Then I also realized upon reading all of the books that the character in the book was significantly different from what Chevy brought to it. I thought over the course of my becoming a bankable actor, that there would be an opportunity maybe to redefine it a little bit for a new generation and get back maybe to some of the original takes on it.
Taking nothing away, obviously, from what Chevy has done, which is obviously beloved and very funny. But we saw an opportunity to actually kind of reconfigure this a little bit, and in success we have the rest of the series of novels to hopefully make. We're excited that this might be the first step down the path of reimagining 'Fletch' for a new audience and a new generation.
MF: Greg, as a director, what were some of the different aspects of this character and the original books that you wanted to draw on for this film?
Greg Mottola: I felt like a lot of the comedy in the first one was Chevy, who I was a huge fan of as a kid. I felt like we'd be stealing from him if we were to use some of his innovations that were different from the books. We decided we'd go a little closer to the tone of the books, and make it a little more of a clear whodunit detective story with comedy, of course. But the comedy would be more in the verbal dry side as opposed to slapstick. Once we started, I guess I saw it as a comedy of manners.
When we put Jon in the middle of this world of a lot of kooky characters, a lot of oddballs, some of whom he really likes and finds amusing, it's a lot of character work with funny actors playing these people. That's the stuff I love the most as a director and writer is to work with actors, great actors, to create characters that are indelible, specific, funny and memorable.
MF: Jon, how would you describe your version of Fletch?
JH: I think he's pretty comfortable in his own skin. I think he is a great studier of the human condition and of whatever environment he is in. He is intrinsically aware of it, which doesn't mean he's always right. I think one of the funny parts of this character is that he's often wrong.
He's coming at it from what he thinks is the absolute certainty of his opinions and convictions, and yet he's wrong. That shows up on several occasions in the movie, but it doesn't bother him. It's part of the process, it's part of the discovery and that's what makes life worth living. I think that is what is endearing to the audience to getting to know Fletch. He definitely knows how to withhold some things for sure.
MF: Finally, Greg, can you about the look and visual style that you wanted to use for this particular character and story?
GM: I wanted to keep it a kind of classic Hollywood detective movie. Not shoot it too bright of a comedy, but to shoot it a little more like a dramatic detective story. I had a great DP who made things look really pretty. I wanted to show Boston, Boston looks so good on film.
We were shooting in the pandemic and people were letting us into their homes because I think they were just so desperate to see humans. They were letting us to these beautiful spaces. I would even think "Are you sure you want to let a film crew in there?" But I wanted to make sure we shot it in a way that you really took in the environment and took in Boston. It's such a great city.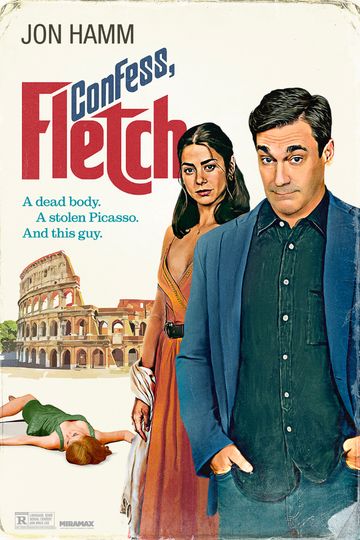 "A dead body. A stolen Picasso. And this guy."
1 hr 38 min
Sep 16th, 2022