5 Reasons Why Nothing Can Stop 'Jungle Book' at the Box Office
Many box office analysts predicted that "The Jungle Book" would not only three-peat atop the box office this weekend, but that it would earn more than three new wide releases combined.
In fact, it earned nearly twice the combined total of those new releases. In its third weekend, the Disney talking-animal tale earned an estimated $42.4 million in North America, while newcomers "Keanu" (at an estimated $9.4 million), "Mother's Day" ($8.3 million), and "Ratchet and Clank" ($4.8 million) combined for about $22.5 million.
So far, "Jungle Book" has been blessed, not only by its own strong reviews and word-of-mouth, but by weak competition. Still, good fortune and good timing aren't enough to explain why the Rudyard Kipling adaptation has held up so well or why none of its rivals can muster up much interest on their own. Here are five reasons why "Jungle Book" bested all comers this weekend.
1. It's the Event Movie of April This column has already noted the strengths of "The Jungle Book," including its calculated appeal to all demographics, Disney's skillful marketing, and the movie's visual spectacle that demands to be seen in 3D or large-format screenings. But the movie has also become the event movie of choice for the past month, helping cement April as the new start of the summer blockbuster season.
Having earned a very strong A grade at CinemaScore, "Jungle Book" has generated more enthusiastic word-of-mouth than any other April movie. As a result, the movie has boasted unusually strong legs, declining just 40 percent its second weekend and just 31 percent this weekend. On its 4,041 screens, it's still averaging $10,502 per theater, far above any other movie currently in wide release.
2. Weak and Poorly-Executed Competition
That's what's plagued many of "Jungle Book's" competitors over the past three weeks, at least according to critics.
This weekend, "Mother's Day" and "Ratchet and Clank" earned particularly harsh reviews, managing only an 8 percent and a 19 percent fresh rating, respectively, at Rotten Tomatoes. Audiences liked them a little better (they graded the movies B+ and B, respectively, at CinemaScore), but that still indicates less than avid word-of-mouth.
3. Market Saturation "Keanu," the R-rated comedy from sketch duo Key and Peele, did get positive-ish reviews (75 percent at Rotten Tomatoes) and just-okay word-of-mouth (a B CinemaScore), but it had to compete against the still-strong "Barbershop: The Next Cut," another well-reviewed, adult-oriented comedy with greater star power and a less restrictive PG-13 rating. (In its third weekend, "Barbershop" earned another estimated $6.1 million, good for fifth place.)
In fact, the adult audience had more than enough to choose from this weekend, from last week's newcomer flop "The Huntsman: Winter's War" to "Mother's Day." "Ratchet and Clank," a cartoon based on a videogame, did have kid appeal, but not more than "Jungle Book" or even nine-week-old "Zootopia." It finished below both those Disney movies, in seventh place.
4. Dim Star Power
Keegan-Michael Key and Jordan Peele may have a big cult following from "Key & Peele," but it didn't translate into box office drawing power. "Ratchet" has some big names, including kid star Bella Thorne and John Goodman (whose voice kids might recognize from Pixar's "Monsters, Inc.") but no one who's guaranteed to sell tickets, not even Sylvester Stallone.
And speaking of people who used to be box office draws, "Mother's Day" features Julia Roberts and Kate Hudson, neither of whom has set the box office on fire in recent years. It also features Jennifer Aniston and Jason Sudeikis, who've done well in recent years; they even had a smash together in "We're the Millers." But there's no reason fans of that raunchy, R-rated comedy would be interested in the mild, PG-13, family-themed "Mother's Day." Like director Garry Marshall's other recent holiday-timed movies, this is an ensemble comedy of interlocking stories with a common setting and theme, so its selling point is its premise more than its cast.
5. Captain America In many ways, the box office is in a holding pattern until Disney and Marvel's "Captain America: Civil War" kicks off summer on May 6 -- just like they did last summer when "Avengers: Age of Ultron" opened during the first weekend of May.
Already, the superhero showdown has opened overseas, where it did a jaw-dropping $200.2 million in estimated sales in 37 countries. No doubt it'll be similarly huge when it drops in the U.S. It's no surprise that the studios have been saving their big guns for the summer. If they'd waited another week to issue any of this weekend's new wide releases, even putting "Mother's Day" out on the actual Mother's Day weekend, those films would have been clobbered for certain.
Better to take your chances against the three-week-old predators of "The Jungle Book."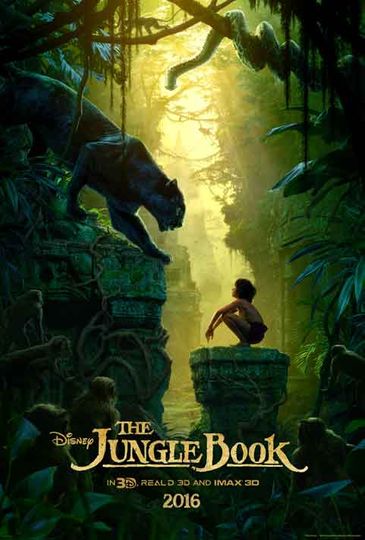 "The legend will never be the same."
1 hr 46 min
Apr 15th, 2016
A man-cub named Mowgli fostered by wolves. After a threat from the tiger Shere Khan, Mowgli is forced to flee the jungle, by which he embarks on a journey of self... Read the Plot