Female Filmmakers in Focus: 'Bring Your Own Brigade' Director Lucy Walker on Her New Documentary
This week, director Lucy Walker discusses her newest documentary about wildfires in California: 'Bring Your Own Brigade,' and explains how the work of Agnès Varda inspired her own filmmaking.
Bring Your Own Brigade - directed by Lucy Walker
Born and raised in London, England, Lucy Walker directed theater in high school and won awards for her theatrical work at Oxford University, where she studied literature. She later received a Fulbright Scholarship to attend New York University's Graduate Film Program. After earning her MFA, she directed episodes of 'Blue's Clues,' for which she received two Emmy nominations.
Her debut feature documentary 'Devil's Playground,' about young Amish people deciding whether to stay or leave their community during rumspringa, debuted at the 2002 Sundance Film Festival and was nominated for an Independent Spirit Award. Her 2010 feature documentary 'Waste Land' and 2011 short documentary 'The Tsunami and the Cherry Blossom' were both nominated for Academy Awards.
Her most recent film 'Bring Your Own Brigade' follows the aftermath of two California wildfires: the Woolsey Fire in Malibu and the Camp Fire in Paradise, which was the deadliest and most destructive wildfire in California's history.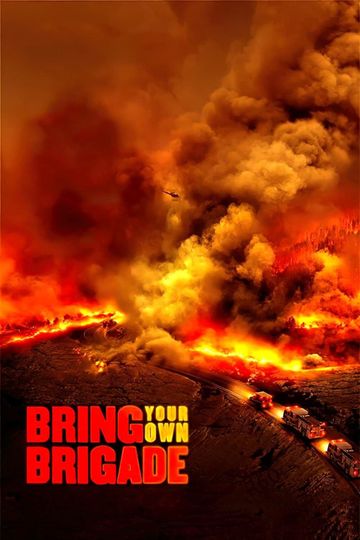 "The incendiary truth behind the world's wildfire crisis."
An investigation into our landscape's hidden fire stories and on-the-ground experiences of firefighters and residents struggling through deadly fires. Read the Plot
---
Read on for our interview with director Lucy Walker.
Moviefone: Can you discuss what led you to making this film?
Lucy Walker: Whenever I am weighing if a documentary is going to be a good use of my time, because I always want to make the best films about a subject that nobody else has covered, I think if I am personally obsessed enough to want to dig into and spend years working on it. This was something that built up gradually. I kept wondering why the hillside was on fire? Why can't they put those fires out? Are they getting worse? Is it climate change? Are we safe living in Los Angeles? I had moved from England, where fires were a problem we had solved. I'd lived in New York, where fires were a problem we'd solved there too. But what was it about this landscape that I was living in that we couldn't put these fires out? It was a slow burn. It kept gnawing away at me. I kept thinking if it is climate change, and there did seem to be a correlation. We'd had these terrible fires and these hottest ever years, and I'd made this mistaken assumption that climate change was the only reason. I thought, is there anything we can do? Are we safe? Is it going to get worse? Could Los Angeles itself, where I'm living, could the center of town - could that burn? I became obsessed with finding out more, and had friends who were both first responders and residents caught up in these fires.
I thought well, there are so many good filmmakers in California between Los Angeles and San Francisco, there is a tremendous number of incredible documentary filmmakers. I thought, why hasn't one of them made a film about this? There are climate change films about other places. Maybe I should just stay home and make this film. Eventually that's what I did. I'm not an activist filmmaker, I don't make exactly activist or environmental films, though they may feel like environmental films. But I am often in my films interested in our relationship with our community and our landscape. I always love narrative, character-driven films, so there are always stories involved in that landscape, but I do think it is a really rich terrain to consider how we're living in the world right now. I thought this is actually my wheelhouse, why don't I tackle it?
When the largest ever fire in California came along, which is not really in the film because it was before, I thought well I am going to make a film about that one. But then there was an even bigger one right after, and I thought, I can't just study one, I've got to get to the bottom of the whole thing. Then the deadliest day ever in California, and the costliest day ever came along. I was already able to embed from the beginning of that incident and understand that whole incident. I had actually been working already for a year. The case study was very interesting that day and very tragic because 88 people lost their lives. We had these two giant incidents in Paradise in Northern California and in Malibu in Southern California. They're both drastically different politically, economically, and in terms of the landscape. Through looking at the stories of both fires and the aftermath, it really illuminated the whole of the fire story through some individual characters that I was able to follow. You can get the exciting drama and personal, intimate, emotional ride of getting to know some individual people, but you also get I think a really good big picture of what's going on worldwide.
MF: You spoke about how your films follow characters. I love the way the film is book-ended with Brad Weldon's story. How did you come across him?
Walker: He was I think the only person in Paradise in California to stay and defend his home and live. There were others who it seems tried that but unfortunately did not survive and other people who started doing that and then left and did escape. He has a very unusual story where he was so emotionally attached to his house, which he had built for his late wife, and he also had his blind 89-year-old mom on the couch, and he just didn't want to give it up. He incredibly managed to save his house. Probably also just with the way the winds broke he was very, very fortunate, with the way that the fire moved. It was miraculous that he survived that when nobody else who stayed behind managed to.
He's a fascinating character. He's in the movie because I kept following him and the story just kept going and going. He takes in twenty residents who have lost their homes. He's very eloquent about what they're going through. I also learned through his family story with his and his mom about how many times their homes had burned down in their family. That's how I started to learn that these are places that burn all the time. I think it's great for audiences when it feels like a movie, and you're following characters, and you learn things through getting to know characters and what they're going through, rather than just the dry talking heads documentary style. I always love stories and characters and journeys and emotions. For me, his is a very emotional journey.
This is a bit of a spoiler alert, but he also through the fire finds new love and there is a very sweet end to the story that I certainly didn't see coming at the beginning. I think that is really something that gives me hope as well. Thinking about how ultimately we are resilient as a species. Nature does come back. There are new seeds in the ashes. You can find new love after loss. His story generally, beautifully, narratively takes us through the cycles of loss and new growth in a very moving, elegant, effortless way.
MF: How did you source the first-hand footage used at the beginning of the film?
Walker: For the fires, we were actually in the fires filming for ourselves. We also were meeting people who had filmed on their smartphones when they were trapped in their cars filming themselves or Facebook Live-ing it. Sharing it with their friends, sometimes thinking it was their last moments. So very, very dramatic material. As I met people I asked them if they managed to capture any of what happened and many of them did and shared their footage with me. Also, we filed Freedom of Information requests and received all the 9-1-1 calls and first responder radio traffic from the incidents. It was very harrowing and time-consuming to set about listening and watching everything that we could to really understand what exactly happens inside these incidents. There were loads of different theories about Paradise, and it was fascinating to really take every idea about what went wrong and stand it up and talk to a lot of people and find out exactly what was good information and what turned out to be counter-intuitive maybe seemed like good information but actually wasn't.
MF: What do you hope people take away from watching this film?
Walker: I think there's a lot to take away. The fire problem is not so simple, and the opportunity was to go deep into the story and show that there's more to it than meets the eye. That it's not just about climate change, not at all. It's become a film about much bigger things. I think that the stories and themes that emerge will hopefully stay with people, as great movies can resonate. That's my goal, that people will resonate and have a lot to discuss about how we are living today, and not just about fire.
MF: Can you recommend another film directed by a woman that people should seek out?
Walker: So many! Agnès Varda is a real hero to me, the incredible French director who passed away just recently. What's extraordinary about her career is that she started out before the New Wave, they call her the Mother of the New Wave. She made a film 'Cléo from 5 to 7', which is this very stunning, quite conventional narrative but very condensed, where this woman is finding out about her medical results, and we follow her during this anxious waiting period. That was a big inspiration on a documentary I made called 'The Lion's Mouth Opens', which follows an amazing young woman finding out about some life-threatening medical results.
Then her work becomes very documentary in later years. She was a huge inspiration for a lot of my generation of documentary makers. She wasn't afraid to grab video cameras and start exploring the world around her with this new technology. Some of her films I really appreciate. Her final film was called 'Faces Places' or in French 'Visages Villages,' where she goes around with this fantastic young French artist named JR. They make giant portraits of people in villages and post them in wonderful visual ways around these villages or on trains or on rocks. They really explore these characters that they meet. For me, she is just always surprising and stunning and sees the world in such a fresh way. I really appreciated her work. There's so many I could have picked, but Agnès Varda! Stunning.
---
Faces Places (Visages Villages) - directed by Agnès Varda and JR
In her nearly 7-decade career, prolific and influential French filmmaker Agnès Varda directed 24 feature films, 22 short films, and several projects for television. A peerless director, Varda's films run the gamut from travelogues to dramas to romantic comedies to political documentaries to experimental films that defy classification, and everything in between. Her last film 'Faces Places' was a collaboration with a French photographer and street artist who goes solely by JR. An unlikely pair, the 80-something Varda and the 30-something JR jaunt across the French countryside, making larger than life portraits of the people they meet along the way. This charming documentary was nominated for Best Documentary at the Academy Awards, a feat she achieved for the first time ever at the age of 89. That same year, she received an Honorary Oscar for her unique and substantial contributions to the art of cinema. A comprehensive collection of her body of film work is available from the Criterion Collection.