'Mary Poppins Returns' Director Rob Marshall on Embracing the Disney Classic's Legacy
"Mary Poppins Returns" is a movie heavily indebted to what came before.
Not only is it a sequel (of sorts) to 1964's Oscar-winning "Mary Poppins," which Walt Disney himself believed to be his greatest accomplishment in the (mostly) live-action arena, but it's also a wondrous ode to the work of author P.L. Travers, whose books both films mine. Quite frankly, just the weight of that legacy would seem crippling to some, but not to director and choreographer Rob Marshall, who absolutely reveled in the chance to update, expand and pay homage to the wonderful world of Disney's "Mary Poppins."
This reverence is notable from the very first moments of "Mary Poppins Returns," as the titles cascade over painterly images by Peter Ellenshaw. Ellenshaw, a Disney Legend who contributed special effects to many of the studio's most iconic live action films (and whose matte paintings of London open the original "Mary Poppins"), is credited, even though the images that open "Mary Poppins Returns" are rougher and more impressionistic. (Ellenshaw famously came out of retirement to do the matte paintings for Disney's underrated "Dick Tracy" in 1990.)
"I was excited to discover these concept paintings and concept art in the Disney Archives. They're so beautiful," Marshall explained. "So what we did was used about a third of them and then created ones in his style, so it's a combination of real ones and ones we did, to reflect our film." It's an apt metaphor for the techniques and storytelling for the movie that follows; some from what came before and some brand-new.
But the sequence that most clearly encapsulates this ideology is the Royal Doulton Music Hall sequence. In the scene Mary (a peerless Emily Blunt), her lamplighter chum Jack (Lin-Manuel Miranda) and the next generation of the Banks children (Pixie Davies, Nathanael Saleh and Joel Dawson) jump into a Royal Doulton china bowl that the children have cracked. Once inside the bowl they enter a world of lushly two-dimensional animation and, during the course of the sequence they encounter anthropomorphic animals (including penguins that look very familiar) and stage one of the movie's most show-stopping numbers, "A Cover is Not the Book" (aka the one where they let Lin-Manuel rap).
Marshall said that doing a sequence that combined live-action with traditional animation was part of the draw of doing "Mary Poppins Returns." "I used myself as a barometer, because I loved the original film so much," Marshall said. "I thought, If I were just coming to this movie, what would I want to see?" Well, it turns out, he would want to see "an animation/live-action sequence, no question."
And what's more, Marshall said, "I would want it to be hand-drawn."
He then told a story about the sequence's infancy that seemed to take on an almost mythical grandeur while he was telling it: "We met at the Hyperion bungalow, which was a bungalow from the original studio that they brought over. We gathered artists from Pixar and Walt Disney Animation Studios for a workshop to work through what this could be. We had our writer, David Magee, as well as John DeLuca -- who worked on the story with me and David -- we had our composers there and we just started to work together on this animation sequence and develop it. They pulled out pen and ink and they were drawing the whole thing."
Among those animators in those early meetings was Glen Keane, a famed Disney animator whose career blossomed during the so-called Disney Renaissance, as he animated Ariel in "The Little Mermaid," the Beast in "Beauty and the Beast," and the title characters in "Aladdin," "Pocahontas," and "Tarzan." (He recently won an Oscar for his Kobe Bryant short film "Dear Basketball.")
"He started with us," Marshall said, noting that Jim Capobianco, an animation veteran of both Disney and Pixar, "really ran it." "We had an amazing group of artists," Marshall said. "It was extraordinary -- and we built it together."
Interesting, it wasn't Disney or Pixar that actually produced the animation; it was a small outfit out of Pasadena, California, called Duncan Studio. Started by Disney vet Ken Duncan, who worked alongside Keane on "Tarzan," the studio has contributed to several big projects and provided all of the animation in both the pre-show and ride for Universal Studios' Minion Mayhem simulator attraction.
"Some of the artists were in their 70's and had been so influenced and inspired by the classic hand-drawn animation that they couldn't pass up this kind of opportunity," said Capobianco in the official press notes, "but then we also had these young kids who were relatively new to the industry, so it was this wonderful pool of animators working together to create this throwback to old-school animation."
The process of working with the animation studio was "complicated," according to Marshall, "Because they were fitting into a live-action film." He recounts a meeting with one of the animators, in which the animator suggested Lin-Manuel "just jump over there."
"Well, Lin-Manuel is a person," Marshall reminded the animator. "So it's going to take him a little longer to get there." The complexity was amplified by the fact that it's a fully choreographed (by Marshall and De Luca) dance number. "Like the flamingos, for instance, in that sequence, was something that we choreographed with female dancers," Marshall said. "And then they took it and drew it. But we controlled all of it."
Also adding to the chaos: that human actors had to be interacting with the animated animals (you've undoubtedly seen that charming moment in the trailer when Blunt honks the beak of one of the penguins). "It took a lot, especially with the kids, but we had to do crazy things like put a giraffe's head on a pole so they could point and have the same eye-line," Marshall said. "We did a lot of makeshift things." Even, it turns out, when Poppins was dancing with the penguins, "there were real actors." "They were the smallest dancers we could find and they were incredible!" Marshall said. "But that was the only way we could frame it and choreograph the sequence."
Marshall admitted that his team "had much more sophisticated equipment" than the team that put the original "Mary Poppins" sequence together (which included staggering work from, amongst other people, some of Walt's Nine Old Men -- Ollie Johnston, Milt Kahl, Ward Kimball, Eric Larson, Frank Thomas, and John Lounsbery). But they did share a key similarity. "It was the first thing they shot and it was the first thing we shot," Marshall explained. "We had to. We had to get it to the animators. It extended our post-production schedule for a long amount of time because it's all hand drawn."
According to Marshall, they were in post-production for over a year, with over 70 animators working on the sequence for 16 months solid. "The animators used every single second of it," Marshall said.
Still, it shows. The movie is a breathtaking pop culture confection, charming and delightful at every turn, and the true centerpiece of the movie, visually and thematically, is the animated stuff. It allowed the children to really embrace their imagination (hard to do during the 1930's "slump" setting of the film) and for Poppins to show them what, exactly, she's made of. It's the rare sequence that's a technical showstopper and an emotional one too. And you can tell that Marshall is proud of what they accomplished. "Everything that I wanted to do is on that screen," Marshall said.
To borrow another Poppins phrase from a different musical number: Can you imagine that?
"Mary Poppins Returns" opens everywhere December 21.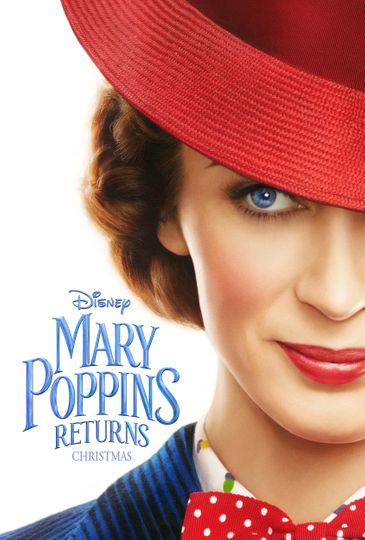 "Magic Always Returns."
2 hr 11 min
Dec 19th, 2018
Mary Poppins returns to the Banks family and helps them evade grave dangers by taking them on magical, musical adventures. Read the Plot