One Great Action Sequence and a Charming Performance from Tom Holland is Not Enough to Save 'Uncharted'
The new film, which also stars Mark Wahlberg, continues the Hollywood trend of adapting video games into mediocre movies.
Opening in theaters on February 18th is the new action-adventure movie 'Uncharted,' which is based on the popular video game of the same name. Directed by Ruben Fleischer ('Venom'), the film stars Tom Holland ('Spider-Man: No Way Home') and Mark Wahlberg ('Transformers: Age of Extinction') as treasure hunters Nathan Drake and Victor "Sully" Sullivan, respectively.
In addition to Holland and Wahlberg, the movie also stars Antonio Banderas ('The Expendables 3'),  Sophia Ali ('Truth or Dare'), Tati Gabrielle ('The Emoji Movie'), and Rudy Pankow ('The Politician'). The result is another mediocre movie adaption of a video game with little to offer except one great action sequence and a charming performance from Tom Holland, but is an otherwise forgettable film.
'Uncharted' begins with an origin story for Nathan Drake (Holland) and his brother Sam (Pankow) before jumping forward to present day. Sam has gone missing and Nathan is working as a bar tender and pick-pocket when he is recruited by his brother's former partner, Victor "Sully" Sullivan (Wahlberg) to look for the hidden treasure of the Magellan Expedition. Hoping to discover what happened to his brother, Drake agrees to help Sullivan, but he doesn't trust him.
Their rival for the treasure is a wealthy businessman named Santiago Moncada (Banderas), who believes the treasure is his birthright, and mercenary Jo Braddock (Gabrielle). But in order to get to the treasure first, Drake and Sullivan will have to work with fellow fortune hunter Chloe Frazer (Ali), who possesses an important key to finding the hidden gold. Now, trusting no one, they must travel the world looking for clues to the treasure, while Nathan searches for answers to his brother's disappearance.
I love video games, but let's be honest, there has never been a great movie adapted from a video game. The list of mediocre movies adapted from video games is long and includes 'Warcraft,' 'Assassin's Creed,' 'Doom,' 'Hitman: Agent 47,' 'Need for Speed,' 'Rampage,' 'Prince of Persia: The Sands of Time,' and 'Max Payne' (which also starred Mark Wahlberg). Unfortunately, you can add 'Uncharted' to that list.
But let's start with what is good about the movie. The film begins with an incredible action sequence featuring Holland falling out of a plane, which is actually just a preview of the full sequence that actually takes place in the third act. The filmmakers were wise to start the movie with part of that action scene, since it is the most stunning sequence in the entire film.
I have to wonder if the screenplay was designed that way, or if the filmmakers realized in post-production that they didn't have an action sequence in the first 45 minutes of the movie and needed to pull some excitement from the third act. Either way it works but unfortunately, it is the only exciting action sequence in the movie, including the final fight scene.
Tom Holland is fantastic! The young actor known best for playing Spider-Man gives an absolutely charming performance as Nathan Drake. The character is tougher, and rougher around the edges than Peter Parker, but still has Holland's signature sweetness and charm. The actor also buffed-up for the role and is completely believable in all of his action sequences. Like "Tom Cruise hanging off the side of a plane" believable! He completely out classes and out shines his co-star Mark Wahlberg and gives a very strong leading-man performance. It's almost heartbreaking that Holland wasted his talent on such an ordinary film.
With a movie as unspectacular as 'Uncharted,' you have to look at the person behind the camera, in this case, director Ruben Fleischer. The filmmaker made a fantastic debut with 2009's 'Zombieland,' but followed it up with disappointments like '30 Minutes or Less' and 'Gangster Squad.' Fleischer had a huge box office success with 'Venom,' but we can argue whether that was actually a good movie or not. And you have to wonder why the director was not asked back for 'Venom: Let There Be Carnage.' That being said, Ruben Fleischer is a serviceable director at best. So, it should be no surprise that the direction of the movie lacks any real feeling of urgency or cinematic style.
While the movie is loosely based on "Uncharted 4: A Thief's End," it incorporates elements of the mythos from the entire franchise. However, the screenplay unfolds like an actual video game, with no real plot other than "We have to go to A to get B to go to C." With so much mythology to choose from, I wish they had incorporated more of that in the film and allowed it to drive the story, rather than having the story driven simply by "We have to achieve this goal to achieve the next."
Actresses Sophia Ali and Tati Gabrielle are both fine in their roles, but not given enough to be truly memorable. Antonio Banderas' villain is completely over-the-top and one dimensional, and isn't given enough screen time to be truly threatening. Mark Wahlberg, who has been attached to this project for over a decade and at one point was going to play Nathan Drake, basically phones in his performance and is over shadowed by Holland in every scene. You never really get a sense of who the character of Victor Sullivan really is, and instead it feels more like Mark Wahlberg is just playing Mark Wahlberg.
In the end, 'Uncharted' is a just disappointing movie. The source material offers an extremely rich and intriguing mythology that basically goes to waste with no real character development explored at all. A commanding leading performance from Tom Holland and an exhilarating action sequence is just not enough to make 'Uncharted' a movie worth seeing.
'Uncharted' receives 2 out of 5 stars.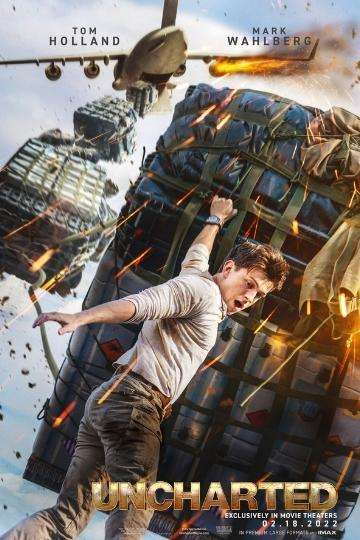 "Fortune favors the bold."
1 hr 56 min
Feb 18th, 2022