New 'Rogue One' Details: Darth Vader Confirmed, More on Jyn's Father
He's baaaaack! "Rogue One: A Star Wars Story" covers the new issue of Entertainment Weekly, and one of the new details about the standalone movie is confirmation that Darth Vader will indeed be featured. That was hoped/expected, since "Rogue One" is set just before the events of the first movie released in the franchise, "Episode IV: A New Hope," and tells of how the Rebels stole the plans for the Death Star.
The new issue is out this Friday, and it will include details on Darth Vader's return, including, as EW teased, "a run-down of the Sith lord's first day on set, and what his return means for the larger Star Wars storytelling universe."
EW also shared details on Mads Mikkelsen's character, and his relation to Felicity Jones's lead character, Jyn Erso, "the outlaw who has clashed with both the Rebellion and the Empire, and now has a chance to clear her ledger of past wrongs by leading a mission for the good guys. It's also personal – her father, played by Mads Mikkelsen, is a scientist whose knowledge is sought by both sides."
They also teased details on "the squad of characters uniting to take on the Empire, played by the most multicultural cast to appear in a Star Wars film yet: Diego Luna, Jiang Wen, Donnie Yen, Riz Ahmed, Forest Whitaker, and Alan Tudyk – as a performance-capture droid. (One of these has been seen before by Star Wars fans.)" (On a different note, no one seems to care much about these things, for some reason, but if they're going to promote the addition of "multicultural" cast members, it should be noted that they're all male. One white British actress in the lead, flanked by a bunch of diverse dudes.)
Expect a ton of new details to come out this week, even before the magazine drops, including character breakdowns and possibly more information on the reshoots. And you have to imagine this means the next "Rogue One" trailer will feature Darth Vader, right? Just a little tease? And who will play him this time?
"Rogue One" will be released in theaters December 16, 2016.
Want more stuff like this? Like us on Facebook.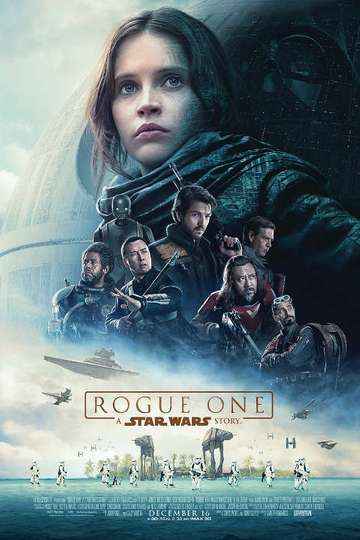 "A Rebellion Built on Hope"
2 hr 13 min
Dec 10th, 2016
Showtimes & Tickets
A rogue band of resistance fighters unite for a mission to steal the Death Star plans and bring a new hope to the galaxy. Read the Plot