What's New on TV, Netflix, Digital & DVD/Blu-ray This Week: April 2-8
At a loss for what to watch this week? From new TV, we've got you covered.
New Video on Demand, Rental Streaming, and Digital
"The Commuter"
Liam Neeson brings his very particular set of skills to this thriller co-starring Vera Farmiga, Patrick Wilson, Jonathan Banks, Elizabeth McGovern, and Sam Neill. The film is out on Digital April 3, and will be available on DVD, Blu-ray, 4K Ultra HD, and On Demand April 17. Extras include two featurettes on the cast's experience shooting the film and the technical details of shooting on a train.
"The Post"
Steven Spielberg + Meryl Streep + Tom Hanks + Pentagon Papers = Oscar bait that delivers. Watch the star-studded drama when it arrives on Digital April 3, then 4K, Blu-ray, and DVD on April 17. There are 90 minutes of bonus content,featuring interviews, behind-the-scenes footage, and featurettes on recreating the 1970s and Washington Post newsroom.
"National Treasure: Kiri" (Hulu)
This is not the Nicolas Cage "National Treasure," so just know that going in. Instead, it's Season 2 of the British anthology series written by Jack Thorne. This four-part drama, available on Hulu April 4 -- focuses on the fallout following the disappearance of a young black girl named Kiri (Felicia Mukasa).
"The drama examines the impact, both public and private, of Kiri's imminent adoption by her white foster family, her relationship with her birth family, and the overwhelming media interest in the case after she disappears."
"Goldbuster"
Sandra Ng makes her directorial debut and stars in this slapstick horror-comedy debuting on Digital April 3.
"When supernatural incidents befall a group of tenants of a rundown apartment complex, they turn to flamboyant ghost hunter Golden Ling (Ng) to perform a most unusual exorcism."
"6 Balloons" (Netflix Film)
Abbi Jacobson, Dave Franco, Tim Matheson, and Jane Kaczmarek star in this addiction drama premiering on Netflix this Friday, April 6.
"Over the course of one night, a woman drives across LA with her heroin addict brother in search of a detox center, with his two year old daughter in tow."
"Amateur" (Netflix Film)
This sports film also arrives Friday, starring Bryan White, Sharon Leal, Josh Charles, and Corey Parker Robinson.
"Talent and hard work won't matter if the game is playing the system. ... 14-year-old basketball phenom Terron Forte (Michael Rainey Jr.) has to navigate the under-the-table world of amateur athletics when he is recruited to an elite NCAA prep school."
"Fastest Car" Season 1 (Netflix Original)
Netflix's first car culture reality series also arrives this Friday.
"In each hour-long episode, three souped-up 'sleeper' cars, tinkered with and lovingly labored on, go head-to-head with one of the world's most sought-after supercars. Don't believe a 1984 Honda CRX can beat a Ferrari California? Or a 2011 Pontiac minivan will leave a Porsche GT3 in its rearview mirror? There is a whole subculture which begs to differ."
"Orbiter 9" (Netflix Film)
This sci-fi film looks so good. Actually, maybe avoid the trailer if you don't want too many spoilers.
"A woman who's been alone on a spaceship her whole life becomes enamored with an engineer who suddenly enters her life and upends her universe."
"The Boss Baby: Back in Business" Season 1 (Netflix Original)
DreamWorks Animation's spinoff TV series premieres April 6, picking up where the movie left off, with Boss Baby (here voiced by JP Karliak) learning to navigate his new life.
"With puppies out of the way (for now) business is booming for Baby Corp, but the challenges are great, and there are new threats to Baby Love--nightmare babies out in the wild whose bad behavior is terrible for the brand, and cats bent on absolute anarchy."
"Troy: Fall of a City" Season 1 (Netflix Original)
This British miniseries is a co-production between BBC One and Netflix, starring Louis Hunter, Bella Dayne, David Threlfall, Frances O'Connor, Tom Weston-Jones, Joseph Mawle, Chloe Pirrie and Johnny Harris. "Troy: Fall of a City" already aired in the U.K., and the six episodes will be available on Netflix starting April 6.
"An epic story of love and war, intrigue and betrayal. When Helen and Paris fall in love, they trigger a chain of events that threatens their families and the city of Troy. The myths surrounding the Trojan War are over 3,000 years old but have emotional depths and timeless themes of identity, love, revenge and belonging. 'Troy: Fall of a City' grounds these primal myths in vivid psychological truth and explores the universal questions of human existence- how people battle to retain their love and humanity amidst the chaos and devastation of war."
New on DVD and Blu-ray
"13 Reasons Why" Season 1
Netflix's pop culture juggernaut was Google's most searched show of 2017. Now Season 1 is coming to DVD on Tuesday, April 3, which gives you plenty of time to catch up before Season 2 premieres sometime later in 2018. The four-disc DVD set includes all 13 episodes, plus the featurettes "Hannah & Clay: An Unfinished Love Story," "Justin Foley: Not Your Typical Jock," "Discovering Jessica Davis," "Bringing the Book to Life," "13 Things About Me: Dylan Minnette," "13 Things About Me: Justin Prentice," and "Beyond the Reasons."
"Father Figures"
Owen Wilson and Ed Helms star as fraternal twins who accidentally discover they've been living with a lie all their lives in this comedy out on Blu-ray and DVD April 3. The all-star cast includes J. K. Simmons, Katt Williams, Terry Bradshaw, Ving Rhames, Harry Shearer, June Squibb, Christopher Walken, and Glenn Close. The DVD comes with deleted scenes; the Blu-ray includes deleted scenes and a gag reel.
"Insidious: The Last Key"
In this horror sequel -- out on DVD and Blu-ray April 3 -- Lin Shaye reprises her role as parapsychologist Dr. Elise Rainier, who returns to her family home to face the unrelenting demons that have plagued her since childhood. Special features include an alternate ending, more than 20 minutes of additional scenes, a franchise recap, and three new behind-the-scenes featurettes.
TV Worth Watching
"The Crossing" (Monday on ABC at 10 p.m.) ABC's new sci-fi drama starts with 47 refugees mysteriously washing up in a small fishing town. Local sheriff Jude Ellis (Steve Zahn) teams with DHS agent Emma Ren (Sandrine Holt) to assess their unusual claim -- that they're fleeing a war 180 years in the future. Natalie Martinez, Marcia Clark, and Debi Mazar co-star.
"The Last O.G." (Tuesday on TBS at 10:30 p.m.)
In this new sitcom, Tracy Morgan plays an ex-con named Tray who's shocked to see how much the world has changed when he's released from prison after a 15-year stint. Returning to a gentrified Brooklyn, he discovers his former girlfriend Shay (Tiffany Haddish) has married a successful white man (Ryan Gaul) who is helping to raise the twins Tray never know existed. In attempt to connect with his kids, and try to support them and himself, Tray falls back on his prison skills to make ends meet.
"Jersey Shore Family Vacation" (Thursday on MTV at 8 p.m.)
Jerzdays are back! This definitely does not qualify as TV "worth watching," but screw it. The "Jersey Shore" stars are all returning -- minus Sammi Sweetheart -- for this Miami-based vacation. MTV has already ordered a second season, so it's OK to get attached.
Want more stuff like this? Like us on Facebook.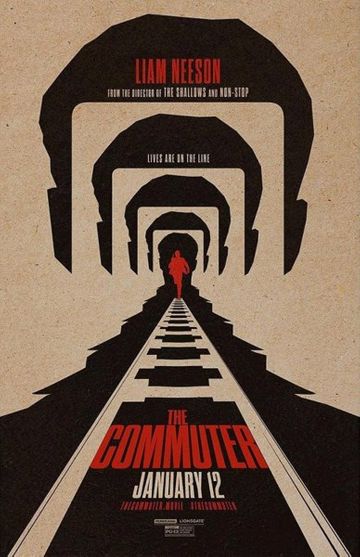 "Lives are on the line"
1 hr 44 min
Jan 12th, 2018
A businessman, on his daily commute home, gets unwittingly caught up in a criminal conspiracy that threatens not only his life but the lives of those around him. Read the Plot