Paul Rudd Breaks for Drama While 'Trying to Crack' the Marvel Cinematic Universe
Between his size-changing superheroics in "Marvel's Ant-Man," his hilarious turns in the Judd Apatow-verse, and his enduringly dreamy Baldwin-ism in "Clueless," it may surprise you to learn that Paul Rudd got his start flexing his dramatic muscles in works by Neil LaBute, John Irving, F. Scott Fitzgerald, and William Shakespeare.
In his new film, "The Fundamentals of Caring," premiering on Netflix today, June 24th, after its purchase following a debut at the Sundance Film Festival, Rudd returns to his more serious-minded roots -- though not without a share of laughs. Based on the admired seriocomic, semi-autobiographical novel by author Jonathan Evison, the film provides a change-of-tone showcase for Rudd after his recent stints in lighthearted comedies and comic book fare.
In the grounded, emotionally-driven movie, Rudd plays Ben, a man who's trying to turn a haunting person tragedy into a new career purpose as a full-time caregiver; his first charge is Trevor, a sharp-tongued teenager who muscular dystrophy has kept him isolated for much of his life. Together they embark on a road trip that promises to be either disastrous or transformative.
"What you learn when you watch Paul is he's always doing something on camera," says the film's screenwriter-director, The Late Show With David Letterman" and created the TV series "Ed." "There's always something going on inside, and that comes right out of him."
"So I was never worried about the comedy because he's Paul Rudd, and because I had Paul Rudd, I was then not worried about the dramatic stuff either," Burnett continued. "His performance in this is very nuanced. He's playing a tragic guy, but he never leans into that tragedy."
"He's a classically trained actor -- the guy knows his sh*t!" agreed Rudd's co-star Craig Roberts, who plays Trevor. "The guy is a very good actor. He's just so, like Rob says, he just so happens to be one of the funniest people at the same time. But he has this accessibility that not many actors have. He's very, very likable. I keep comparing him to Jack Lemmon. Just so charming. When he says something, you truly believe that he means it. That's a crazy gift to have."
So is Rudd's facility with an improvised one-liner, says Roberts. "That guy is quick!" he marvels. "It's scary working with him, at the same time as it being exciting. You have to be on your game -- drink a lot of coffee!"
At the movie's premiere in Hollywood, Rudd joined Moviefone to talk a bit about smaller-scale moviemaking, his comedy obsessions, and his creative stake in the next Ant-Man movie.
Moviefone: Coming out of "Ant-Man," something that big, tell me what that meant to you ... to be able to do a movie like this. This is the kind of movie they say Hollywood doesn't really make anymore: intimate, small-scale, character-driven.
Paul Rudd: Well, it seems like it's just harder for any movies to get seen and made -- I guess they're still getting made, it's just, yeah. It seems like movies now become big event pictures, and that kind of middle one gets pushed to the side a little bit. But yeah, it's nice to do a kind of a smaller film that's character-based.
Working with Rob Burnett -- you're a serious student of comedy, so I'm sure you knew his lineage extremely well.
Sure! Oh absolutely. Yeah, yeah. Absolutely.
Were you quizzing him all the time about comedy theory?
No, I quizzed him all the time with Letterman stories. I wanted to know certain things in the show. "What was it like to film this piece?" He's a company man, he's not going to divulge too much. I'm saying, "It was really cool. You directed that great remote piece with David Letterman and Steve Martin. What is that like? What was that day like?"
He would just tell me what it was like and how he couldn't believe he was there and he's telling me, "These guys ... this is what you need to do." Yeah I mean, I'm a huge Letterman fanatic. I was really interested in those stories.
As far as the theory, I think, in a way, because I grew up with that Letterman influence, I already feel like Rob, and I have kind of a similar understanding of comedy theory or joke theory or playing against the joke. Certainly with this kind of material. I felt like we were always on the same page. I could tell when I read it the first time through. That's why I wanted to do it. I thought, 'Wow, these jokes have been written with a very deft hand.'
What are you excited about in terms of your creative stake in "Ant-Man and The Wasp," not just as an actor, but as part of the storytelling process?
Yeah, it's a challenge and it's exciting. It's been ... it's a lot of work, but it's also really cool to have an understanding of the world. I approach the story and all the characters from a much different place than I would if I were just acting in it. So I'm learning a lot more about the Marvel world, but I'm loving trying to crack these stories and these characters.
"The Fundamentals of Caring" is available now on Netflix.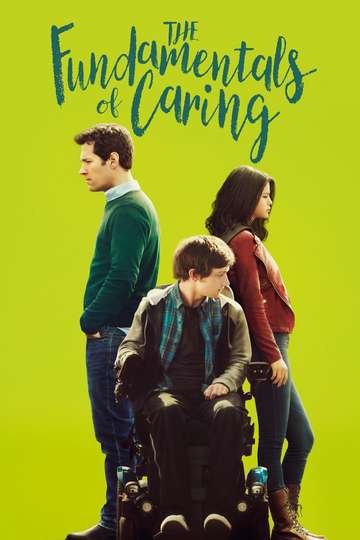 "Caring is a funny thing."
1 hr 37 min
Jan 29th, 2016
Having suffered a tragedy, Ben becomes a caregiver to earn money. His first client, Trevor, is a hilarious 18-year-old with muscular dystrophy. One paralyzed emotionally,... Read the Plot