Starr Rises for Justice in Powerful 'The Hate U Give' Trailer 
"The Hate U Give," based on the award-winning novel by Angie Thomas, hits the big screen this October.
The first trailer was just released, showing Amandla Stenberg in the -- pun alert, but it's true -- star-making role as Starr Carter.
Here's the synopsis:
"Starr Carter is constantly switching between two worlds: the poor, mostly black, neighborhood where she lives and the rich, mostly white, prep school she attends.

The uneasy balance between these worlds is shattered when Starr witnesses the fatal shooting of her childhood best friend Khalil at the hands of a police officer.

Now, facing pressures from all sides of the community, Starr must find her voice and stand up for what's right."
Here's the trailer:The film also stars Regina Hall, Russell Hornsby, K.J. Apa, Algee Smith, Lamar Johnson, Issa Rae, Sabrina Carpenter, Common, and Anthony Mackie.
K.J. Apa only appears briefly in the trailer, bit the "Riverdale" star made headlines for his last minute replacement of Kian Lawley as Starr's boyfriend.
Here are more photos from the movie, via Collider:
"The Hate U Give" is scheduled for release in theaters on October 19.
Want more stuff like this? Like us on Facebook.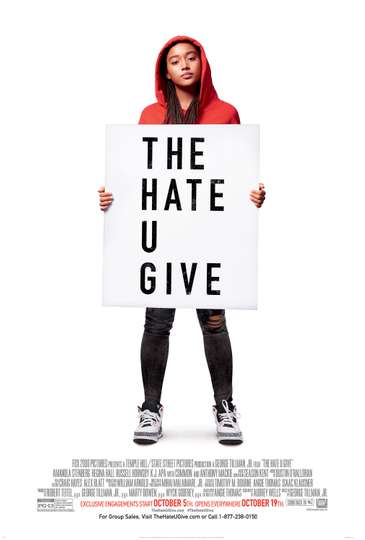 "Two worlds. One voice. No going back."
Showtimes & Tickets
Raised in a poverty-stricken slum, a 16-year-old girl named Starr now attends a suburban prep school. After she witnesses a police officer shoot her unarmed best... Read the Plot