Steven Spielberg Promises Harrison Ford Doesn't Die in 'Indiana Jones 5'
Earlier this year, Disney made the surprising announcement that another entry in the "Indiana Jones" franchise would be hitting theaters in 2019. While we still have almost zero details about the flick, other than that it will star Harrison Ford and be helmed by Steven Spielberg, the director has confirmed at least one plot point for fans.
In a wide-ranging interview with The Hollywood Reporter, Spielberg discussed some of his past and upcoming projects, including "Indy 5." While he didn't say much about the film, the director teased that he was "super excited" to return to the franchise, and that the flick is meant to be "straight down the pike for the fans."
And what could me more fan service-y than assuring moviegoers that Jones will live to wield his whip another day?
"The one thing I will tell you is I'm not killing off Harrison [Ford] at the end of it," Spielberg told THR.
While that hint doesn't exactly reveal anything about the movie's plot, it does leave open the window of possibility that the "Indiana Jones" franchise could live on past this fifth installment. It had been widely assumed that "Indiana Jones 5" will be Ford's (and Spielberg's) last outing in the series, since the star will be 77 by the time it hits theaters. But if anyone could still believably be setting out on wild adventures as a septuagenarian, it's Ford-as-Indy.
"Indiana Jones 5" is being scripted by longtime Spielberg collaborator (and "Indiana Jones and the Kingdom of the Crystal Skull" screenwriter) David Koepp. It's slated for release on July 19, 2019.
[via: The Hollywood Reporter]
Photo credit: ​Getty Images for AFI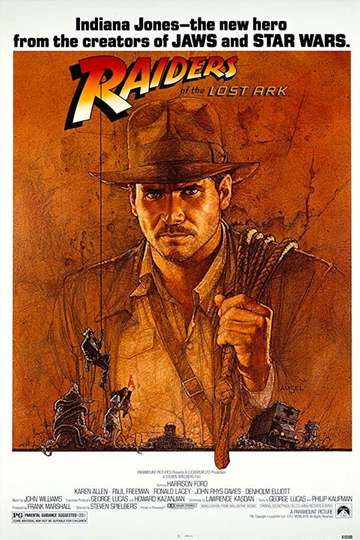 "Indiana Jones - the new hero from the creators of JAWS and STAR WARS."
Showtimes & Tickets
When Dr. Indiana Jones – the tweed-suited professor who just happens to be a celebrated archaeologist – is hired by the government to locate the legendary Ark... Read the Plot