'Table 19' Trailer: Anna Kendrick & Lisa Kudrow Lead Wedding Losers Revolution
At this particular wedding, "Table 19" is like The Island of Misfit Toys. We're meant to pity them but, really, they are the heroes. The first trailer for Anna Kendrick's new romantic comedy is out, forcing her into the losers club of Table 19, which also features rejects played by Lisa Kudrow, Craig Robinson, Stephen Merchant, Tony Revolori, and June Squibb.
Kendrick plays Eloise, an ex-maid-of-honor dropped from that role after the best man dumped her. ("After two years you break up with over text -- 'good luck with your future endeavors'? What are you, firing me?") But she decided to go to the wedding anyway (Stage Five Clinger alert?) and that's how she ended up in the Breakfast Club. As you can see in the trailer, the Table 19 crowd decide to carpe diem and reclaim the night, along with their own dignity. And, of course, there's a handsome new potential suitor for Eloise.
Check out the trailer, via PopSugar:
And here's the poster:
"Table 19," written by Jay & Mark Duplass and directed by Jeffrey Blitz, is scheduled for release January 20, 2017.
Want more stuff like this? Like us on Facebook.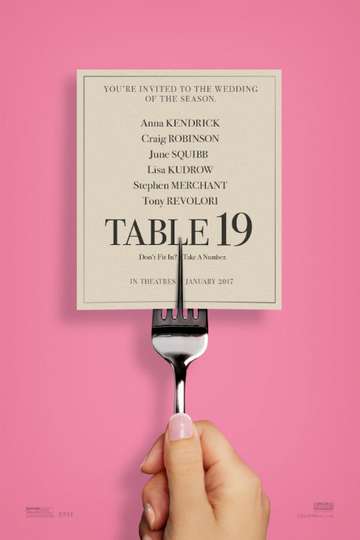 "You're invited to the wedding of the season."
Showtimes & Tickets
Eloise, having been relieved of maid of honor duties after being unceremoniously dumped by the best man via text, decides to attend the wedding anyway – only to... Read the Plot